JetPrivilege HDFC Bank Diners Club Credit Card is a premium travel credit card launched in association with InterMiles (previously Jet Privilege). The card lets its users earn InterMiles on every purchase which can later be redeemed to book flight tickets. Other premium benefits such as lounge access, golf program and concierge service add to the benefits of this card.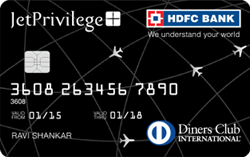 Highlights & Rewards
Highlights
Welcome Benefit of up to 30,000 Bonus JPMiles and 15 JetPrivilege Tier Points within the first 90 days
Avail of a 5% discount on all domestic air ticket (revenue flights) bookings, made on www.jetairways.com by entering the promcode JTHDFC in the promofield on the website
Unlimited Airport Lounge access to over 600+ lounges globally
Rewards Value
₹150 = 24 JPMiles (On every flight ticket booked on www.jetairways.com)
₹150 = 8 JPMiles (On others)
Apply now for JetPrivilege HDFC Diners Club Credit Card
Find your perfect Credit Card
Best Suited For – Golf, Air Tickets and Dining
Premium Golf Club Access

JP Miles and Tier Point Program

Lounge Access and Check-in Assistance
Get JetPrivilege HDFC Bank Diners Club Credit Card Now
*Offers are from Paisabazaar's partner Banks & NBFCs.
Find Similar Credit Cards from Other Banks
Eligibility and Documentation
| Criteria | Details |
| --- | --- |
| Occupation | Salaried or Self-employed |
| Minimum Income for Salaried Applicants | Rs. 1,75,000 per month |
| Minimum Income for Self-employed Applicants | Rs. 1,75,000 per month |
| Serviceable Cities | Click here for the list of eligible cities |
Along with your application form, you should also submit valid proof of identity, address and income. Given below is the list of acceptable documents.
Note: As per RBI Advisory, HDFC Bank is not accepting new applications for credit cards.
Features
Welcome Benefits

The card gives multiple welcome benefits to its users:

Complimentary Gold Membership to the InterMiles Program
30,000 bonus InterMiles- 15,000 InterMiles on the first swipe and 15,000 InterMiles on reaching spending threshold of 1.5 Lakh within 90 days
Discount voucher of Rs. 1,000 for return flight ticket booked on InterMiles website

InterMiles Earning

On the JetPrivilege HDFC Bank Diners Club Credit Card, one can earn InterMiles in the following manner:

8 InterMiles for every Rs. 150 spent across all categories
16 InterMiles per Rs. 150 when booking flight tickets on InterMiles Website
2.5-times more InterMiles when booking Etihad Airways tickets through InterMiles Website

Concierge Service

Enjoy 24X7 concierge service to take care of reservations, referrals, car rental, business services, etc.

Renewal Benefit

Get 10,000 InterMiles on first swipe of the card after renewal fee payment along with a Rs. 750 discount voucher for return flight tickets booked through InterMiles website.
Watch this video
HDFC Regalia Credit Card is among the most popular cards by HDFC Bank. It offers benefits across multiple categories including dining, travel, shopping and more. Know more about this card through a short video.
Fee and Charges
Title
Details
Joining Fee
Rs. 10,000
Renewal Fee
Rs. 5,000
Charges on Revolving Credit
1.99% per month or 23.88% p.a.
Cash Advance Charges
2.5% of amount withdrawn or Rs. 500 whichever is higher
Additional Card Fee
Nil
Overlimit Charges
2.5% of overlimit amount, subject to a minimum of Rs. 500
Payment Return Fee
2% of amount/ Min. Rs. 450
Reissue of Credit Card
Rs. 100
Reward Redemption Fee
Nil
Payment Return Charges
2% of Payment amount subject to a minimum of Rs. 450
Cash Processing Fee
Rs. 100 (for all card payments made by depositing in HDFC Bank branches or ATMs)
Balance Transfer Processing Charges
1% of BT amount or Rs. 250, whichever is higher
Foreign Currency Mark-up fee
2% of the amount
Late Payment Charges
For Statement Balance:

Less than Rs. 100-Nil
Rs.100 to Rs.500 – Rs.100
Rs.501 to Rs.5,000 – Rs.500
Rs.5,001 to Rs.10,000 – Rs.600
Rs.10,001 and Rs. 25,000 – Rs.800
Above Rs. 25,000 – Rs. 950
HDFC Card Customer Care Details
| | |
| --- | --- |
| Customer Care Number | 022-6160-6161(Toll Free) |
| Timings | 9:30 AM to 5:30 PM from Monday to Saturday |
How to Apply for JetPrivilege HDFC Bank Diners Club Credit Card
One can apply for this credit card by simply following the below-mentioned steps:
Click here to start the application process for JetPrivilege HDFC Bank Diners Club Credit Card
Provide the requested details such as mobile number, income, city of residence, etc.
From the list of all the eligible credit cards, filter out HDFC Bank credit cards
If the results show JetPrivilege HDFC Bank Diners Club Credit Card, click on 'Check Eligibility' and provide the requested information
If found eligible, duly fill the detailed application form and submit
Post this, an executive from Paisabazaar will call to set a date and time for document collection. If the form and documents pass HDFC Bank's scrutiny, then the bank will dispatch the credit card. The credit card will arrive at the communication address of the applicant in about 15 days.
Interested applicants can also send in their application for this credit card from HDFC Bank website or directly apply at the nearest HDFC Bank branch
FAQs
What is Jet Privilege?
Jet Privilege, now the InterMiles Program, is an air mile program under which you can earn miles and redeem the same to book flight tickets through their website.
How can I redeem my JPMiles?
If you already have the JetPrivilege HDFC Bank Diners Club Credit Card, your accumulated JPMiles will already be transferred to the new InterMiles Program. You can login to the InterMiles website using your JetPrivilege Number and redeem the miles for booking tickets.
Can I convert InterMiles (JPMiles) to cash?
No. You cannot convert InterMiles to cash; you can only use them to book tickets on the InterMiles website.
What should I do if I lose my HDFC Credit Card?
If you lose your credit card, you should immediately call the customer care department of HDFC Bank on (STD Code) 6160 6161.
Why should I get JetPrivilege HDFC Bank Diners Club Credit Card?
This card is best suited for frequent travelers. So, if you fly multiple times in a year and want to save money on flights, this card would suit your needs the best. Also, if you wish to get premium privileges like golf, airport lounge access, concierge, etc., this card would be a good choice
Compare Similar Credit Cards by Others Banks
Credit Card
Annual Fee
Reward Points
Net Savings
JetPrivilege HDFC Bank Diners Club Credit Card
Rs. 10,000
Earn 8 JPMiles per Rs. 150 spent
Rs. 30,104*
Rs. 41,708**
SBI Card Elite
Rs. 4,999
Earn 5X reward points on dining, departmental stores and grocery spends
Rs. 12,081*
Rs. 20,661**
ICICI Bank Sapphiro Visa Credit Card
Rs. 6,000
Earn 1 Reward Point for every Rs. 100 spent on fuel, utilities and insurance categories
Rs. 25,796*
Rs. 35,504**
Standard Chartered Emirates World Credit Card
Rs. 3,000
Earn 4 skyward miles per Rs. 150 spent
Rs. 15,796*
Rs. 17,404**
*On spending Rs.2 lakh annually
**On spending Rs.4 lakh annually