Indiabulls Personal Loan Highlights

Interest rate
13.99% p.a. onwards
Loan Amount
Up to Rs. 15 Lakh
Eligible Applicant Age Category
Min. 21 years
Loan Tenure
Min. 3 months and Max. 36 months
Processing Fees
Starting at 3% of loan amount
Foreclosure Charge
5% (allowed after 6 months)
Features of Indiabulls Personal Loan
Loan amount: If you meet the eligibility criteria, you can avail a Indiabulls Dhani personal loan as high as Rs. 15 lakh
Flexible tenure: Indiabulls personal loan can be repaid without any stress as the tenure offered is flexible and varies from 3 to 36 months
Reasonable rate of interest rates: Personal loan interest rates from Indiabulls start at as low as 13.99% which is lower than the rates offered by many NBFCs operating in India
Hassle- free application process: The process to apply for a personal loan at Indiabulls is simple, 100% paperless and can be completed online
Minimum documentation: Only a few basic documents are required to get your Indiabulls personal loan application approved
Nil prepayment charges: Indiabulls currently offers this unsecured loan with zero pre-payment charge which makes it more flexible for applicants
Indiabulls Personal Loan Interest Rate
The interest rate offered by Indiabulls on a personal loan starts from 13.99%. However, actual rates may differ from individual to individual depending on the applicant's credit score, age, loan amount, employer, etc.

Get a Personal Loan online starting at only 10.75%* p.a. Apply Now
Eligibility Criteria
The following are the key eligibility criteria for availing an Indiabulls personal loan:
You should be a citizen of India
You should be at least 21 years old
You should either be a salaried professional or self- employed entrepreneur
The NBFC may include additional eligibility criteria as per its internal criteria.
Documents Required for Indiabulls Personal loan Application
The following are the key documents required to apply for an Indiabulls Dhani personal loan:
PAN card details
Address proof (Voter ID card, Ration card, utility bills, etc.)
Bank Account details
How to Apply for Indiabulls Personal Loan with Paisabazaar?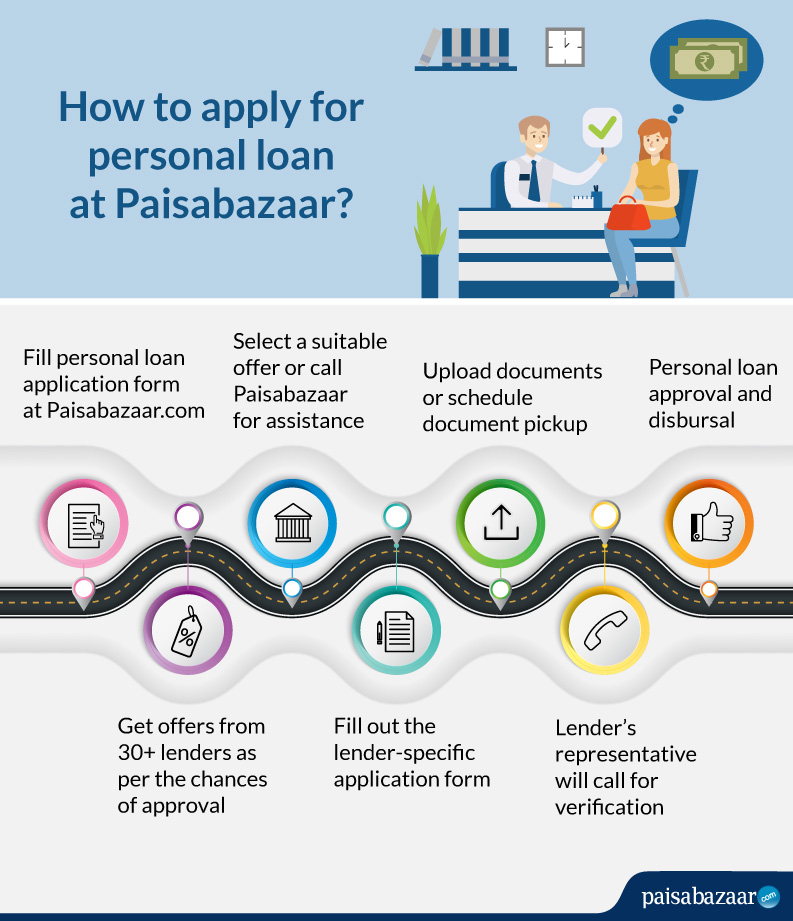 At Paisabazaar, you can compare and apply for personal loan just by following a few easy steps mentioned below:
Click here to fill out your personal details like required loan amount, current city, income, employer, etc.
Click on 'proceed' to get redirected to another page showing offers as per the chances of approval
Choose the best offer as per your requirement and click on 'apply'
Get an e-approval from the lender and simultaneously your application will be forwarded to the lender
Also, you will get a call from the customer care team of Paisabazaar to help guide you through the application process
Personal Loan Verification Process
The personal loan verification process involves the following steps:
When the lender receives your online application from Paisabazaar, you get a verification call from lender's representative
Once verification is completed, the lender schedules document pickup from either your home or office
After the successful verification of documentation, the loan gets approved and you get a call from the bank regarding the final loan proposal
Once you sign the agreement, the loan gets disbursed to your account with 3 to 5 working days

Get Your Free Credit Report with Monthly Updates Check Now
Check Indiabulls Personal Loan Application Status
If you have applied for an Indiabulls Dhani personal loan through mobile app, you can view the status or progress of your loan application with the help of loan progress bar available on the app. Alternately, you can check the status of your personal loan application by sending an email to care_dhani@indiabulls.com using your registered email ID and along with your loan application details.
Fees and other Charges
Indiabulls personal loan features various fees and charges apart from interest rate. Some of the key ones are as follows:
| | |
| --- | --- |
| Processing fee | 3% onwards |
| Loan foreclosure/pre-payment charges | >6 months: 5% |
| Rate of Interest | 13.99% onwards |
| Bounce charges | Rs. 400 per bounce |
| Late Payment penalty | 3% per month |
| Stamp duty charges for loan documentation | As per applicable laws |
| Duplicate NOC | Rs. 500 per request |
| Repayment mandate/instrument swapping charges | Rs. 500 per request |
| Loan Cancellation Charges | Rs. 3000 |
| Loan Re booking charges | Rs. 1500 |
| Statement of account charges | Rs. 500 |
| Duplicate Repayment Schedule | Rs. 500 |
| Bounce Charges (For Self Employed) | Rs. 750 |
How to Login on Indiabulls Portal
To login on Indiabulls portal, you will have to download the Dhani app. Users can download the Dhani app for Android from the Google Play store. iOS users can download the same from the Apple App store.
Indiabulls Personal Loan Statement
Indiabulls personal loan statement is mailed to the borrower's registered email ID every month. Current borrowers can also download the Dhani app to access their personal loan statement.
EMI Calculation
The  following table shows the personal loan EMI calculation results for various loan amounts, interest rates and tenures.
Loan principal @ interest
Tenure
1 year
2 years
3 years
4 years
5 years
4 lakh @ 13.99%
Rs. 35,912
Rs. 19,203
Rs. 13,669
Rs. 10,928
Rs. 9,305
6 lakh @ 14.5%
Rs. 54,013
Rs. 28,949
Rs. 20,652
Rs. 16,546
Rs. 14,116
9 lakh @ 15%
Rs. 81,232
Rs. 43,637
Rs. 31,198
Rs. 25,047
Rs. 21,410
10 lakh @ 15.5%
Rs. 90,494
Rs. 48,724
Rs. 34,910
Rs. 28,084
Rs. 24,053