HDFC Bank Personal Loan Highlights

  Interest rate
  12.50% p.a. onwards
  Loan Amount
  Up to Rs. 25 Lakh
  Eligibility Age

Minimum 21 years at time of application
Maximum 60 years at loan maturity

  Eligible Income
  Minimum Rs. 25,000 p.m.
  Processing Fees
  Up to 2.5% of loan sanctioned
  Loan Tenure
  Up to 60 months
HDFC Bank offers personal loan with minimal documentation and speedy approvals, making it easy for individuals to easily access funds due to a financial emergency. You can avail a loan amount of up to Rs. 25 lakh that can be repaid within a tenure which ranges between 12 to 60 months.
Features of HDFC Bank Personal Loan
Loan Amount: HDFC Bank offers a personal loan amount starting from Rs. 1 lakh up to Rs. 25 lakh.
Flexible tenure: The tenure for HDFC Bank personal loan ranges from 12 to 60 months and can be selected by an individual as per his/her repayment ability
Minimal Documentation: HDFC Bank's personal loan application is quick and hassle-free as it requires only minimal documentation
Personal Loan Security: One can secure his personal loan from HDFC Bank with Sarv Suraksha Pro. The benefits are:
Credit Shield Cover equal to the outstanding loan amount
Accidental Hospitalization Cover of up to Rs 8 Lakh
Accidental Death/Permanent Disablement cover of up to Rs 1 Lakh

Best Personal Loan offers from top banks are just a click away Apply Now
Personal Loan Balance Transfer: Get low and revised interest rates by transferring your existing personal loan to HDFC Bank. With Personal Loan Balance Transfer, one can avail the following benefits:
Avail interest rates as low as 12.50% on the existing loan amount transferred
Avail Flat processing fee of only Rs. 1999
Get Insured with HDFC Bank Personal Loan: If you have a personal loan with HDFC Bank, you have the option to avail a Personal Accident Cover of up to Rs. 8 lakh and critical illness cover up to Rs. 1 lakh for a nominal premium. The premium of these policies will get deducted from the loan amount at the time of disbursal.
HDFC Personal Loan Interest Rates
The interest rate offered by HDFC Bank on a personal loan starts at 12.50% p.a. However, the interest rate provided to an individual on a personal loan depends on multiple factors including credit score, age, employment, repayment history, current debt, etc.
Eligibility Criteria
You should be a salaried doctor, CA, employee of private limited companies, employee from public sector undertakings including central, state and local bodies
You should be at least 21 years and your maximum age should be 60 years
You should have at least 2 years of minimum work experience and you should be working with your current employer for at least a year
Your minimum monthly income should be Rs. 25,000 per month
Know More: HDFC Personal Loan Eligibility
Documents Required for Loan Application
Identity proof: Copy of passport/voter ID card/driving license/Aadhaar
Address proof: Copy of passport/voter ID card/driving license/Aadhaar
Bank statement of previous 3 months (Passbook of previous 6 months)
Two latest salary slip/current dated salary certificate with the latest Form 16
Read More: HDFC Personal Loan Documents

Apply for a Personal Loan online with minimal documentation Apply Now
How to Apply for HDFC Personal Loan with Paisabazaar?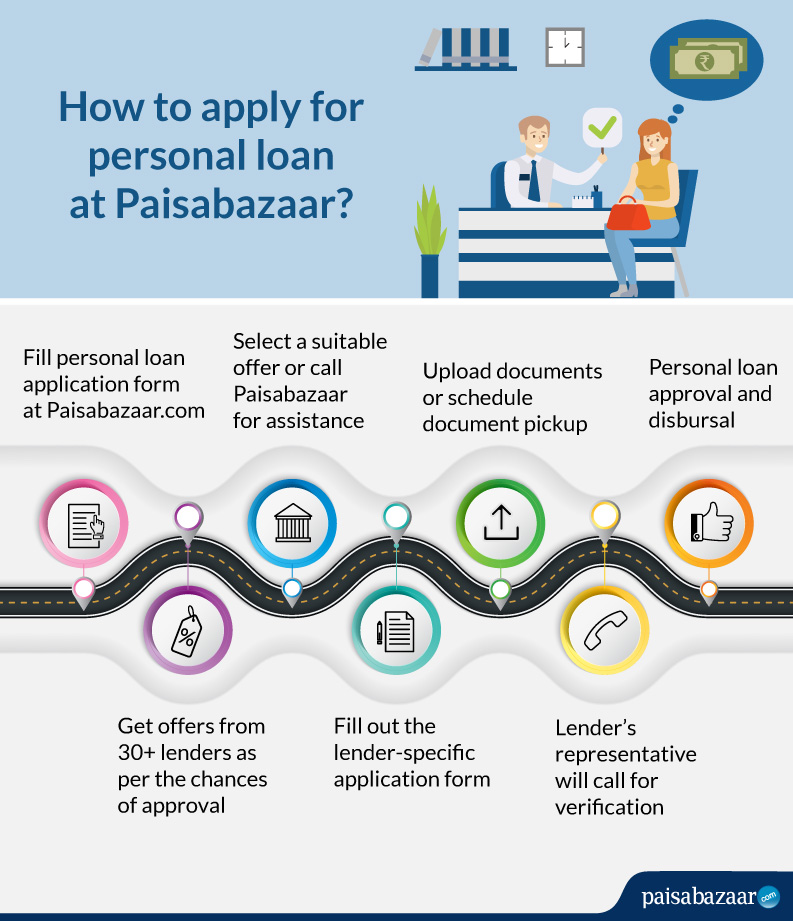 Fill out the online form on Paisabazaar with key details like income, required loan amount, city, phone number, etc.
Check out offers from various banks ranked according to the chances of approval
Select your desired lender or call Paisabazaar for assistance
Submit your application which will be forwarded to your chosen lender
Upload documents/schedule document pickup
Bank's executive will call for verification
Approval and disbursal
Know all about HDFC Bank Instant Personal Loan
Personal Loan Verification Process
After you have filled out all the necessary forms on Paisabazaar, your personal loan application is processed by the bank
The bank goes through your application form and gives you a verification call
Once the verification is completed, the bank schedules a document pickup from your home or office
Once you have submitted all applicable documents, they get checked for further verification
After verification, you get another call from the bank confirming the final loan amount, interest rate and tenure
Once the bank gets the confirmation from your side, the loan amount is disbursed within a few working days
Check HDFC Personal Loan Application Status
You can easily check status of your HDFC personal loan application online
Enter either application name or reference proposal number
Enter either date of birth or mobile number
Click on 'Submit'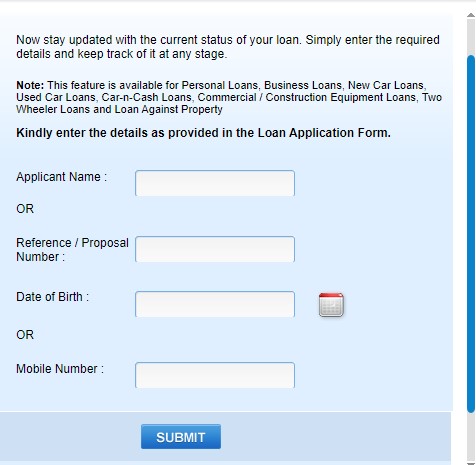 Fees and Other Charges
Loan processing charges
Up to 2.50% of the loan amount subject to a minimum of Rs. 2,999 & maximum of Rs. 25,000 for salaried customers
Prepayment in Part or full
(Refer FAQ section for detailed terms)
Salaried: No pre-payment in part or full permitted until repayment of 12 EMIs

Part-payment allowed up to 25% of principal outstanding. This is allowed only once in a financial year and twice during the entire loan tenure.

Pre-payment charges
(on principal outstanding) /Part-payment charges
[on part-payment amount]
Salaried: 13-24 months – 4% of loan principal outstanding
25-36 months – 3% of loan principal outstanding
>36 months – 2% of loan principal outstanding
Overdue EMI interest
2% per month on EMI amount overdue
Floating rate
Not applicable
Charges for changing from floating to fixed rate of interest
Not applicable
Stamp duty & other statutory charges
As per state laws
Cheque swapping charges
Rs. 500 + GST
Amortization schedule charges
Rs. 200 + GST
Loan cancellation charges
NIL (However interest will be charged for the interim period i.e. period from date of loan disbursement to loan cancellation. Loan processing fees will  be retained.)
Cheque bounce charges
Rs. 550/cheque bounce + GST
Legal/incidental charges
As per actuals

Get Your Free Credit Report with Monthly Updates Check Now
 How to Login on HDFC Bank Portal?
Go to the HDFC Netbanking homepage
Enter your login ID and password
Click on 'log in'
Know more about HDFC Personal Loan Login
HDFC Personal Loan Statement
Log in to NetBanking
Choose the Loan Tabs and select 'Register New Loan'

Enter your details

Click on 'submit'
You will get an OTP on your registered phone. Enter it to complete registration
EMI Calculation
Loan principal @ interest

Tenure

1 year
2 years
3 years
4 years
5 years
2 lakh @ 11.25%
Rs. 17,699
Rs. 9,344
Rs. 6,571
Rs. 5,193
Rs. 4,373
5 lakh @ 12%
Rs. 44,424
Rs. 23,536
Rs. 16,607
Rs. 13,166
Rs. 11,122
10 lakh @ 12.5%
Rs. 89,082
Rs. 47,307
Rs. 33,453
Rs. 26,579
Rs. 22,497
15 lakh @ 13%
Rs. 1,33,975
Rs. 71,312
Rs. 50,540
Rs. 40,241
Rs. 34,129
Read About: How to calculate HDFC Bank Personal Loan EMI
Comparison of HDFC Personal Loan VS Other Lenders
| | | | | | |
| --- | --- | --- | --- | --- | --- |
| Particulars | HDFC Bank | Bajaj Finserv | Axis Bank | Citi Bank | ICICI Bank |
| Interest Rate | 12.50% p.a. onwards | Starting from 11.49% | 11.00% p.a. onwards | Starting from 9.99% | 11.50% to 19.25% |
| Tenure | 12 to 60 months | 12 to 60 months | 12 to 60 months | 12 to 60 months | 12 to 60 months |
| Loan amount | Upto Rs. 25 lakh | Upto Rs. 15 lakh | Rs. 50,000 to Rs. 15 lakh | Upto Rs. 30 lakh | Upto Rs. 20 lakh |
| Processing Fee | Up to 2.50% of the loan amount | Up to 4.13% of the loan amount | Up to 1.50% of loan amount plus GST | Upto 3% of the loan amount | Upto 2.25% of loan amount plus GST |
HDFC Bank Customer Care
| | |
| --- | --- |
| Ahmedabad | 079-61606161 |
| Bangalore | 080-61606161 |
| Chandigarh | 0172-6160616 |
| Chennai | 044-61606161 |
| Cochin | 0484-6160616 |
| Delhi and NCR | 011-61606161 |
| Hyderabad | 040-61606161 |
| Indore | 0731-6160616 |
| Jaipur | 0141-6160616 |
| Kolkata | 033-61606161 |
| Lucknow | 0522-6160616 |
| Mumbai | 022-61606161 |
| Pune | 020-61606161 |
NRIs can call on:
| | |
| --- | --- |
| USA | 855-999-6061 |
| Canada | 855-999-6061 |
| Singapore | 800-101-2850 |
| Kenya | 0-800-721-740 |
| Other Countries | 91-2267606161 |
You can write to the bank at HDFC Bank Ltd., Empire Plaza I, 1st Floor, LBS Marg, Chandan Nagar, Vikhroli West, Mumbai – 400 083
You can visit the nearest branch of HDFC Bank
Benefits of Applying for Personal Loan at Paisabazaar
Convenient: When you apply for a personal loan at Paisabazaar.com, you don't have to physically visit the bank. The entire process from application to in-principle loan approval can be completed online from the comfort of your home or office
User friendly online platform: To help you decide the appropriate loan option, Paisabazaar offers a range of information ranging from loan amount and processing fees to foreclosure charges and tenure options
Minimal documentation: When you apply for a loan through Paisabazaar, you will are asked to provide only a few documents such as ID and address proof along with income proof
Compare and choose: Paisabazaar is one platform that lets you compare interest rates, tenure options, loan amounts offered by various lenders. This way, you get to choose the bank offering the lowest interest rate to make your EMIs affordable
Important Aspects
Loan amount: The lesser you borrow, the more conveniently and easily you would be able to pay back the amount. Therefore, borrow only in case of emergency and not because it is easily available. Also, remember to borrow as per your repayment ability as borrowing more than you can repay may lead you into a debt trap
Credit score: It is one of the most important factors considered by banks while approving your loan application. Your credit score is reflection of your past loans and credit cards repayments. Therefore, having a high credit score can improve your chances of approval for a personal loan
Interest rates and Interest Payout: Interest rates have an impact on your instalment. Therefore, to have affordable EMIs, it is necessary to choose a bank offering the lowest interest rate. You can compare interest rates by various banks on Paisabazaar. However, also keep in mind that a longer tenure will result in a higher interest pay out over the loan tenure
Other fees and charges: Except from interest rate, there are many other fees and charges associated with a personal loan. These include processing fees, late payment fees, foreclosure charges, part prepayment fee, etc. It is important to ask your lender about all these charges to avoid any shock in the future
FAQs
Q1. How much amount can be borrowed as personal loan from HDFC Bank?
One can take personal loan ranging from Rs 1 lakh to Rs 25 lakh. However, the bank does go through the financial status of the loan applicant like income, credit score, repayment capacity, etc. And on the basis of all these factors, the bank suggests the right loan amount to the loan applicant.
Q2. How does having a Salary Account with HDFC help in availing Personal Loan?
If you have a prior relationship with HDFC Bank such as a salary account, you may be eligible for a preferential (lower) rate of interest and reduced processing fee when you apply for a HDFC personal loan. However, these are often limited time offers provided to specific individuals.
Q3. Is foreclosure of Personal Loan allowed?
Yes, you can choose to foreclose the loan any time after 12 months of taking the loan. In case of foreclosure, charges of up to 4% of the principal amount outstanding are applicable.
Q4. What are the charges one has to pay to change the mode of repayment/account for Personal Loan?
For changing the mode of repayment/account for Personal Loan, a cheque, pay order or Demand Draft of Rs. 500 + GST favoring "HDFC Bank Ltd Loan Account No." will be required along with the revised set of repayment instructions.
Q5. Is it possible to make part-prepayment on HDFC Bank Personal Loan?
Ans: Yes, if you have booked a loan on or after April 1, 2018, you can pay off your HDFC Bank personal loan in part after completion of the 12th EMI. Some of the key terms and conditions regarding this are as follows:
Part payment is only allowed twice during the loan tenure
Part payment is allowed once in a single financial year
Each of the part payments should not exceed 25% of principal outstanding
Q6. How do I get the address changed in my loan account?
If you wish to change your address in our records, you can visit the nearest retail loan service center and can submit the necessary documents.
Request form for address change
Self-Attested copy of your revised address proof (Aadhaar, Driver's License, Voter ID, etc.) for validation
Q7. I am a self- employed individual. Can I apply for a personal loan at HDFC Bank?

No, HDFC Bank current offers personal loans to only salaried individuals meeting the eligibility criteria. Self-employed individuals may however be eligible for a business loan from HDFC Bank.

Q8. How can I calculate my HDFC Bank Personal Loan EMIs before applying for the loan?

To know your EMIs, you can take the help of Paisabazaar's Personal Loan EMI Calculator. It is an online tool that can be used free of charge.

Q9. What if I miss an EMI?

If you miss an EMI, you will be charged a late payment fee as well as penal interest on the applicable repayment amount. Your credit score may also get affected as a result of missing timely EMI payments.

Q10. What are the different types of HDFC Bank Personal Loan?

Currently HDFC bank does not offer multiple types of personal loans, however, this loan can be disbursed for various uses such as travel, medical expenses, home renovation expenses, etc.

[/vc_column][/vc_row]