Net banking signifies banking on the internet. It allows a customer of a financial institution to deal with the transaction and access the bank account and make transactions without visiting any of the financial institution's branches. Deutsche Bank net banking offers customers the facility to make transactions from all over the world at all time.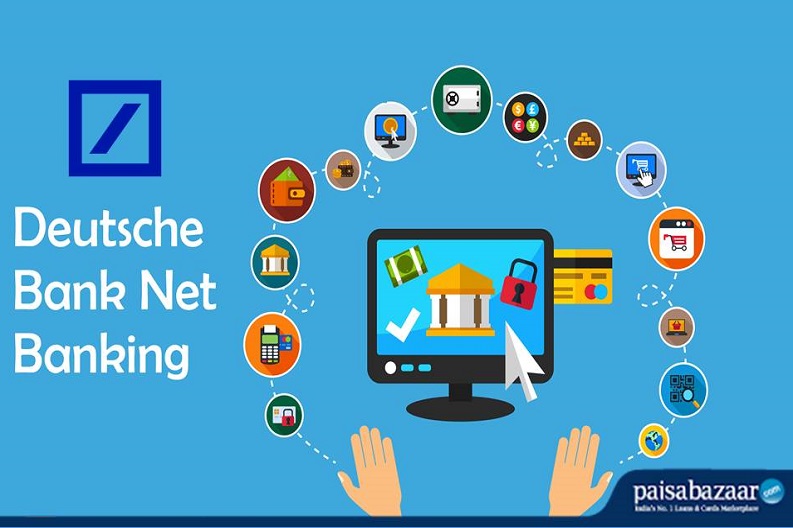 Features of Deutsche Bank Net Banking
The user can check his/her balance and transactions for accounts and cards.
Carry out national and international transfers, transfers between accounts, bill payments, etc.
One can contract savings and investment products
The customer can buy and sell shares in time
Users can carry out online international transfers also
Customers receive messages when there is movement on accounts or credit cards and purchase or sell for stock market updates.
How to Login to the Deutsche Bank Net Banking?
Visit Deutsche Bank's net banking page to login to your account
One needs the customer Id (unique identification code provided by the bank) and IPIN (Net banking password) to login to the net banking.
How to create IPIN to Login to the Deutsche Bank Net Banking?
Customers will have to perform below 4-steps to create IPIN.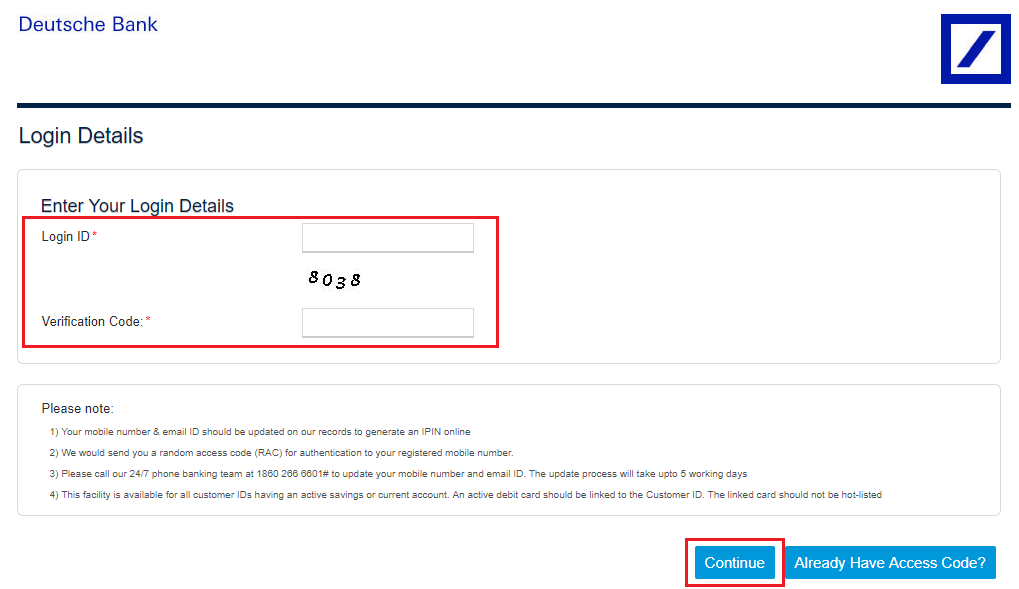 Visit IPIN regeneration portal of Deutsche Bank
Enter your valid 9 digit customer ID and verification code and click on the "Continue" button.
Enter your Debit Card details correctly as indicated on the form.
You will receive a Random Access Code (RAC) for authentication on your registered mobile number.
Once all the details are successfully verified, one can create own IPIN online.
db QuickPay
db QuickPay is a quick and easy one-stop solution that helps customers to make a host of online payments. One can avoid cash withdrawal problems, drop cheques or search for a retailer to pay regularly.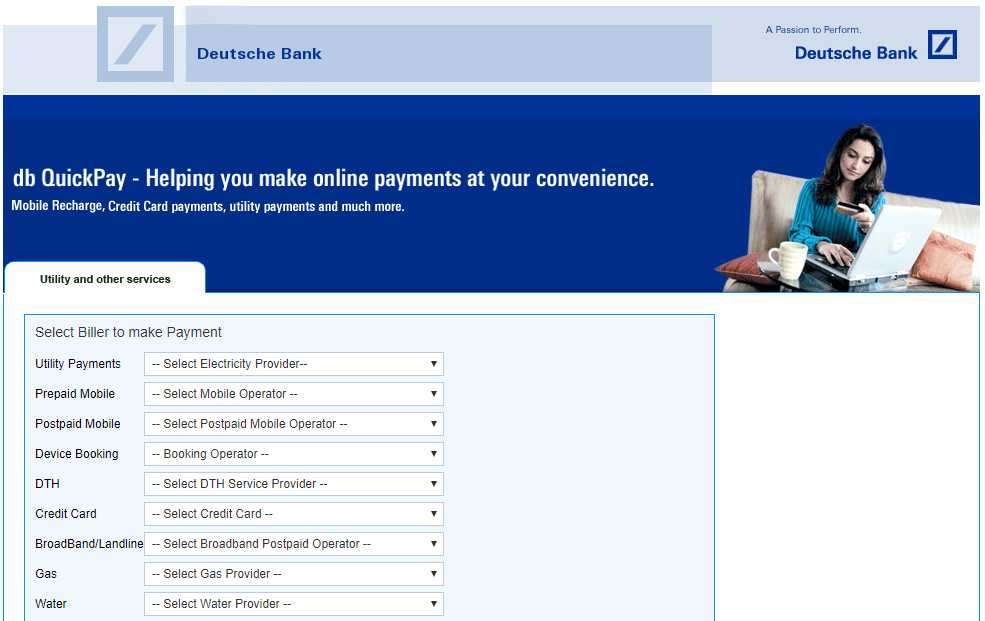 One can make following online payments using db QuickPay:
One can recharge their prepaid phones anytime from anywhere through db QuickPay.
The customer can pay mobile, electricity and other bills and insurance premiums without the trouble of registration.
Customers can donate to over 9 charity organizations using their Deutsche Bank Account.
 How to Open an Account Online on Deutsche Bank
Log in to the official website of Deutsche Bank.
Fill out the application form with personal details like name, address, contact information, proof of identification etc.
Confirm the account disclosure agreement.
Make an initial deposit to the account from an existing account.
If a credit card or checking account with an overdraft is requested, salary slips are required.
The funds usually take a couple of days to process and one can then use their new account.
Services of Deutsche Bank Online Banking
One can download their interest certificate for the current year and final year interest certificate for the active home loan accounts for the previous year. This facility is completely free of charge.
One can shop online securely with their existing International debit card. They can use the debit card only on merchant websites that give the services of 'Verified by Visa'.
Customer needs to login to Deutsche Bank online banking, register to the billing details and start paying utility bills, insurance premiums, etc.
One can pay direct taxes such as Income Tax, Advanced Tax, TDS/TCS, etc. online.
The Deutsche Bank makes it easy to reach the families faster.
One can open a fixed deposit account easily through Deutsche Bank online banking.
Security Features of Deutsche Bank Net Banking
The bank re-validated the login password after 60 minutes of continuous use of Deutsche Bank Online Banking to protect the accounts against unauthorized access. This requires the customer to log in once every 60 minutes session.
The bank offers multiple protective layers to secure online banking experience, such as two password levels, OTP, etc.
Security Related to Deutsche Bank Net Banking
Do's:
Set up anti-virus software and make sure the software is regularly upgraded to the computer.
Choose a strong password to keep account and data safe.
Review account statements frequently to check for any unauthorized transactions.
Change PIN regularly.
Log out of db Online Banking as soon as the transactions are complete.
Inform Deutsche Bank immediately in writing if the customer does not recognize the amount charged.
DON'T's:
Never give PIN or confidential information over the phone or internet. Never share these details with anyone.
Don't click on links embedded in emails/social networking sites claiming to form the bank or representing the bank.
Don't transfer funds without due validation of the recipient, as funds once transferred cannot be reversed.
Changes in mobile number to ensure that SMS notifications are not sent to someone else.
Do not reveal or write down PINs or retain any email or paper communication from the bank with regard to the PIN or password.
Be cautious while accepting offers such as caller tunes or dialer tunes or open/download emails or attachments from known or unknown sources.
Be cautious while using Bluetooth in public places, as someone may access confidential data/information.
Deutsche Bank Mobile Banking
Deutsche Bank has a mobile banking app for the users of tablets and smart phones so that they can transfer money from anywhere in the world. 'My Bank India' is the mobile banking app of the Deutsche Bank that enables customers to access many facilities like
Day-to-day banking: Users can check their overall position, view the movements of their account and credit card and make transfers.
Detailed product information: Users can get information of mortgage and loans, list of movements and detailed of their investment funds, stocks and securities accounts.
A search tool for branches and DB and non-DB cash machines that allows one to quickly and easily find cash machines offering the best terms depending on the location.
Customers can contact Deutsche Bank for any questions or queries through this application.
The application is available in Spanish, Catalan, English, German and French. One can download the app from Google Play and App Store.
Why Deutsche Bank Net Banking?
Net Banking is a digital medium and, more specifically, mobile is our most useful tool to meet all our life needs. If one needs to carry out operations from around the world, one can use the online service of Deutsche Bank, which comprises two remote services: the telephone banking service and the internet banking service. These two services offer the chance to access a wide range of banking operations. Moreover, they are available in three languages – English, Spanish and German.
FAQs
How to login to the Deutsche Bank OnlineBanking?
To login to db OnlineBanking one needs to enter the customer ID and IPIN.
Are there any charges for using db OnlineBanking?
All services provided by db OnlineBanking are completely free of charge.
What is Net Banking?
Net Banking is an online facility by which one can perform transactions from any part of the world.