Apart from a loan against FD, you can always avail a credit card against FD. Many banks offer this option and now Paisabazaar, in partnership with SBM Bank (India) Ltd. is also offering an affordable credit option – Step Up Credit Card. Below you can find the details of this card along with details of the loan against FD: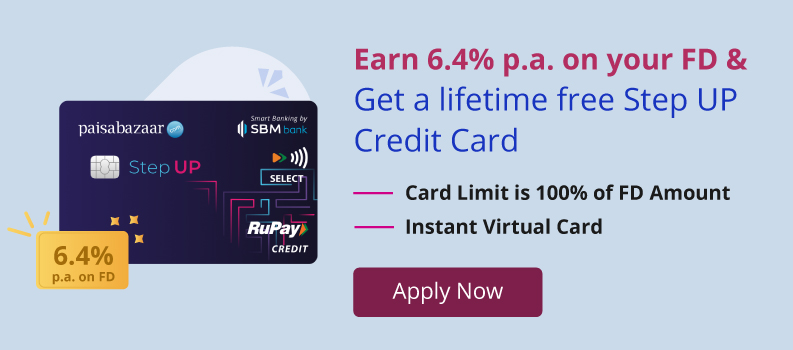 What is Loan against FD?
Loan against FD (Fixed Deposit) is a type of secured loan where customers can pledge their fixed deposit as security and get a loan in return. The amount of the loan depends on the FD deposit amount. This can go up to 90% – 95% of the deposit amount.
Who can Apply for a Loan against FD?
Loan against fixed deposits is extended to all the fixed deposit holders, be it individual holders or those with joint accounts
FD in the name of a minor does not qualify for this facility
Investors of a 5-year tax-saving FD cannot apply for this type of loan

Benefits of Loan against FD
Some of the reasons why one should shift to a loan against FD are mentioned below:
Lower interest rates compared to other types of loans like personal loans (0.5% – 2% above the applicable FD rate)
No need to break FD and go for premature withdrawal thus suffering a loss of interest on FD
No processing fees charged
Can be availed against domestic as well as NRI FDs
Can be repaid as a lump sum or in installment (not later than FD tenure)

Book SBM Bank FD & Get Lifetime FREE Step UP Credit Card Know More
FD as Collateral/Security
When availing loan against fixed deposit, banks keep customer's FD as the collateral. This makes the loan thus raised secured. Since it's a secured loan, interest charged for the same is cut short. In case the loanee is not able to repay the loan amount, the bank can easily procure it from the FD amount. Usually, this amount is settled at the time of maturity.
Credit Card against FD – a better alternative to Loan against FD
Fixed deposits, apart from offering assured returns, flexible tenure options, liquidity, income tax savings, and loan options, provide another benefit to investors, viz. Credit Card against FD.
A credit card against a fixed deposit is a secured credit option that is issued against your fixed deposit with a credit limit generally ranging from 75% to 85% of the FD amount.
Many banks offer such credit cards as SBI Unnati and Kotak Aqua Gold. But these credit cards require you to open an FD of at least Rs. 25,000.
For those looking for a more affordable option, we have come up with a very reasonable credit option – Paisabazaar Step Up Credit Card.

Get Secured Credit Card with credit limit of 100% of your FD Apply Now
Loan Limit in Major Banks
Note: Banks do not offer loans against FD benefits to the investors of 5-year tax-saving FDs.
What is an Overdraft Facility?
A loan against FD is given by banks as an overdraft facility to customers.
Overdraft or OD limit backed by fixed deposit is lower than the deposit amount whereas the interest charged is higher than the applicable FD card rate.
Also, it should be noted that the interest is charged only on the amount of overdraft taken and not on the entire limit. For example, Ms. X has an FD of Rs. 1 lakh, and her OD limit is 90%. She takes a loan of Rs. 50,000 which is only 50% of the deposit amount. So now, the interest shall be charged only on 50% of the deposit amount and not on the limit that is 90% of the deposit amount.

Get Lifetime FREE Step UP Credit Card With No Annual Fees Know More
FAQs
Q. What is the interest rate charged for a loan against FD?
Ans. Banks and NBFCs usually charge 0.5% to 2% rate of interest above the applicable FD interest rates.
Q. Can senior citizens apply for a loan against FD?
Ans. Yes. Anyone who owns an FD account (not in the name of a minor) can avail this facility.
Q. What are the charges to be paid against loan against fixed deposit?
Ans. No charges are to be paid including the processing fee for availing the loan against FD. Interest is charged which is usually up to 2-3% above the applicable card rate.
Q. Can one avail loan against FD using internet banking?
Ans. It varies from bank to bank.
Q. Which documents are required for the application of a loan against FD?
Ans. Application form, FD receipt, ESC mandate & canceled cheque for non-cumulative FDs, etc. may be required when applying for a loan against FD. Please note that this is only an indicative list.
Q. How much loan can one get against their FD?
Ans. Depending upon the respective bank, the loan amount may go up to 95% of the deposit amount.
Q. What is the tenure within which the loan taken against FD should be repaid?
Ans. Loan against FD must be repaid before the maturity of the fixed deposit. Under no circumstances can it exceed the tenure of the FD against which loan is taken.
Q. What is FD lien ?
Ans. Lien is like a charge created by banks. Under this, banks get automatic claims over the deposit against which loan has been taken. It should be noted that not all banks practice this feature.