How to Locate an Aadhar Enrolment Centre?
UIDAI has made it very simple for the indian residents to apply for Aadhaar card. Find a nearby Aadhaar centre. Residents can search for an enrolment centre in their city and visit there to get enrolled for Aadhaar.
Steps to locate Aadhar Enrolment Centres are mentioned below:
Step 1: Visit UIDAI's website
Step 2: Click on "Locate Enrolment & Update Centres in Other Cities"
Step 3: Select State/Pin Code/Search Box option
Step 4: Enter your details such as District/Sub District/Village/Town
Step 5: If you want to Search only permanent centres, select check box option.
Step 6: Enter Verification code and press Search button
Step 7: Relevant Aadhar Card Enrolment Centres are displayed on the screen.
Using the UIDAI portal, one can book online appointments for UID enrolment.
Note: When you visit the enrolment centre to apply for the aadhaar card, do not forget to carry your all the required documents such as address proof, id proof and etc. To know more what documents are required for Aadhaar card?
States/UT under NPR:
| | |
| --- | --- |
| Arunachal Pradesh | Odisha |
| Assam | Tamil Nadu |
| Jammu & Kashmir | West Bengal |
| Meghalaya | Andaman and Nicobar Islands |
| Mizoram | Dadra and Nagar Haveli |
|  Lakshadweep | |
Aadhaar Enrolment Centres in Tier 1 Cities
UIDAI has provided a complete list of all active permanent enrolment centres in tier 1 cities. Residents can access this list by visiting the UIDAI site (https://uidai.gov.in/) and clicking on "Enrolment and Update Centres in Major Cities" option mentioned in "Aadhaar Enrolment" section under Aadhaar Online Services. Alternatively, users can directly find the list by clicking the Aadhar Enrolment Centres in Major Cities (https://uidai.gov.in/images/Tier1_Cities_PECs.pdf).
Users can find permanent Aadhar enrolment centres in this list. The list contains the registrar's name, agency's name, centre's summarised address, name and mobile number of the contact person. People can contact them directly and visit the centre to get enrolled for Aadhaar easily.
Aadhaar Enrolment Centre in Other Cities
Residents residing in other cities can also locate Aadhaar enrolment centres in their locality. They can visit the UIDAI website and click on the "Locate Enrolment & Update Centres in Other Cities" in the Aadhaar Enrolment section under Aadhaar Online Services. Users are directed to https://appointments.uidai.gov.in/easearch.aspx page where they can search Aadhaar enrolment centres in their area by using any of the three methods: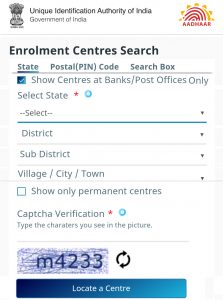 1. Locating Aadhar Enrolment Centre based on States:
Users can locate a nearby Aadhaar card enrolment centre by selecting the State option. The user has to select the state he resides in using the drop down list. He then has to select the district and sub-district after which he has to select his locality, village, town or city from the drop down list. The user has to enter the verification code and click on the search button.

Search results are displayed on the screen along with relevant details such as the registrar's name, agency's name, centre's address, contact person, mobile number, last update date, centre type (permanent, temporary or camp), total enrolment in the last 30 days and the location of the centre on Google maps. There is also an option through which only permanent centres would be displayed on the screen.
2. Locating Aadhaar Enrolment Centre based on Pin Code
Users can also find the location of enrolment centres with the help of their locality's pin code. The user has to enter his pin code and enter the verification number displayed on the screen. After clicking on the submit button, results are displayed on the screen with all the data related to enrolment centres in the region. You can note down the details and contact them to either get your Aadhaar details updated or enrol for Aadhaar if you have not enrolled for it yet.
3. Locating Aadhaar Enrolment Centre using the Search Box
If the user is not sure about the pin code or the exact address, he can use the search box feature to find an enrolment centre. The user can enter the locality name, city, district or any other detail that he can remember. He then has to enter the verification code and click the submit button. Results with relevant details will be shown. The user can find the enrolment centre in his area quite easily even if he does not know the exact details of the location.
Tasks Carried out at Aadhar Enrolment Centres
Aadhaar enrolment centres have been opened to help residents get enrolled for Aadhaar quite easily and get their details updated offline. The activities carried out at Aadhaar enrolment centres are as follows:
Fresh Aadhaar enrolment of those people who were not able to get themselves enrolled for Aadhaar.
In case a cardholder loses his Aadhaar card and forgets his Aadhaar number, he can visit the enrolment centre and get his Aadhaar number. He can also place a request for a duplicate Aadhaar card at the enrolment centre.
In case your residential address changes and you want to get it updated, you will have to visit any of the enrolment centres with relevant documents and get your details updated.
All Aadhaar cardholders have to visit the Aadhaar enrolment centres to get their mobile number linked with Aadhaar. It is worth noting that users cannot use any online service related to Aadhaar if their Aadhaar is not linked with a mobile number.
Children have to visit Aadhaar enrolment centre to submit their biometric data after they turn 5 years old. They have to visit an enrolment centre again to submit their biometric data again when they become 15 years old. This biometric data is considered final and it remains with your Aadhaar for lifetime. It is worth noting that no biometric data is recorded for children below 5 years of age.
Types of Aadhar Enrolment Centres
There are two types of Aadhaar card enrolment centres operating as on now:
Permanent Enrolment Centres
Temporary Enrolment Centres
Permanent enrolment centres are set up for a full-time basis to cater to all Aadhaar needs of residents. They carry out Aadhaar enrolment as well as updation. These centres are operated by authorised agencies and are safe to visit and submit the application for Aadhaar enrolment.
Temporary enrolment centres are operated by non-empanelled agencies. They operate on a contractual basis. Most of these centres have the primary aim of fresh Aadhaar enrolment. As the process of Aadhaar enrolment is reaching saturation, most of the temporary Aadhaar enrolment centres have either ceased their operations or are going to end their operations soon.
As per new Government circulars and notices, all Aadhaar card enrolment centres are to be shifted in either government or bank premises. At present there are around 25,000 Aadhaar enrolment centres across the country. UIDAI has asked all private as well as public sector banks to open Aadhaar enrolment centre in at least one out of 10 branches. Currently there are collectively 1,20,000 bank branches in India. With this step, the government is planning to shift 12,000 enrolment centres in bank premises and the rest in other government offices and departments. Earlier, Aadhaar enrolment centres operated from private premises. This will ensure that these centres do not misuse their authority and charge more for the services provided. It will also help the government to carry out operations in secure environment.

A Better Credit Score can get your Loan Approved Quickly Check Now
FAQs
Q. How to locate an Aadhaar Enrolment Centre near my home?
A. You can search an Aadhaar Enrolment Centre in your area by visiting UIDAI's website and entering required details. Click on the link to search an Enrolment Centre near you.