An Aadhaar card is considered to be  one of the most important documents to avail various government-related  services. This card is your unique identity that contains all your relevant information like biometric and demographic details. The Unique Identification Authority of India (UIDAI) issues the Aadhaar Card. You can use this card to open a bank account, FD investment, apply for a personal loan, linking with government documents, etc. Aadhaar card verification is done to check if the Aadhaar mentioned in a document actually belongs to the applicant or not.

Get Your Free Credit Report with Monthly Updates Check Now
The Need for Aadhaar Card Verification
To ensure the validity of the card and also to make sure that it has been issued, you can verify your Aadhar card. You can also update any details online. At the time of the verification process, the following information of the individual is displayed on the Aadhar card official website:
The state which you are a resident of
Your gender
Your age
If you notice any discrepancy, you can contact the UIDAI either by sending an email or by calling the toll-free number.
Verification Process of Your Aadhaar Card
To verify your Aadhaar card online, it is essential for you to have your Aadhaar number or the UID. The basic steps that you need to follow for Aadhaar card online verification are as follows:
Step 1. Go to the official UIDAI website i.e. https://uidai.gov.in/
Step 2. At the bottom of the page, you have to choose the option "Aadhaar services"
Step 3. Now click on "Verify an Aadhaar Number"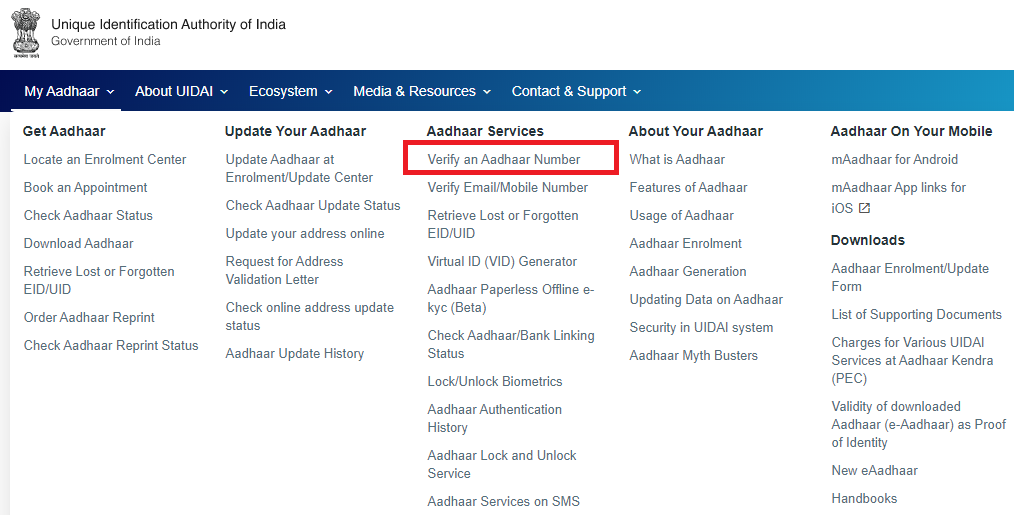 Step 4. You will be redirected to a new page for Aadhaar Verification
Step 5.  Enter your 12 digit Unique Identification Number, i.e. Aadhaar Number
Step 6:  Enter "Captcha Verification" from the given box
Step 7: Click on "Proceed to Verify"
Step 8:  Your Aadhaar verification will be done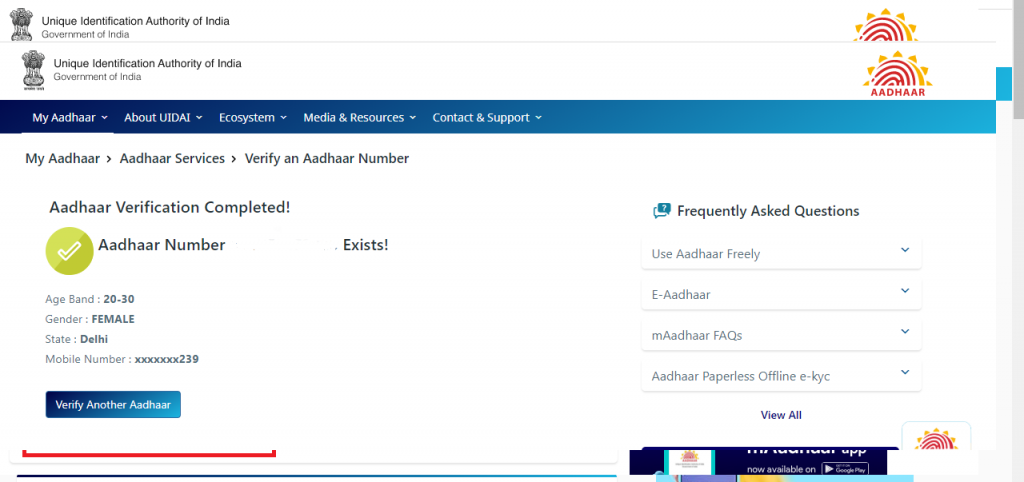 How to Check if Your Aadhaar Card is Deactivated or not?
Step 1: Visit UIDAI's website

Step 2: Click on the "Verify Aadhaar Number" option under the "Aadhaar Services" section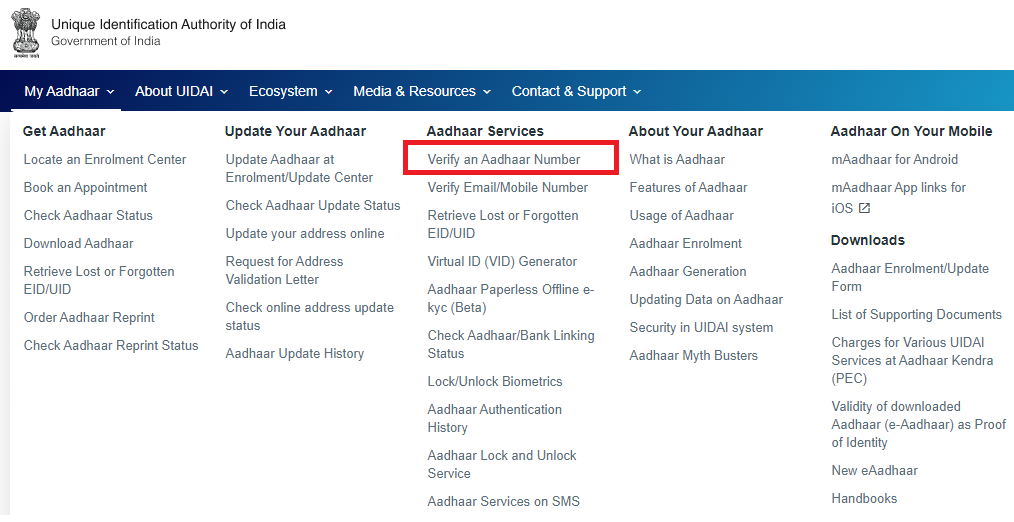 Step 3: You will be redirected to the Aadhaar verification website page
Step 4: Enter your 12-digit Aadhaar number and the security code in boxes provided on the page
Step 5: Now click on the "Verify" button to know that your aadhaar card is active or deactivated
Step 6: If your Aadhaar is active, a message will be displayed stating "Aadhaar Verification Completes!"
Step 7: Also If a green tick mark appears, It means that your Aadhaar card has not been deactivated
Step 8: Other details such as your age band, gender, state and mobile number will also be mentioned

Why is Aadhaar Card Verification Necessary?
The Unique Identification Authority of India recently detected many people trying to make fake Aadhaar Cards. To avoid problems related to this, UID verification facility has been provided
With the help of the simple verification process, you can not only ensure your Aadhaar card is original, but also if the details are correct
If you fail to verify your Aadhaar card, there is a high probability that someone might be misusing a copy of your card and this will fail the entire purpose to have a card
If your Aadhaar card exists and has been issued, it will be displayed on the screen
Advantages of Aadhaar Card Verification
The main aim of introducing the card was to have a single document which will work as both identity and address proof. The Aadhaar card should not be and cannot be treated as the proof of citizenship of India. From the time the card was introduced to the present times, the Aadhaar card has become very useful and it can be used in many places and is not just an identity proof.
Some of the advantages of Aadhaar card verification are as follows:
Filing Income Tax Returns: It will help you in filing the income tax returns online. You need to link your Aadhaar card on the e-filing website and upload the income tax returns easily.
Passport: Now with the help of an Aadhaar card, it is possible for you to get your passport in a few days instead of standing in long queues.
Identity Proof: Aadhaar card is an identity proof of every resident of the country. The details of all the card holders are safe with the government. The biometric data can be used to authenticate the identity of that individual if the need arises.
Purchase of New Vehicle: Many states are making it mandatory to show the Aadhaar card when buying a new vehicle. Also the card has been made mandatory for getting a driving license.
New SIM: There is also a discussion to make it mandatory for any individual to show an Aadhaar card when buying a new sim card. If this comes through, it will get difficult to get a new mobile connection without the card.
Bank Account: Opening bank accounts has become very simple if you have an Aadhaar card.
Pension: The pension money is easily available now with the help of the Aadhaar card.
Other Advantages: 
Using your Aadhaar card you can get a digital life certificate and this reduces all physical work needed to get pension.
Government subsidies are now easily available with the help of the Aadhaar card.
The government has also proposed that the Aadhaar cards of government employees should be linked to various activities in the office like the attendance.
Documents Required for Aadhaar Card Verification
There are no documents required for Aadhaar card verification. It is an online process and the data is validated against that already fed in UIDAI's database.
A number of documents can be verified using an Aadhaar card. Some of those are a driving license, PAN card, passport, voter's ID card, birth certificate, marriage certificate, etc. Also, the person has to be physically present at the center in order to record the biometric data.
 Read more about The documents required when applying for an Aadhar card

A Good Credit Score ensures you manage Your Finances Well Check Score
FAQs on Aadhaar Verification
Q. Can I become an Address Verifier if I have updated address in my Aadhaar using Validation Letter?
Ans. If you have updated address in your Aadhaar using Validation Letter, you cannot become an Address verifier.
Q. Who is an Address Verifier?
Ans. Any of the following can be an address verifier who will allow you to use his/her address as proof and has the same address as registered in his/her Aadhaar:
Any family member
Any distant/close relative
Your friend
Landlord
Q. My verifier does not have a registered mobile number. How can I use this service then?
Ans. In case your verifier does not have a registered mobile number, your verifier has to get his/her mobile number updated with Aadhaar as for this service, the mobile number of both the resident and the verifier must be registered.
Q. Why does it show my verifier's name in the new address on the screen?
Ans. The reason why your verifier's name is shown in the new address on screen is that his/her name is already filled under the C/o section and cannot be changed.
Q. Can I verify someone is providing me Correct Aadhar number?
Ans. Yes, you can verify anyone's Aadhaar number if he/she provides you with the correct Aadhaar number.