UIDAI issues virtual ID to address the issue of Aadhaar data breach as it would become almost impossible to track the Aadhaar number from the virtual ID.  You can provide the Aadhaar virtual ID to get your e-KYC done at both private and government organisations. Virtual ID can also be used for Aadhar card download from UIDAI's online portal.

 What is Aadhaar Virtual ID
Virtual ID is an alternative to Aadhaar number. This temporary code consists of 16 numerals that are generated against an Aadhaar number. However, the virtual ID or VID in no case can be used to retrieve the original Aadhaar card. At a time, only one virtual ID is generated against an Aadhaar number. It can be generated as many times as the user wants. This revocable code is valid for at least one day and can be changed with the change in date, i.e. at 00:00 am.
How to Generate Aadhaar Virtual ID Online
You have to generate the virtual ID (VID) to use it against your Aadhaar. The virtual ID can be generated online by visiting the UIDAI's official site. However, it is worth mentioning that you should have the mobile number registered with UIDAI to avail this service as the virtual ID will be sent to your mobile number. In case you have not registered your mobile number with UIDAI, you will have to first link your mobile number with Aadhaar card. The process for retrieving a virtual ID is same as that of the VID generation. To generate Aadhaar virtual ID online, you can follow these steps:
Step 1: Visit UIDAI's website at http://uidai.gov.in/
Step 2: Click on the "Virtual ID (VID) Generator" from Aadhaar Services section


Step 3: You will be taken to a new VID Generation page

Step 4: Select if you want to generate a new VID or retrieve your old VID.
Step 5: Enter your 12 digit Aadhaar Number,  security code and click on the "Send OTP" button
Step 6: Enter the OTP that you receive on your registered mobile number and click on the "Verify & Proceed" button

Step 7: You will get a message like "Your VID (16-digit VID) has been sent to your Aadhaar registered mobile."

Step 8: You will get the message on your registered mobile number mentioning the 16-digit virtual ID for Aadhaar number and the last 4 digits of Aadhaar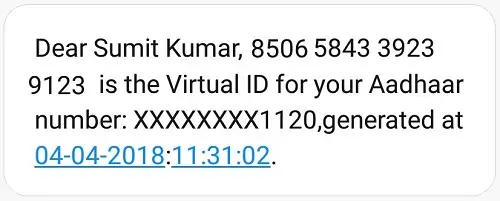 Note: You can generate virtual IDs for other Aadhaar numbers as well for your family
How to Generate Aadhaar Virtual ID via mAadhaar 
You can generate virtual ID (VID) using the mAadhaar app by following the steps given below:
Login to the mAadhaar app
Click on 'Generate Virtual ID'
Enter your Aadhaar Number, the security captcha and click on the 'Request OTP' button
Enter the OTP received on your registered mobile number and click on 'Generate VID' to receive your VID
How to Generate Aadhaar Virtual ID via SMS
To generate Aadhaar Virtual ID (VID) via SMS simply type "GVID Last 4 digits of Aadhaar Number" from your registered mobile number and send it to 1947 (Aadhaar helpline number).
For instance: Type "GVID 1234" from your registered mobile number and send it to 1947 to receive your VID via SMS.
Why Do We Need Aadhar Virtual ID
There have been a number of cases where claims of Aadhaar data leakage have been allegedly made. People have been concerned about the safety of their Aadhaar and its details. UIDAI has addressed the concerns of people and has come up with a virtual ID. When users provide their virtual IDs instead of Aadhaar, agencies cannot retrieve the Aadhaar number of the applicant and the authentication is carried out as usual. Thus, the Aadhaar details are not accessed by the agencies in any manner keeping the Aadhaar number and other details safe from being hacked.
Aadhaar holders can generate the virtual ID and use it to authenticate for a service. Once the authentication is complete, the applicant can regenerate his virtual ID so that the details with the agency, if saved, are rendered useless.
Features of Aadhar Virtual ID (VID)
UIDAI has made various upgrades in its system through the VID. Some of the salient features of the virtual ID are:
The virtual ID is a temporary 16-digit code that will replace Aadhaar for authentication
There is only one virtual ID issued at a time. When a new VID is issued, the old one is flushed out
Agencies have to update their system to include VIDs by 31st May 2019
Aadhaar number cannot be retrieved from the virtual ID
There is no cap on the generation of virtual IDs
It is not compulsory to generate VIDs. A person can furnish his Aadhaar instead of the VID
Agencies cannot force applicants to provide Aadhaar number for e-KYC or verification
Agencies have to take consent from the user for authentication using VID
No agency is authorised to store the virtual ID or any other Aadhaar details taken for authentication
The virtual ID is valid till the user generates a new one
When you retrieve your Aadhaar, the last generated VID is sent to the registered mobile number
FAQs on UIDAI Virtual ID
A. Once the minimum validity period is over (currently fixed as one calendar day) and the Aadhaar card holder makes a request for regeneration, a new VID is generated and the previous VID is deactivated. However, in case the resident requests for the retrieval of VID, the last VID generated is sent to the Aadhaar card holder.
Q. Can VID be used for OTP/demographic/biometric authentication?
A. Yes, Aadhaar Virtual id can be used in place of an Aadhaar number in Authentication API input. Entities have to update their Aadhaar authentication application by 31st May 2019 to accept VID as input for authentication.