UIDAI, the Aadhaar issuing authority, has made provisions for people to check their Aadhar update history online through the official website. This unique feature will allow users to check the history of their Aadhaar details update request. When a person changes his address, mobile number or email address, he can get them updated. This update is stored under the Update Request Number (URN) in UIDAI's database. Users can get their biometric as well as demographic details updated offline and the update transaction can be viewed online.

Get Your Free Credit Report with Monthly Updates Check Now
How to Check Aadhaar Update History Online
Aadhaar update history can be checked online by visiting the UIDAI portal. Your mobile number should be registered in UIDAI's database to avail this facility. You have to follow these simple steps to check Aadhaar update history:
Step 1: Visit the UIDAI portal
Step 2: Select the "Aadhaar Update History (Beta)" option from the "Aadhaar Update" section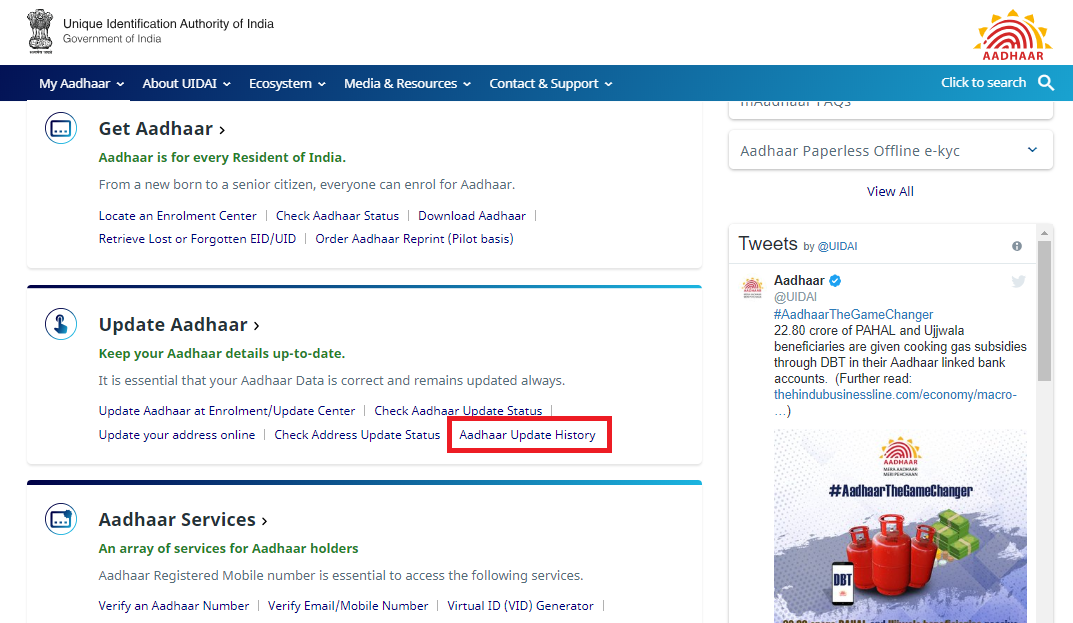 Step 3: Enter your Aadhaar number or the virtual ID and security code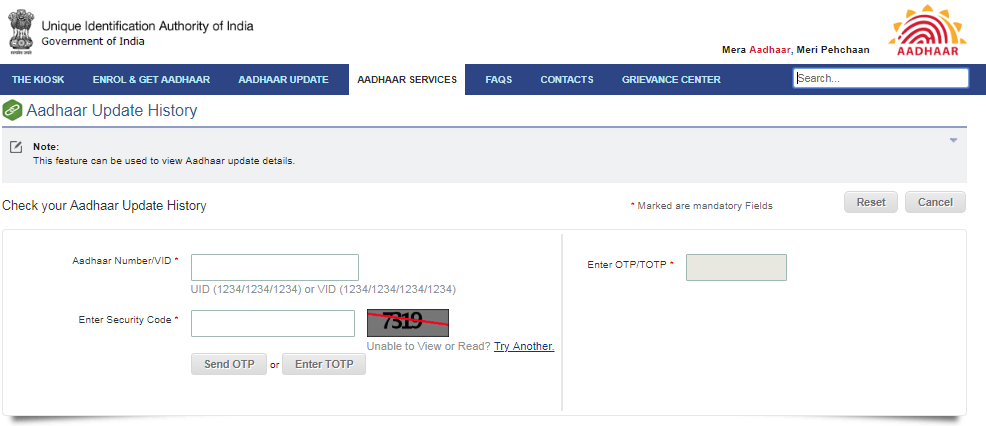 Step 4: Select whether you want to send the OTP to your registered mobile number or generate TOTP from the mAadhaar app
Step 5: In case you select "Send OTP", an OTP will be sent to your mobile number registered with Aadhaar
Step 6: You can enter the Time-based OTP generated in the mAadhaar app for authentication
Step 7: Enter the OTP/TOTP and click on the "Submit" button
Step 8: A list of all update instances will be displayed on the screen irrespective of updates performed online/offline or in biometric/demographic data

Also Read: How to Update Address in Your Aadhaar Card if you don't have any Documentary Proof
Details Mentioned in Aadhaar Update History
The results of Aadhaar update history displayed on the screen contains following details:
Date and Time of Checking – The date and time of checking the Aadhaar update history is mentioned on the screen
URN – The update request number generated at the time of placing the request is mentioned first. This URN is used to check the status of the update request
Date of Update – The date when you have submitted the request for updating your details in Aadhaar
Type of Update – Biometric, demographic or new request
Photo of the User – the photo of the user is displayed
Demographic details – Details such as name, mobile number, email id, date of birth, gender and address mentioned in Aadhaar
Salient Features of Aadhaar Update History
You can use the Aadhaar Virtual ID to check your Aadhaar update history as well
You can see when you have made changes in your Aadhaar details
You can check that none of the updates are shown that have not been performed by you. In case there is any such entry, report it to UIDAI as soon as possible
The Aadhaar update history of an applicant can be accessed by the person himself. Nobody else can access these details.
This facility is not available offline. In case you visit an Aadhaar Enrolment Centre in your area, the executive cannot provide you these details.
Things to keep in mind when you check Aadhaar update history
Your mobile number should be linked with Aadhaar to avail this facility
If you have installed mAadhaar app in your smartphone, you can enter TOTP for authentication instead of sending OTP to the mobile number
All updates done till now will be displayed on the screen
You cannot download the results in any way
You can take a screenshot of results and store it for future reference