The Employees' Provident Fund Organisation (EPFO) has made it mandatory for employees to link their Aadhaar with their Universal Account Number (UAN). A person can link Aadhaar with EPF account both online and offline. Let us have a look at how we can do it easily.
EPFO has made provisions for all employees across India to manage their PF accounts online. They can visit the EPFO website and link their UAN with Aadhaar. However, you must follow the steps mentioned below to do the same:
Step 1. Visit the official portal of EPFO website https://unifiedportal-mem.epfindia.gov.in/memberinterface/
Step 2. Login to your account using your UAN and password.
Step 3. In the "Manage" section, click on the KYC option.
Step 4. You will be redirected to a new page, from where you can select "Aadhaar" to link with your EPF account.
Step 5.  Now, click on "Aadhaar" and enter your Aadhaar number and your name as per your Aadhaar card and click on the save option.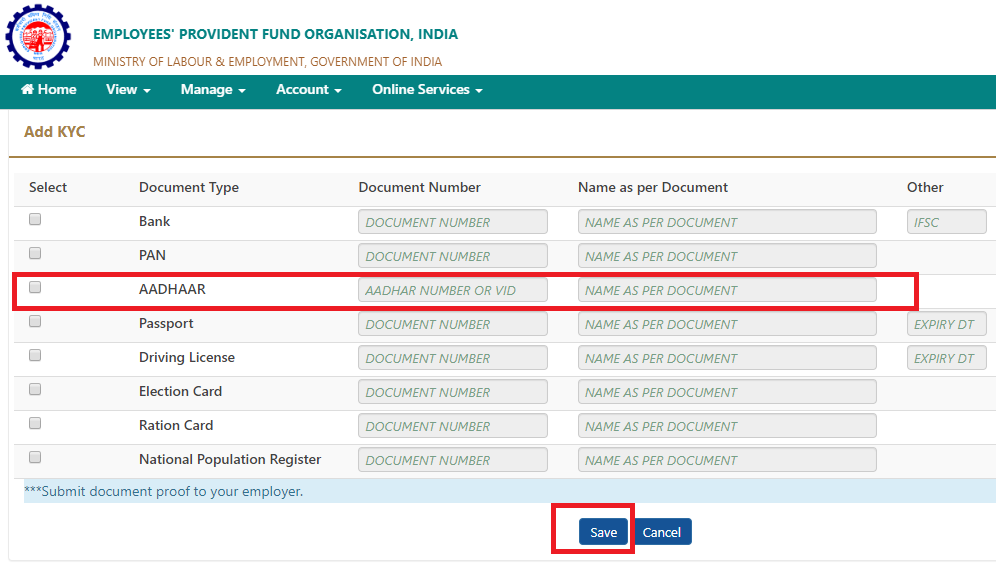 Step 6. Once you have saved your  Aadhaar details, your Aadhaar will be verified from UIDAI's data.
Step 7.  On successful approval of your KYC document, you will successfully be able to link Aadhaar with EPF account and you will find "Verified" written against your Aadhaar details

Your Credit Score Is Now Absolutely Free Check Report
Linking Aadhaar with Your EPF Account Using Offline
To make it easier for those individuals who are not adept in using computers, EPFO has made provisions for linking Aadhaar with their EPF account. Such employees can also get their EPF account linked with Aadhaar by visiting the EPFO office (Find EPFO Office Near You) and submitting the application in person. It can be done easily by following these simple steps:
Step 1: Fill out the "Aadhaar Seeding Application" form.
Step 2: Enter your UAN and Aadhaar in the form along with other relevant details.
Step 3: Attach self-attested copies of your UAN, PAN and Aadhaar with the form.
Step 4: Submit it to the executive at any of the field offices of EPFO or Common Service Centres (CSC) outlets.
Step 5: After proper verification, your Aadhaar will be linked with your EPF account.
Step 6: You will get a message related to this on your registered mobile number.