Utkarsh Small Finance Bank offers some of the best FD interest rates in the market. The bank provides its customers with an option to safeguard their savings in fixed deposits and also earn good returns. Read on to know about the current Utkarsh Small Finance Bank FD rates along with the bank's premature withdrawal facility, eligibility criteria and more.
Utkarsh Small Finance Bank FD Rates
Fixed Deposit Interest Rates on Domestic deposits of less than Rs 2 crore w.e.f. 20 January, 2022:
Tenure
Interest Rates (p.a.)
General Customers
Senior Citizens
7 days to 45 days
3.00%
3.50%
46 days to 90 days
3.25%
3.75%
91 days to 180 days
4.00%
4.50%
181 days to 364 days
5.75%
6.25%
365 days to 699 days
6.50%
7.00%
700 days to 999 days
6.75%
7.25%
1000 days
6.90%
7.40%
1001 days upto 5 years
6.75%
7.25%
Above 5 years to 10 years
6.00%
6.50%
Utkarsh Small Finance Bank Tax Saver Deposit
| | | |
| --- | --- | --- |
| Tenure | Regular Citizens | Senior Citizens |
| 5 years | 6.75% | 7.25% |
Utkarsh Small Finance Bank FD Plus Rates
(without premature withdrawal facility)
Tenure
Utkarsh Bank FD Rates (p.a.)
General Customers
Senior Citizens

7 days to 45 days

3%

3.5%

46 days to 90 days

3.25%

3.75%

91 days to 180 days

4%

4.5%

181 days to 364 days

5.75%

6.25%

365 days to 699 days

6.5%

7%

700 days

7%

7.5%

701 days to 3652 days

6.25%

6.75%
Note: Interest rates are applicable to deposits above ₹ 15 Lakhs to below ₹ 2 crores with effect from 1st July 2021
Utkarsh Small Finance Bank – Fixed Deposit Schemes
The bank has two types of fixed deposit schemes to cater to the differential needs of its customers. These schemes are:
Utkarsh – Fixed Deposit
Utkarsh – Fixed Deposit Plus
Features & Benefits of Utkarsh Bank FD Schemes
This is the bank's regular FD scheme and is fit for most of the customer base. The details of this scheme are stated in the table below:
Particulars
Details
Tenure
7 days – 10 years
Min. Deposit Amount
Rs. 1,000
Interest Treatment
Simple Interest calculation for deposits maturing in less than 181 days

The option of compounding is available for deposits maturing in 181 days or more

Rates for Senior Citizens
0.5% over the standard FD interest rates
Premature Withdrawal
Allowed; a penalty of 1%
Features

Option to receive monthly or quarterly interest
A nominee can be appointed online
Available for resident individuals and non-individuals
No capping on investment amount (for deposits above Rs. 2 crores, customer needs to directly contact the bank)
Utkarsh Fixed Deposit Plus
This fixed deposit scheme is designed to provide higher returns to those who wish to invest a higher amount (minimum Rs. 15 Lakh to less than Rs. 2 Crore). Features of this scheme are tabulated further:
Particulars
Details
Tenure
7 days – 10 years
Min. Deposit Amount
Rs. 15 lakh
Max. Deposit Amount
Less than Rs.1 crore
Interest Treatment
Same as that of regular fixed deposit scheme
Rates for Senior Citizens
0.50% extra
Premature Withdrawal
Not allowed
Features

Higher FD

rates

than regular fixed deposit scheme
Online nomination facility available
Investment capped at Rs. 2 crore
Who Should Invest?
Anyone looking for a safer investment option with decent but guaranteed returns should invest in a fixed deposit scheme. For Utkarsh FD schemes, you can earn better interest rates than the average rates circulating in the major banks.
For those looking to save on the income tax, go for Tax Saver FD and save up to Rs. 1.5 lakh by claiming the deposit amount in 'Deductions' u/s 80C of IT Act, 1961.
If you wish to invest a big amount, starting with Rs. 15 lakh, you should select Utkarsh Fixed Deposit Plus and earn higher interest due to preferential rates.


Get Your Free Credit Report with Monthly Updates Check Now
Premature Withdrawal Facility
Premature withdrawal facility means that the depositor is given the option to withdraw money from the fixed deposit before the date of maturity. This option is given to depositors to help them self-finance an emergency. The following points highlight the features of this facility:
1% penalty is levied on withdrawing funds before the maturity

Lower of 1% minus the FD rate at the time of booking or 1% minus the rate of interest for the period for which the FD was active

No interest is paid on premature withdrawal exercised before 7 days from the date of booking
Utkarsh Bank FD Calculator
Before putting money in any of the fixed deposit schemes by Utkarsh Small Finance Bank, it is suggested to use the Fixed Deposit Calculator at Paisabazaar.com. This is an online free tool that can be accessed at any time and from mobile phone or computer, likewise.
Using this FD calculator, customers can get an idea of their potential interest earnings with Utkarsh Bank's FD schemes. To use the tool, one only needs to provide three inputs, viz. deposit amount, tenure for which FD is to be kept with the bank, and the updated Utkarsh Bank FD rates.
On submitting these details, the calculator shall furnish the estimated total interest earnings. This way, one can direct one's money in the best possible way.
Eligibility Criteria – Who can apply?
The persons stated below can apply for the FD schemes by Utkarsh Small Finance Bank:
Indian residents (individuals)

Hindu Undivided Families (HUFs)

Partnership Firms

Sole Proprietorship Firms

Trusts and Societies

Limited Companies
Documents Required to Apply
The following documents/details are required when opening a fixed deposit account with Utkarsh Bank:
1. Individuals
One latest passport size photograph

PAN or Form 60

Address Proof (Voter's ID card/ Aadhar / Passport/ Driving Licence/Job card issued by NREGA, etc.)
2. Public or Private Limited Companies
Certificate of Incorporation

Memorandum and Articles of Association

Board Resolution authorizing the opening and operations of the account

PAN or General Index Registrar (GIR) number

List of Directors with residential addresses

PAN Card and Aadhaar Card of authorized signatories

Firm's Address Proof (if not stated in the Certificate of Incorporation)

GST Certificate
3. Partnership Firms
Partnership Deed and Registration Certificate, PAN Card of Partnership Firm

Shop and Establishment Certificate or GST Certificate

Letter from partners approving the persons concerned to open and operate the account

Aadhaar Card and PAN Card of Authorized Signatories

PAN Card of the Firm or Form 60
4. Limited Liability Partnership Firms
Certificate of Registration issued by the registrar of Limited Liability Partnership

PAN Card of LLP

Aadhaar Card and PAN Card of authorized signatories

Communication Address proof of Limited Liability Partnership Firm
5. Proprietorship Concerns
Certificate from a State Government or Statutory Body or

Trade License

or Sales Tax Certificate or Shop and Establishment Certificate or GST Certificate

Letter of proprietorship, duly signed by the proprietor in her or his individual capacity (with a rubber stamp)

Aadhaar Card and PAN Card of the proprietor(s) or authorized signatory(s

)
6. Hindu Undivided Family (HUF)
Letter of HUF duly signed by Karta and all Co-Parceners

PAN or GIR number or completed Form 60

Names of Karta and Co-Parceners with a residential address

Aadhaar Card of all authorized signatories

A Good Credit Score ensures you manage Your Finances Well Check Score
Utkarsh Bank FD Schemes – How to Apply?
Interested customers are required to visit a nearby branch of Utkarsh Small Finance Bank along with all the above-stated documents.
However, now the bank has come up with another alternative in which one may apply online and a banks' customer care executive shall call back to help the customer proceed with the application thus registered.
Steps for online intimation are as follows:
Step 1 – Visit the official website of Utkarsh Small Finance Bank.
Step 2 – On the top of the homepage, hover over the 'Accounts & Deposits' tab and select 'Fixed Deposits' or 'Fixed Deposit Plus' from the list.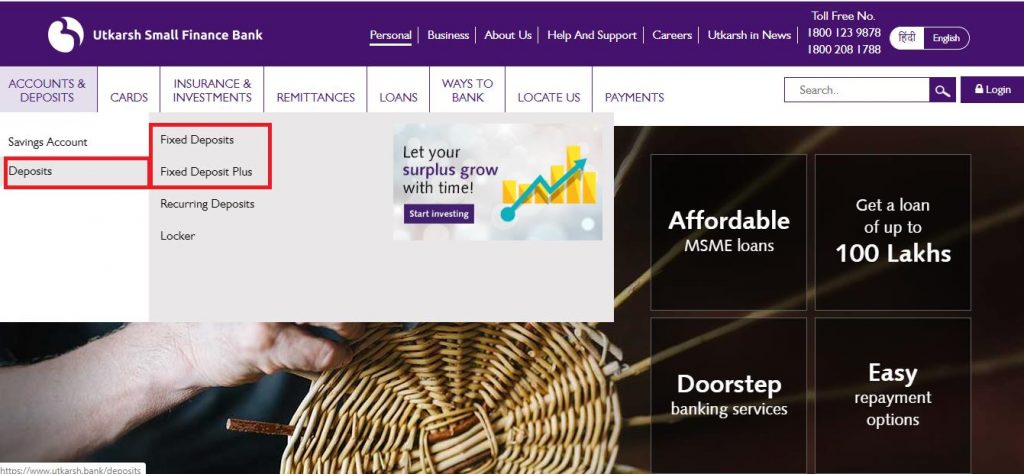 Step 3 – On the redirected page, Click on the 'Apply Now' button.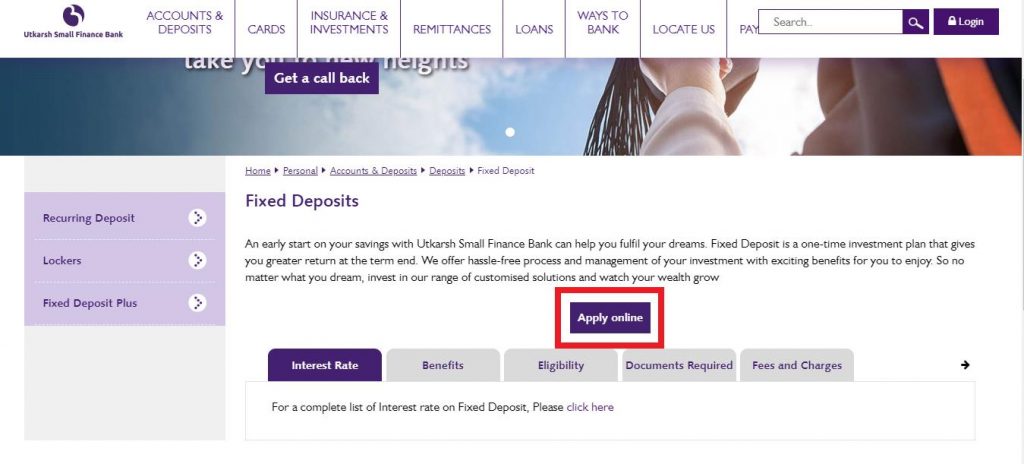 Step 4 – Fill the pop-up online form with the product type, state, city and nearest branch number from options provided in drop-down boxes along with name and contact number.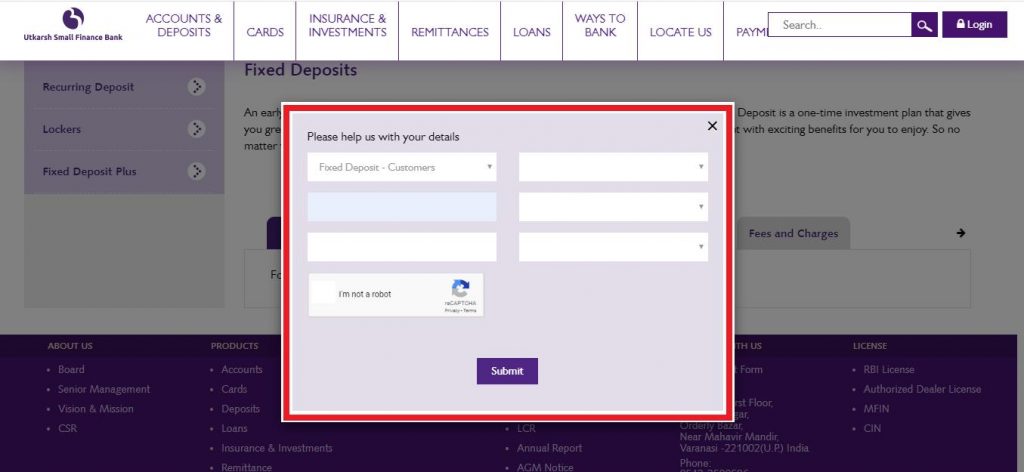 Step 5 – Submit the form (after clicking on the 'reCaptcha' to confirm that the user is a human).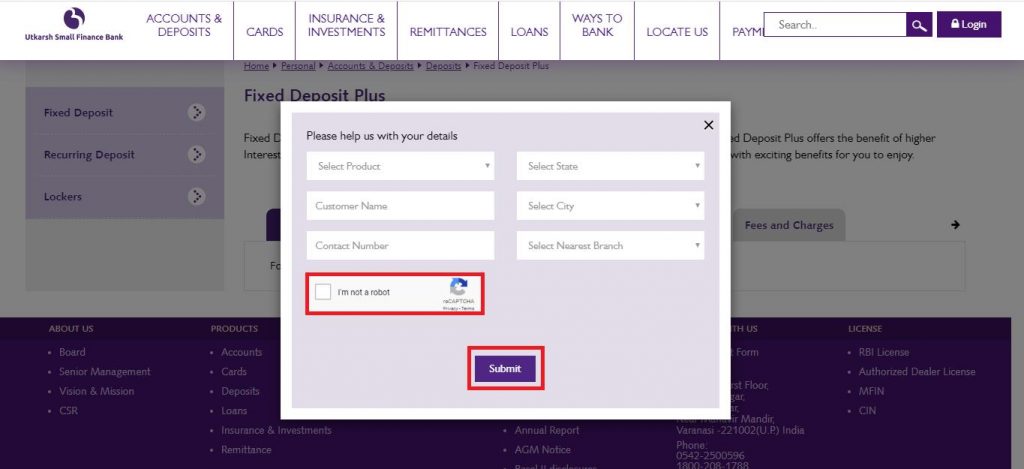 Step 6 – Enter the OTP (this will be sent to the submitted contact number) and click on 'Get a call back' to complete the application process.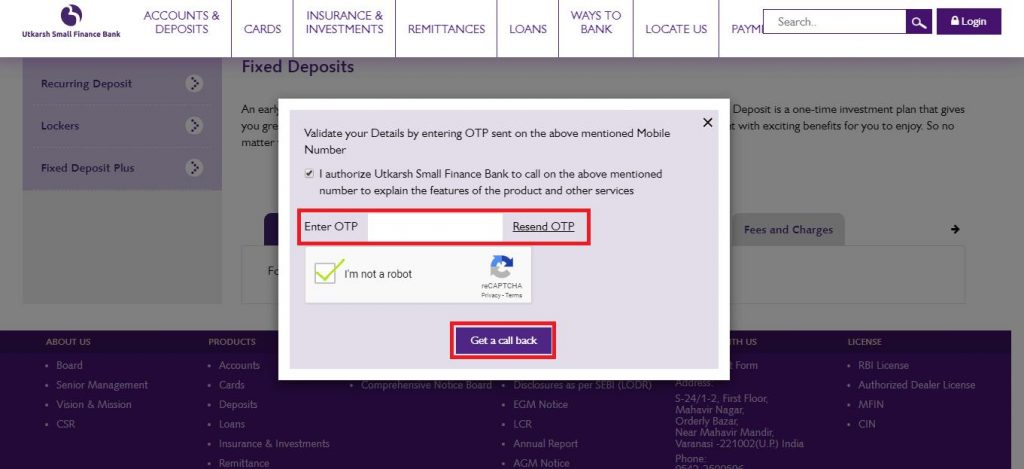 For queries, customers can also call on any of the following Utkarsh Small Finance Bank customer care numbers:
1800 123 9878
1800 208 1788
Frequently Asked Questions (FAQs)
Q. What is the highest Utkarsh Small Finance Bank FD Rate available?

Currently, the highest Utkarsh Small Finance Bank FD rate is 6.75% for regular individuals & 7.25% for senior citizens (700 days).

Q. What is the minimum amount to invest in Utkarsh Small Finance Bank Fixed Deposit Account?

The minimum amount to invest in Utkarsh Small Finance Bank Fixed Deposit Account is Rs. 1,000.

Q. What is the minimum amount to invest in Utkarsh Small Finance Bank Fixed Deposit Plus Account?

The minimum amount to invest in Utkarsh Small Finance Bank Fixed Deposit Account Plus is Rs. 15,00,000.

Q. Are there any penalty charges on premature withdrawal of Utkarsh Small Finance Bank Fixed Deposit?

Bank charges a penalty of 1%, i.e. interest is given at the applicable rate of interest minus 1%.

[/vc_tta_section][/vc_tta_accordion]