Fixed deposits are of two types – Cumulative and Non-Cumulative. This bifurcation is done on the basis of interest payout. Whether you choose to receive interest earned regularly or opt for on-maturity payment, it determines the type of FD you will have.
Let's discuss these two modes of investment in FD along with what suits you the best.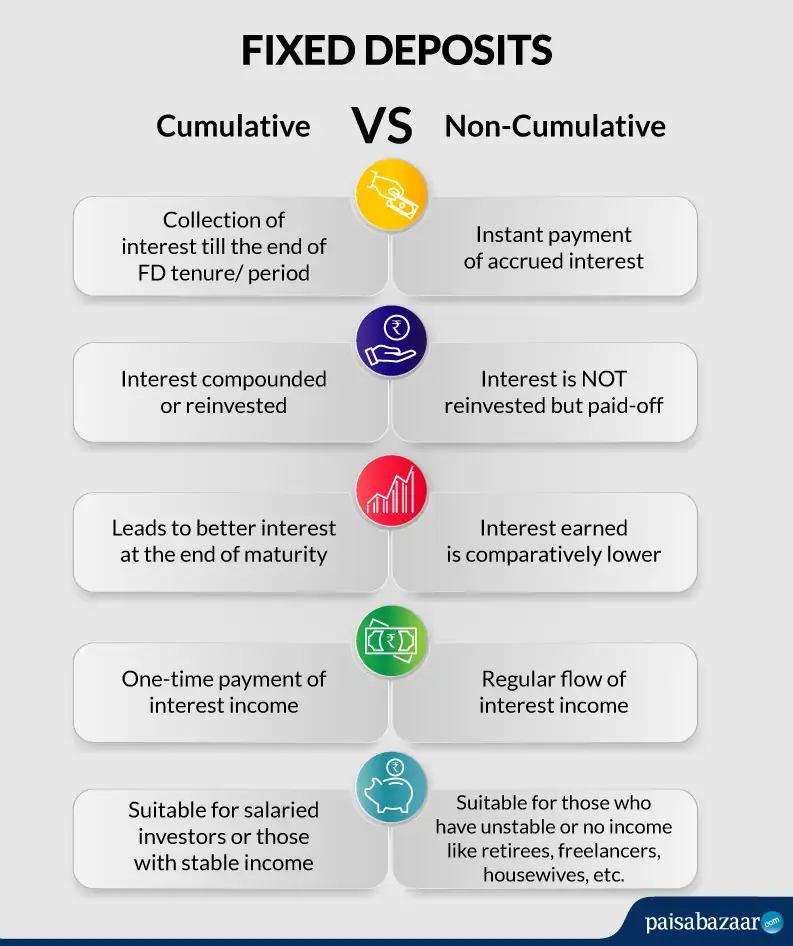 What is Cumulative Fixed Deposit?
The word cumulative means accumulation. Similarly cumulative fixed deposit means a fixed deposit where interest is accumulated or collected till the end of the maturity period.
The interest earned in one year or in one cycle is reinvested or added to the previous principal, thus increasing the principal amount. This, in turn, pumps up the interest. Here the power of compounding is put to best use. Once your FD matures, you receive the maturity amount which is a total of your initial deposit amount plus accumulated interest.
Who should invest in Cumulative FD?
This type of FD is suitable for those who are not dependent on interest income. These can be people with a stable salary or those earning decent profit in their respective businesses.
If you are looking to save a particular amount for future and can do without regular interest landing in your account, you should consider cumulative fixed deposit.
What is Non-Cumulative Fixed Deposit?
Non-cumulative fixed deposit is where interest accrued is paid regularly to the depositor. The interest-paying interval can vary from monthly to quarterly and seldom, to semi-annually.
This type of FD offers a regular payout to investors since the interest is not withheld by the bank. It offers lesser interest as compared to cumulative FD because the power of compounding is not properly realised.
Also Read: Monthly Interest for 1 lakh Fixed Deposit
Who should invest in non-cumulative FD?
Non-cumulative FD works best for retirees, freelancers and housewives who seek regular income from their savings.
Difference between Cumulative and Non-Cumulative Fixed Deposit
Let's draw a clear comparison between the two FD types in the table below:
Particulars
Cumulative FD
Non-Cumulative FD
Definition
Interest is accumulated through the entire FD tenure
Interest is not accumulated
Interest Payout
Paid on maturity
Paid on a monthly, quarterly, half-yearly, or yearly basis
Income Flow
No income during the FD tenure
Regular income flow throughout the tenure
Reinvestment
Yes

Depositor earns interest on interest

This leads to higher interest than non-cumulative FD

No

Since the interest in paid out, there is no reinvestment option here

Total interest is slightly lesser than the cumulative option

Suitable for
Salaried people or those with stable profits
Retirees, housewives, and freelancers

Book SBM Bank FD & Get Lifetime FREE Step UP Credit Card Know More
How to Maximise FD Returns?
FD returns can be maximised in the cumulative option. Here, the interest accumulated is reinvested on a regular basis. Thus, the interest accrued in the first cycle (generally yearly or quarterly) is added to the principal. This leads to an increased principal. Interest in the second cycle is calculated on this increased principal that leads to higher interest. This goes on until the FD tenure is not over.
This way, interest at the end of the FD tenure becomes higher than a traditional non-cumulative fixed deposit and returns are swelled to the maximum.

Get Secured Credit Card with credit limit of 100% of your FD Apply Now
Cumulative FD vs Non-Cumulative FD: Which is better for me?
The choice between the two modes of interest payment depends on your preference. If your purpose is to add-on to your existing income or to provide for pension after retirement, non-cumulative FD is your pick.
But, if you are not looking for an add-on but are looking to multiply your existing savings at an exponential rate, you can finalise the cumulative option without a doubt.