Updated: 07-05-2021 07:22:16 AM
TransUnion CIBIL Limited, commonly known as CIBIL (Credit Information Bureau India Limited), is the leading credit information company (credit bureau) in India. The key function of CIBIL is to provide a credit report and credit score for individuals as well as credit report and credit rank for companies, which are often the decisive factors in getting new credit applications approved. In the following sections, we will discuss key details about TransUnion CIBIL and its role in the borrowing process.
What is the Role of CIBIL in the Lending Process?
CIBIL is licensed by the Reserve Bank of India and governed by the Credit Information Companies (Regulation) Act of 2005. The credit bureau is authorized to collect credit behaviour data and generate credit reports for both individuals as well as companies. These reports play a key role in the approval of applications for new credit such as loans and credit cards. The details of this process are as follows:
Banks and financial institutions such as NBFCs submit their credit data (individual as well as company credit data), such as outstanding loan amount, repayment trends, new loan/credit card applications etc. on a monthly basis to CIBIL.
TransUnion CIBIL collates this data and uses it to generate credit reports for individuals that include "CIBIL Score" as well as credit reports for businesses that contain "CIBIL Rank".
Lenders can check the CIBIL report as well as the CIBIL score/CIBIL rank to evaluate the risk of lending to applicants and accordingly approve or reject new loan/credit card applications. Subsequently, this decision is also reported to CIBIL and included in future reports.
What is CIBIL Score?
CIBIL Score is a three-digit numeric summary of an individual's credit history calculated using the proprietary formula of TransUnion CIBIL. It ranges from 300 to 900 and a score that is closer to 900 such as 750 and higher indicates higher creditworthiness of the individual. Your CIBIL score is included in your CIBIL report and a high score increases your chances of being approved for a new loan or credit card.

How to Check CIBIL Score for Free?
You can check your CIBIL score with monthly updates and also get your free CIBIL credit Report on Paisabazaar. To check your free CIBIL score through Paisabazaar.com simply follow the steps given below:
Step 1: Go to Paisabazaar.com
Step 2: On the homepage, click on 'Get Free Credit Report'.

Step 3: Fill in details including your name, date of birth, gender, mobile number, PAN, etc., and click on the checkbox to agree to the terms and conditions.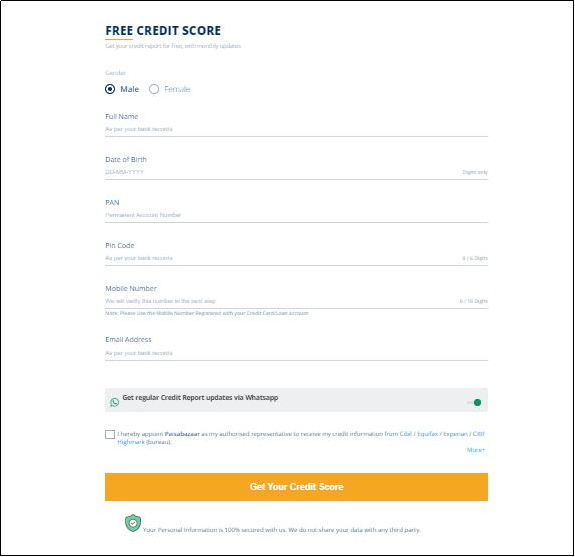 Step 4: Click on 'Get Your Credit Score'. Once your CIBIL report and score has been generated you will be informed about the same via SMS and email. You can view and/or download your CIBIL report by logging into your free Paisabazaar.com account.
What are the Different Parts of a CIBIL Report?
Monthly records of loans and credit cards are submitted to CIBIL by various financial institutions, including banks and NBFCs. CIBIL collates this data to create an individual's Credit Information Report (CIR) or CIBIL Report. Following are the various parts of a CIBIL report:
CIBIL Score: This is the first section of the CIBIL report that features a 3 digit number between 300 and 900 which sums up the credit history of an individual. The score is calculated using the credit data of an individual using a proprietary algorithm. Click for more details
Personal Information: This section contains your name, gender, date of birth, and identification numbers such as passport number, PAN, etc.
Contact Information: Your address(s) and telephone numbers are provided in this section.
Account Information: This part of the CIBIL credit report contains information about your current as well as previous loans and credit cards, your outstanding balance, overdue amount, loan amount, credit card limit, etc.
Enquiry Information: Whenever you apply for a credit card/loan, the lender requests CIBIL for a copy of your credit report. Such a request made by the lender is called an enquiry. This section of the CIR contains details of the purpose, amount and dates when such enquiries were made along with the name of the financial institution that made the enquiry.
Thus, the CIBIL credit report basically provides a detailed historic record of how an individual has handled debt in the past. Please note that the credit report does not include details of an individual's investment or savings.
What is CIBIL Rank?
Just as CIBIL provides credit score for individuals, it generates credit rank for businesses. CIBIL rank serves as a numeric summary of the details included in a CIBIL Company Credit Report (CCR). Key features of CIBIL Rank include:
It varies on a scale of 1 to 10, where 1 is considered the best rank.
Currently, CIBIL rank is only provided for businesses with a credit exposure of Rs. 10 lakhs to Rs. 50 crores.
As CIBIL rank indicates a company's past handling of credit, it can significantly affect the chances of getting a new loan sanctioned. The closer a company's CIBIL rank is to 1, the greater are the chances of getting approved for a new loan.
What are the Services offered by CIBIL?
Following are the key services offered by CIBIL to Indian financial institutions such as banks and NBFCs:
Analytics and Consulting
Collections Management
Customer Acquisition
Fraud and ID Management
Portfolio Management
Which Companies are eligible for CIBIL Membership?
A variety of institutions are allowed to subscribe to a CIBIL membership. Being a CIBIL member allows institutions access to the various services provided by TransUnion CIBIL including access to CIBIL credit reports of individuals and companies. The following institutions are eligible for membership of TransUnion CIBIL:
Credit Institutions: This includes companies involved in the business of credit cards and distribution of credit, such as banks, co-operative banks, RRBs, NBFCs, Public Financial Institutions, HFCs, etc
Insurance companies
Companies providing cellular or telephone services
Asset reconstruction companies
Telecom companies
CIBIL Helpline Number for Consumers is (+91) 22-614-043-00. This helpline number is operational from 10:00 AM to 06:00 PM (Monday- Friday)
Fax: (+91)22-66384666
You can also write to CIBIL at its registered address. The address is:
TransUnion CIBIL Limited
One World Center, 19th Floor, Tower 2A and 2B,
841, Jupiter Textile Mill Compound, Senapati Bapat Marg,
Lower Parel, Mumbai – 400 013
FAQs
Q1. Is CIBIL a credit rating agency?
CIBIL is officially a credit information company and not a credit rating agency. It provides CIBIL score to individuals and CIBIL rank to companies based on their past credit behaviour. However, a credit rating agency assigns credit rating to companies and investment products to provide investors with an estimate regarding the risk of investment.
Q2. Will my CIBIL score affect my visa application?
No, your CIBIL score does not affect your visa application. Generally, proof of funds is to be submitted along with a Visa application and your net worth/savings are not tracked by CIBIL.
Q3. What is the full form of CIBIL?
TransUnion CIBIL Limited was formerly called CIBIL. The full form of CIBIL is Credit Information Bureau (India) Limited.
Q4. What is CIBIL Selfservice Portal?
Individuals have the option to avail various services of TransUnion CIBIL by creating a myCIBIL account which provides access to the CIBIL Self-service Portal. Services available through this portal include checking CIBIL score, viewing/downloading CIBIL credit report, initiating correction of report errors through CIBIL dispute resolution.
Q5. How long does CIBIL keep an individual's credit history records?
CIBIL maintains a record of your credit history for at least 7-10 years.
Q6. How CIBIL collects data?
CIBIL works in collaboration with various financial institutions, including banks and NBFCs. CIBIL collects the data from these institutions in the form of their customer data regarding outstanding loans, credit cards and associated repayment trends.
Q7. Is CIBIL score only applicable in India?
Yes, CIBIL score is only applicable in India as it is generated on the basis of data provided by Indian lenders only.
Q8. Does TransUnion CIBIL have a mobile application in India?
No, TransUnion CIBIL does not have a mobile application for India. However official partners of CIBIL, such as Paisabazaar.com have mobile apps through which you can check your credit report and score for free.
Q9. What is a CIBIL mortgage check?
CIBIL mortgage check is a product offered by CIBIL to businesses. It is the first centralized database of mortgage information in India, which allows banks and other financial institutions to assess mortgage applications and reduce the chance of fraudulent transactions. It is particularly helpful at the time of sanctioning applications for a loan against property.
Q10. Does CIBIL publish a willful defaulter list?
No, CIBIL does not publish a willful defaulter list. Rather individual banks and RBI provide a list of the borrowers who have failed to repay the loan despite their capacity to do so. However, CIBIL does maintain a database of cases wherein suit filed cases and non-suit filed cases, where a lender can search for a willful defaulter.
Q11. What is TransUnion CIBIL score 2.0?
TransUnion CIBIL score 2.0 is a new and updated version of the CIBIL score. This version also takes into account individuals with a credit history of fewer than 6 months. In the previous version, such individuals were categorized under the "NH (No History)", however, CIBIL score 2.0 scores them on a scale of 1-5, where 1 means "high risk" and 5 means "low risk" borrower.
Q12. How often banks submit data to CIBIL?
Banks and other financial institutions submit customer data regarding loans and credit cards on a monthly basis to CIBIL.
Q13. What does CIBIL suit filed and non-suit filed accounts mean?
CIBIL maintains a database of the borrowers, who have failed to repay their loan dues in a timely manner. If the lender has filed a legal case to recover money from such borrowers, it is called a suit filed account. On the other hand, if the lender has not filed a case to recover the money, it is called a non-suit filed account. At present CIBIL maintains a record of such defaulters for a loan amount of Rs. 1 crore and above (for genuine defaulters) and Rs. 25 lakhs and above (for wilful defaulters) under the database lists termed "Suit Filed Accounts" and "Non-Suit Filed Accounts".
Must Read: How to remove your name from CIBIL defaulter list?
Q14. What does a CIBIL enquiry mean?
This refers to the section called "Credit Enquiries". This section reflects the number of times a request has been made to access your credit report by lenders. Lenders usually make a CIBIL enquiry whenever you submit an application for a new loan or credit card. If you apply for too many loans or credit cards at the same time, it will result in a greater number of enquiries which might negatively affect your credit score.
Q15. How can I improve my CIBIL score?
A high CIBIL score is reflective of good financial health and increases the chances of getting a new loan or credit card approved. You can maintain/improve your CIBIL score over time in the following ways:
Paying dues on time: Always pay your EMIs and credit card bills on time.
Low credit utilization ratio: You should always aim to maintain a lower credit utilization ratio, preferably less than 30%.
Credit mix: Maintain a healthy mix of secured and unsecured credit
Avoid multiple simultaneous loan/credit card applications: Never apply for too many loans/credit cards at the same time.
Q16. What are the various types of inaccuracies that can show up in my CIBIL report?
The following are the 3 main types of inaccuracies or CIBIL disputes that may be reflected in your credit report:
Ownership: If some of your personal details or account-related information, including enquiries showing up in the CIBIL report are actually not yours.
Incorrect personal details: Financial institutions submit details of your credit card account along with personal details such as an address, contact number, etc. to CIBIL. Hence if you do not update your bank about any change in your personal information, it can lead to incorrect details in your credit report.
Inaccurate account details: This refers to inaccuracies in your current balance or amount overdue. Such inaccuracies generally arise when you check your credit report within 45 days of your last payment of dues as the updated information from your lender has not yet been updated on your credit report.
Q17. Can my records be altered or deleted by CIBIL?
No, CIBIL does not change or delete the records of your credit history. It just collects data from its member financial institutions and evaluates it to generate a Credit Information Report and Credit Score.
Q18. What does a credit score of "NA/NH" mean?
A CIBIL score of NA/NH typically stands for not applicable/no history. It simply means one of the following:
Your credit history is too short or does not exist at all.
You have not been associated with any credit activity in the last 2 years.
You have add-on credit cards only and thus lack credit exposure.
Please note that though a credit score of "NA/NH" does not indicate a poor credit history. However, it may decrease the chances of getting a loan sanctioned by some lenders as the risk of lending to you cannot be estimated by prospective lenders.
Q19. What is the minimum CIBIL score required for any type of loan?
While a CIBIL score of 750 or higher is often considered to be ideal in case someone wants to apply for a new loan or credit card, most lenders do not specify a minimum CIBIL score for any type of loan.
Q20. How often is CIBIL Score updated?
Lenders send out credit data of their customers to CIBIL every month, hence CIBIL score may get updated once every month.
Q21. What are the CIBIL report fees?
Currently, you can get your CIBIL report along with monthly updates that can be availed for free on Paisabazaar.com
Q22. Is CIBIL Score free to check?
Yes. CIBIL score can be checked for free on Paisabazaar.com.
Q23. What is the difference between CIBIL Score and credit score?
Currently, 4 credit information companies operate in India and provide credit scores as well as reports to individuals. They are TransUnion CIBIL, Equifax, Experian and CRIF HighMark. They use a different proprietary formula to calculate credit score hence the same individual's credit score will vary from one credit information company to another. CIBIL score is the credit score provided by TransUnion CIBIL to individuals.
Q24. How much CIBIL score is good for loans?
Typically banks do not specify a minimum or good CIBIL score when one applies for a loan. That said, the closer an applicant's score is to 900, the better are his/her chances of having their loan application approved.
Q25. What is the reason for my low CIBIL score?
There can be a number of reasons for a low CIBIL score. The common causes may include:
Missed credit card/loan EMI payments
Increased debt to credit ratio
Increase in total unsecured credit
Rejection of recent loan/credit card application
Q26. Can I get a loan with a low CIBIL score?
Yes. Even though you may have to pay a higher interest rate or receive a lower loan amount, it is still possible to be approved for a loan with a low CIBIL score as long as you meet the other eligibility criteria specified by the lender.
Q27. Can I get a correction done in my CIBIL report?
In case you find an error in your CIBIL report, you can raise a dispute with CIBIL. While CIBIL does not levy any charges for this service, you may be required to provide supporting documents in order to get your correction request approved.