At times, some discrepancies might occur in your credit score report which can be detrimental for your credit card and loan eligibility. Whenever you find incorrect information in your CIBIL report, you can raise  CIBIL Dispute. It is advised to file a resolution request with CIBIL so that errors are rectified well in time and your creditworthiness is not impacted.

How to Raise Dispute with CIBIL?

Any dispute in the CIBIL Report or Company Credit Report can be notified by raising a CIBIL dispute resolution request. Those who have registered on CIBIL can directly raise a dispute by logging into their CIBIL member account. Follow the steps given below:
Step 1: Login to 'myCIBIL' & Click on 'Raise a Dispute' tab
Step 2: Select the relevant section that you want to dispute
Step 3: Select the 'Dispute Type' and submit the details of the dispute in brief
Step 4: If you are disputing a data inaccuracy, enter the correct value for the disputed field and submit.
Alternatively, users can also fill out the CIBIL online dispute resolution form directly without logging in to myCIBIL via the below-mentioned URL.
Online dispute resolution is the fastest way to correct the discrepancies in your CIBIL Report. However, one can also raise a CIBIL dispute by writing a letter addressed to their registered office in Mumbai.
TransUnion CIBIL Limited
One World Center, 19th Floor, Tower 2A and 2B,
Senapati Bapat Marg,
Lower Parel, Mumbai – 400 013
NOTE: For any other queries you can also reach out to Paisabazaar on creditreport@paisabazaar.com
How Does CIBIL Resolve Disputes?
Once the dispute is raised by users by filling out the online dispute resolution form, CIBIL initiates the dispute resolution process as shown in the image below.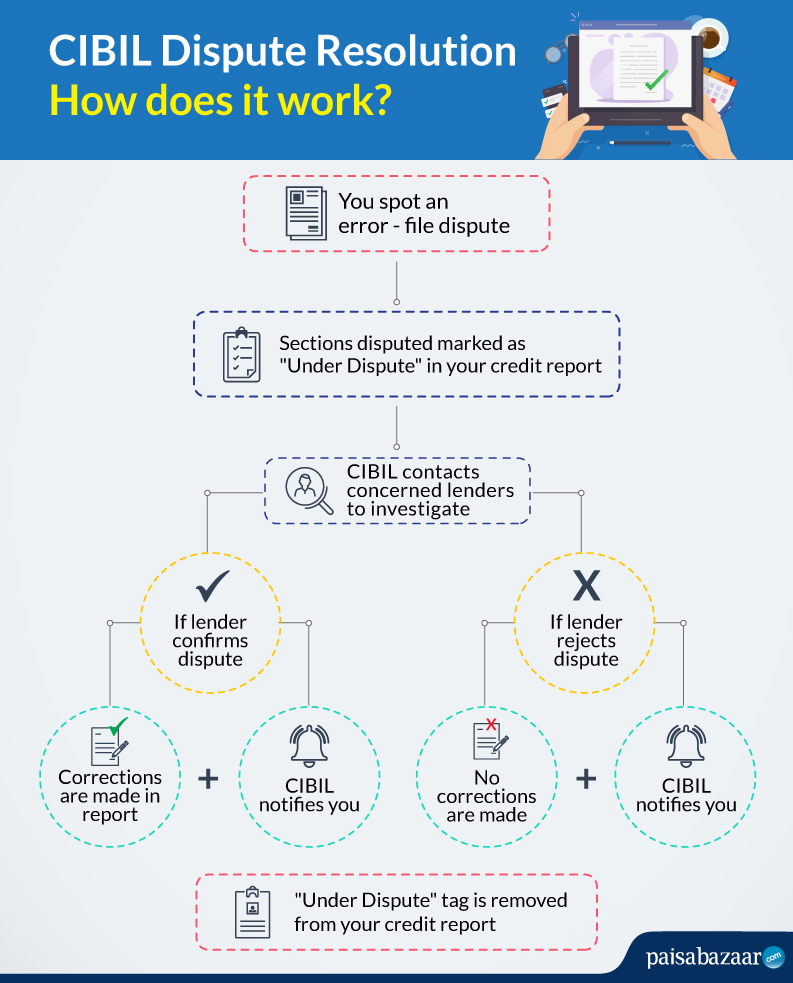 Types of CIBIL Disputes
Inaccuracies in your CIBIL Report can be related to your personal details and issues related to duplicate accounts. Personal details include incorrect filing of name or address. For example, Sumit Malhotra could be misspelt as Sumit Mehrotra or a single loan account may be reflected in your CIBIL Report twice, thus reducing your overall score
Company/Commercial Disputes
Company disputes may arise in the form of incorrect ownership details, the existence of duplicate accounts, data inaccuracies, etc. The authorized signatory of the company can initiate dispute resolution by filling the CIBIL dispute form.
However, information that cannot be rectified through the dispute resolution mechanism includes account number, member name, enquiry date, and control number.