Updated: 03-03-2021 11:09:04 AM
CIBIL Commercial Report refers to the reports prepared for potential commercial borrowers, such as public limited companies and private limited companies by TransUnion CIBIL.
In the following sections, key aspects of the CIBIL Commercial Report are discussed, including tips to improve your commercial CIBIL report.
What is CIBIL Commercial Report?
CIBIL Commercial Report, also known as CIBIL Company Credit Report (CCR) is a statement of a commercial consumer's credit history.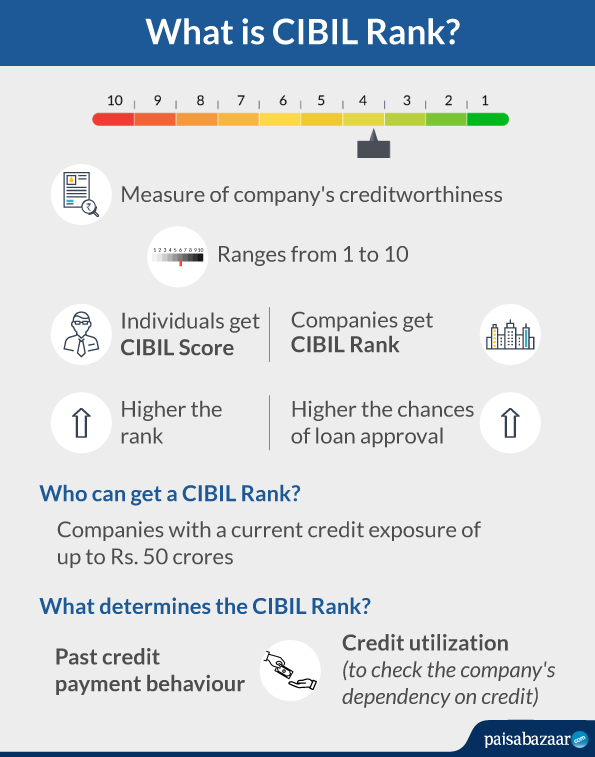 Just as CIBIL generates CIBIL Score and CIBIL Report for individuals, it generates CIBIL Rank and Company Credit Report (CCR) for commercial entities. This includes public limited companies, private limited companies, partnership firms and proprietorships.
CIBIL Commercial Report or CCR serves as a record of the company's credit history, based on the data submitted by various lending institutions across India.
The main purpose of this report is to help lenders assess the credit behaviour of a prospective commercial borrower. It helps them in making better and quicker lending decisions objectively.
CIBIL Score vs CIBIL Rank – What is the difference?
Just like individuals, commercial entities also apply for loans to carry out their businesses and when they do, lenders pull their credit history from credit bureaus like CIBIL. That's when the CIBIL commercial report and CIBIL rank helps.
We have drawn a comparison between the CIBIL Score and CIBIL Rank to help you better understand both terms and their differences. Refer to the table below:
| | |
| --- | --- |
| CIBIL Score | CIBIL Rank |
| For individuals | For companies |
| Ranges from 300 to 900 | Ranges from 1 to 10 |
| Closer to 900 – higher the chances of loan approval | Closer to 10 – higher the chances of loan approval |
| Summary of CIBIL Credit Report | Summary of CIBIL Commercial Credit Report |
Sections of Commercial Credit Information Report
Commercial Credit Information Report contains a host of information that is grouped in the following sections:
1. Identification: It is present at the top and contains Report Order Number, which indicates the number of times your report has been accessed from CIBIL's database.
2. Enquiry Information: This section specifies the name of the company, an identification code and address.
3. Borrower Profile: It is further divided into 4 sub-sections:
Borrower Details: It includes company name, legal constitution, class of activity, etc.
Address and Contact Details: It includes the registered office address, phone number, etc.
Identification Details: It includes the company's PAN, company registration number, etc.
Delinquencies Reported on the Borrower: It includes the payment status of the company and the guarantors.
4. CIBIL Rank: This section displays your credit rank, which ranges on a scale of 1 to 10. The lower the rank, the better are the chances of getting a loan.
5. Enquiry Summary: This section displays the list of enquiries done by lenders in the recent past.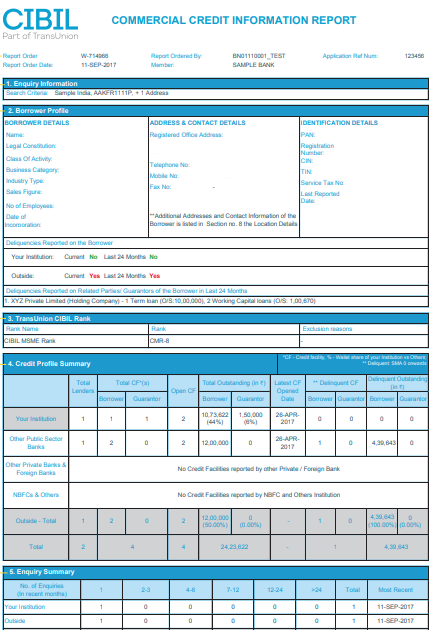 6. Derogatory Information: This section contains information regarding defaults, overdue and dishonoured cheques.
7. Outstanding Balance Details: This section provides an overview of the company's asset classification with respect to the credit facilities availed.
8. Location Details: This section mentions additional contact information of the company.
9. Related Parties Details: It gives information about the related individuals or entities.
10. Credit Facility Details – As Borrower: This section contains details of the credit facilities availed by the company. It contains credit facility details, payment status and overdue details.
11. Credit Facility Details – As Guarantor: This section contains details about the credit facilities guaranteed by the company.
12. Suit Filed Details: It gives details of suits filed (if any) by any of the previous lenders for the company.
13. Credit Rating Summary: It contains the latest three credit rating information assigned to the company by an external accredited rating agency.
14. Enquiry Details (Last 24 Months): This section provides details regarding the enquiries made by lenders for your company's credit application.
Why is CIBIL Commercial Report Important?
Company Credit Report plays a key role in getting approval for business loans, as almost all the lenders assess the report before approving any loan application. The report acts as a reflection of the credit history and tells the potential lender about the financial behaviour of the commercial borrower. This is, therefore, a strong indicator of a commercial borrower's creditworthiness.
A good commercial credit report can increase the chances of getting your loan application approval.
Documents Required to Check CIBIL Commercial Report
1. For Public and Private Limited Companies
Proof of Address (any 1): Electricity or telephone bill, bank account statement or passbook, registered lease/ sale agreement of office premises, address proof issued by commercial or multinational banks, registration certificate issued under Shops & Establishment Act.
A copy of board resolution along with authorized signatory list and specimen signature.
Company PAN.
Proof of Identity of one of the authorized signatories: PAN/ Passport/ Driving Licence.
2. For Partnerships
Proof of Address (any 1): Electricity or telephone bill, registered lease or sale agreement, bank account statement, etc.
Copy of partnership deed or certificate of registration.
List of authorized signatories with specimen signatures.
PAN of the partnership firm.
Proof of Identity of Partner requesting for the Company Credit Report: PAN, Driving Licence or Passport.
3. For Proprietorships
Proof of Address (any 1): Electricity bill, registration certificate issued under Shops & Establishment Act, etc.
Proof of Identity of the Proprietor: PAN, Passport or Driving License.
NOTE: The above documents should be self-attested by the proprietor.
Factors Affecting CIBIL Commercial Report
Following is the list of the major factors that affect the Company Credit Report (CCR), and hence the CIBIL Rank:
Payment History: This refers to how a company managed its past loans and dues. It is always a good practice to be punctual with respect to making payments.
Credit Utilization Ratio: This refers to the ratio of credit used by the company out of the total credit (loans and overdraft) available to the company. A high credit utilization ratio portrays the company as credit hungry, and thus negatively impacts the Company Credit Report.
Length of Credit History: It refers to the duration over which the company has availed loans and repaid them. A longer credit history generally translates to a good CIBIL rank, provided the payments were made punctually.
Outstanding Debts: This refers to the sum of ongoing loans and other outstanding debts of the company. A large amount of such debts indicates lower repayment ability, and hence negatively impacts the CCR.
Age and Size of Company: Older and larger companies generally have better chances of getting a loan approved along with being offered at a lesser rate of interest. This is because such companies are considered more credible owing to longer operations and continuous growth.
Turnover and Profit of Business: This has a direct bearing on the repayment capacity of the business with respect to available loans. Typically higher profits/turnover make it easier for businesses to get additional loans.
How can I Improve my CIBIL Rank?
The following are some key actions that can help you improve the CIBIL Rank as these get recorded in your commercial CIBIL report:
Always pay the loan EMIs and other outstanding dues on time to maintain a good repayment history.
Try to maintain a low credit utilization ratio to improve the company's creditworthiness.
Sustain a long and good credit history to improve your company's credibility.
Always maintain a feasible amount of outstanding debts, so that the company's repayment ability is not affected.
Maintain a good balance between the company's assets and available liabilities.
CIBIL Commercial Report & CIBIL Rank FAQs
What is CIBIL CCR?
CIBIL CCR or Company Credit Report is a record of your credit payment history. This information is pulled from various credit institutions. CCR is used by prospective lenders (banks and other financial institutions) to determine your credit behaviour.
Who is the borrower in CIBIL Commercial Report?
A borrower is the company/business entity of which the commercial report is requested.
What is CIBIL rank?
CIBIL rank refers to the summary of your Company Credit Report in the form of one number. It ranges on the scale of 1 to 10.
Who can access Company Credit Report and CIBIL rank?
Members of CIBIL, including leading banks and financial institutions can access Company Credit Report and CIBIL Rank.
What is Report Order Number in the Company Credit Report?
Report Order Number refers to a unique number generated every time your Company Credit Report is accessed from CIBIL's database.
What does it mean, if my CIBIL Rank is NA?
When NA is displayed as CIBIL Rank, it means that the rank could not be generated for your Company Credit Report. This can happen because CIBIL generates the rank only for businesses with outstanding loans between Rs. 10 lakh and Rs. 50 crores.
What should I do if there is a mistake in my Company Credit Report (CCR)?
You should raise a dispute to rectify the incorrect information in such a case. Click here to know how to file an online dispute with CIBIL.
How is the CIBIL rank different from the CIBIL score?
CIBIL Rank is given to commercial entities, while the CIBIL Score is applicable only to individuals. Moreover, the CIBIL rank is measured from 1 to 10, whereas the CIBIL score ranges on a scale of 300 to 900.
Q9. What is the best CIBIL rank?
The best CIBIL Rank any company can get is 1 while the worst would be 10.
Q10. How can I download the Company Credit Report?
You can download the report from the Company Credit Report (Commercial) portal of CIBIL. For this, you should have a valid CIBIL membership.