Updated: 02-07-2021 07:42:42 AM
EarlySalary Personal Loan Highlights

Interest rate
18.00% p.a.
Loan Amount
Up to Rs. 5 lakh
Loan Tenure
Up to 60 months
Eligible Applicant Category
Salaried Individuals
Eligible Applicant Age
21 years to 45 years
Minimum Eligible Income
Rs. 25,000 p.m.
Processing Fees
2% of loan amount
Types of Personal Loans
Shopping Loan, Travel Loan and Skill Upgrade Loan
EarlySalary Personal Loan is a simple and quick solution to all sorts of personal expenses like wedding, vacation, shopping, home renovation, medical emergency, etc. EarlySalary Personal Loan can be applied online and ensures instant disbursal of up to Rs. 5,00,000 with minimal documentation and quick processing.
Features of EarlySalary Personal Loan
Loan amount: Starting from Rs. 50,000, the loan amount of EarlySalary Personal Loan goes up to Rs. 5,00,000 if you meet the eligibility criteria
Digital process: The process to apply for EarlySalary Personal Loan is 100% digital and it involves minimum documentation
Flexible tenure: You can conveniently repay EarlySalary Personal Loan within a flexible tenure ranging up to 60 months.
Pay as you use: At EarlySalary, you will have to pay interest only on the amount you use for the number of days
Zero prepayment charge: No charges applicable if you foreclose your EarlySalary personal loan
EarlySalary Personal Loan Interest Rate
EarlySalary offers you a personal loan at an interest rate starting from 18% p.a.
Eligibility Criteria of EarlySalary Personl Loan
You must be a resident of India
You should be at least 21 years old and below 45 years of age
You should be a salaried individual
If you are living in a metro city, your minimum monthly income should be at least Rs. 30,000 and if you are living in a non- metro city, your minimum monthly income should be at least Rs. 25,000
Types of EarlySalary Personal Loan
Shopping loan: Whether it a new dress, phone, electronics, furniture, home appliance, etc., with EarlySalary Shopping Loan you get instant funds to shop for your favourite product online.

You can avail shopping vouchers of Flipkart and Amazon of up to 100% of your salary at EarlySalary and pay later at either no cost or low cost EMI.
You can conveniently repay the loan in 3 or 6 EMIs.
Also, you can avail up to 5 shopping loans at a time

Travel loan: If you need a break from your monotonous life and lack of funds is restricting you from planning your vacation, you can apply for a travel loan at EarlySalary.

Plan your vacation with MakeMyTrip and can pay back the amount borrowed using either no cost EMIs or low cost EMIs.
Avail a loan amount equal to 100% of your salary and can repay the amount in 3 or 6 EMIs.
Avail up to 5 travel loans at a time

Skill Upgrade Loan: EarlySalary's FeEs Program is designed to fund a skills upgrade course or your child's education by offering a loan amount of up to Rs. 5 lakh.

EarlySalary directly transfers the money to the institution where you want to pay.
The loan from EarlySalary can be repaid within 3 to 12 EMIs and there are no prepayment charges if you wish to prepay the loan before the tenure ends.
Also you can take up to 2 education loans from EarlySalary at a time and can fund education of up to 2 children at a time. Minimum qualifying salary is Rs. 30,000 p.m. for metro cities and Rs. 25,000 p.m. for non-metro cities.
Documents Required for EarlySalary Personal Loan Application
The following documents are needed to apply for a personal loan with EarlySalary:
PAN Card
Address proof: Rent agreement and landlords electricity bill, landline bill/ mobile postpaid bill/ gas bill/ water bill (not 3 months old)
KYC documents: PAN Card, Aadhaar Card, Driving License, Passport, Voter ID Card
Income proof: Bank statement/Last 3 months' salary slips
Note: EarlySalary may require prospective borrowers to submit additional documentation on a case by case basis.
How to Apply for EarlySalary Personal Loan with Paisabazaar?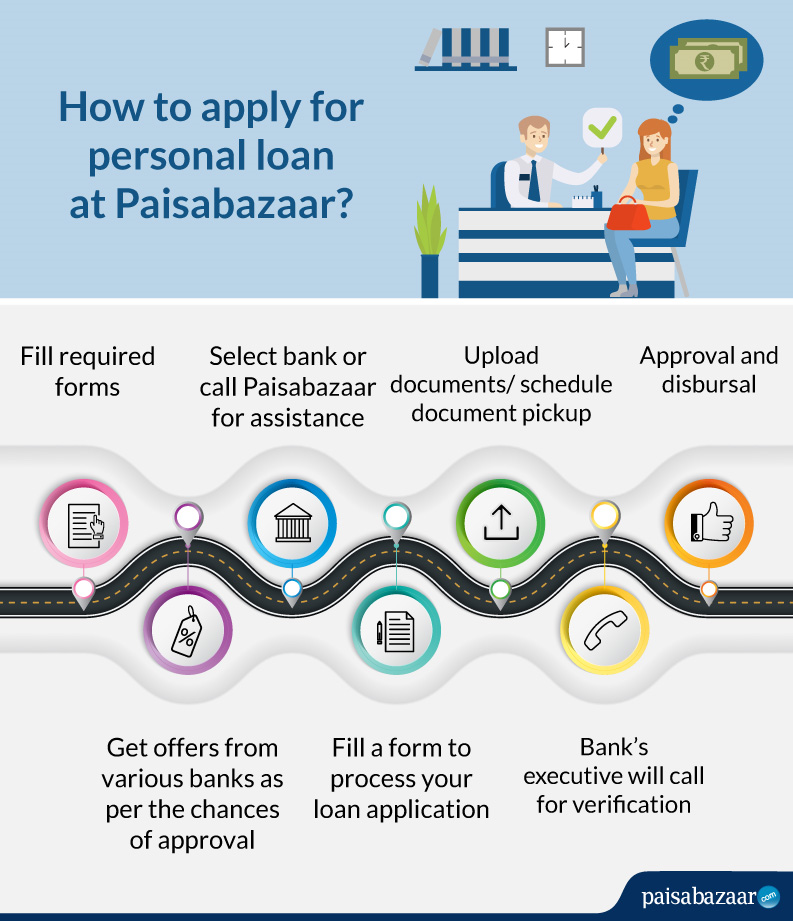 Fill out the Paisabazaar personal loan application form to compare personal loan offers from various banks and NBFCs
Go through various offers displayed as per the chances of approval
Either select an appropriate offer or call Paisabazaar for further assistance
After selection, complete and submit your loan application to get an instant e- approval
Personal Loan Verification Process
When Paisabazaar forwards you loan online application to the lender, the lender's representative gives you a verification call and also schedules document pickup
Once your documents are collected, they are forwarded for verification.
Post- verification, you get a confirmation call from the lender's representative
Once you agree with the terms and conditions of the lender, the loan amount gets disbursed with 3 to 5 working days
Check EarlySalary Personal Loan Application Status
Download the EarlySalary mobile app either on Android or iOS devices and and login using your registered mobile number and OTP to know the application status of your personal loan. Also, you will be notified through SMS and email regarding the status of your loan application.
Fees and Other Charges
The following are key fees and charges (except interest) of an EarlySalary personal loan:
| | |
| --- | --- |
| Processing Fees | 2% of the loan amount + GST |
| Late payment charges | Up to 3% per month on the amount due |
| Repayment Instrument(s) mandate reject charge | Up to Rs. 250 per rejection |
| Charges for bouncing of the Repayment Instrument(s) | Rs. 500 per month for each instance |
| Prepayment charges | NIL |
| Stamp Duty | 0.1% of the sanctioned amount or Rs. 100, whichever is higher |
How to Login on EarlySalary Portal?
EarlySalary can only be accessed through the mobile app. You can download the mobile app either on Android or iOS. Once you have installed the EarlySalary App and registered, you can follow the following steps to log in:
Step 1: Launch the app and agree to all the terms and conditions of usage such as App permissions. Next, you have to input your registered mobile number on the subsequent screen as shown below:
Step 2: Enter your mobile number and then enter the OTP sent to your phone to log into the EarlySalary Mobile App.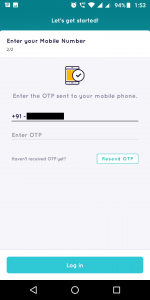 EarlySalary Personal Loan EMI Calculator
EarlySalary Personal Loan EMI Calculator
Monthly EMI ₹ 15,622
Total Amount Payble ₹ 5,62,395(Principal + interest)
Principal Amount ₹ 5,00,000
Total Interest Payble ₹ 62,395
Comparison of EarlySalary Personal Loan vs Other Lenders
The following table compares EarlySalary personal loan to products of similar lenders in India:
| | | | | | |
| --- | --- | --- | --- | --- | --- |
| Particulars | EarlySalary | Cashe | MoneyTap | KreditBee | Home Credit |
| Interest Rate | Starting from 18% p.a. | Starting from 2.75% per month | Starting from 1.08% per month | Starting from 1.02% per month | Starting from 24% p.a. |
| Tenure | Up to 60 months | 2 to 12 months | 2 to 36 months | 2 to 15 months | 6 to 36 months |
| Loan amount | Up to Rs. 5 lakh | Up to Rs. 3 lakh | Up to Rs. 5 lakh | Up  to Rs. 2 lakh | Up to Rs. 2 lakh |
| Processing Fee | 2% of the loan amount | Up to Rs. 1200 or 2% on the loan amount sanctioned whichever is higher | 2% of borrowed amount + GST | Up to 6% of the loan amount | Up to 5% of the loan amount |
EarlySalary Customer Care
The following are different ways to contact the customer care department of EarlySalary:
You can call on 020-67639797
You can send an email on care@earlysalary.com
You can visit the official branch at Office no. 404, The Chambers, (Samrat Chowk)
Clover Park, Near Ganpati Chowk, Viman Nagar, Pune, Maharashtra 411014
Benefits of Applying for Personal Loan at Paisabazaar
Online process: Paisabazaar allows you to apply for a personal loan online and that allows for quick and convenient loan disbursal
Compare and choose: Paisabazaar also allows you to compare various personal loan offers on a single platform and choose the one providing a loan amount and interest rate as per your repayment ability
End to end assistance: The dedicated customer care team of Paisabazaar ensures to provide you complete assistance on your personal loan application to make the process hassle-free
24 x 7 access: You can access the website of Paisabazaar anytime, anywhere and can apply for a personal loan whenever you wish to
Important Aspects
Check your credit score: It is important to check your credit score before you apply for a personal loan as a healthy credit score helps in smooth approval of your personal loan application at a lower interest rate
Check your repayment ability: With the help of Paisabazaar's Personal Loan EMI Calculator, you can evaluate the EMIs that you would be paying if you apply for a personal loan. This helps you to know your repayment ability and you borrow only what you can easily repay
Do not apply with multiple lenders: If you apply with multiple lenders at the same time, this might decrease your credit score and may lead to rejection of your personal loan application
FAQs
Q1. How do I repay my personal loan?
You can repay your personal loan from EarlySalary by the following methods:
Auto payments
Net banking
UPI
Adding EarlySalary as beneficiary in your bank account and transfer money
Q2. How do I prepay my personal loan?
You can prepay your personal loan through Net Banking or UPI.
Q3. What would be my loan repayment date?
Your loan repayment date is set immediately after the salary receipt date as mentioned in your bank statement submitted with EarlySalary.
Q4. Does my shopping gift card/voucher have an expiry date?
Yes, most EarlySalary gift cards come with an expiry date. You can check the expiry date on your card/voucher in the gift card section available on the app.
EarlySalary App –> Menu –> Gift Card/s –> Select the Gift Card of which you want to check the details.
Q5. Why am I unable to set up auto-payment to EarlySalary through eMandate?
This may happen because your bank has not enabled the eMandate services yet. Please contact your bank for assistance.
Q6. Can I reapply if my personal loan application got rejected?
Yes, you can reapply for a personal loan after 90 days counted from the date of rejection of your previous application.
Q7. How do I know if EarlySalary is operating in my city?
EarlySalary is currently operational in the following cities:
Mumbai (Mumbai, Navi Mumbai, Thane)
Pune
Delhi/NCR (Delhi, Gurgaon, Noida, Greater Noida, Ghaziabad, Faridabad)
Ahmedabad, Surat and Vadodara
Chennai and Coimbatore
Hyderabad and Secunderabad
Bangalore, Mangalore and Mysore
Kolkata
Jaipur
Bhubaneswar
Vishakhapatnam (Vizag)
Chandigarh
Vijaywada
If you reside in any of the above cities, you can apply for the EarlySalary loan. Alternately you can visit the official EarlySalary website to check the updated list of cities where the lender operates.