Please Note: MoneyTap is not a Paisabazaar partner. Offers would be from partner Banks/NBFCs only.
MoneyTap Personal Loan Highlights

Interest rate
Starting from 1.08% p.m.
Loan Amount
Up to Rs. 5 lakh
Loan Tenure
Minimum 2 months and up to 36 months
Eligible Applicant Age
23 years to 55 years
Minimum Eligible Income
Rs. 20,000 p.m.
Processing Fees
Up to 2% of amount withdrawn
Types of Personal Loans
Wedding Loan, Medical Loan, Travel Loan,  Home Renovation Loan, Mobile Loan, Laptop Loan, Consumer Durable Loan and Debt Consolidation Loan
MoneyTap is an app-based credit line that allows you to borrow and pay off your loans flexibly. MoneyTap Personal Loan is offered for amounts as low as Rs. 3000 to as high as Rs. 5 lakh. MoneyTap Personal Loan is easy to apply online and can be used to fund various personal needs like getting married, going on a vacation, paying medical bills, purchasing a gadget, etc.
Features of MoneyTap Personal Loan
Quick approval: Since MoneyTap is an online based app, the digital application process ensures that loan processing and disbursal is done swiftly
Flexibility in withdrawing money: At MoneyTap, you can get approved for an amount of as high as Rs. 5 lakh but you also get the flexibility to either withdraw a lower amount that you require or withdraw the full approved limit
Pay interest on the amount you use: Being a credit line, your interest charges will be proportional to the amount withdrawn and not the entire sanctioned amount. This can significantly reduce your interest cost as compared to a standard personal loan
Flexible tenure: Apart from the flexibility of withdrawing money, MoneyTap also offers you the flexibility of repaying the loan within a tenure ranging from 2 to 36 months
MoneyTap Personal Loan Interest Rate
The interest rate for a MoneyTap personal loan typically starts at 1.08% p.m. However, the actual interest rate offered to you by MoneyTap may vary based on your credit score, repayment history, income, current debt, etc.
Types of MoneyTap Personal Loan
Wedding loan: MoneyTap wedding loan can be used to fund major wedding expenses including jewellery, venue, accommodation for guests, wedding invitation, etc. so that you can easily deal with any financial constraints that may arise
Medical loan: In case of a medical emergency, you need money to pay for various medical procedures, medicines, hospitalisation, etc. and with MoneyTap Medical Loan you can pay all these medical bills with minimal stress to your finances
Travel loan: If you are planning a grand vacation, MoneyTap travel loan can offer you instant financial help to book tickets, hotels, etc.
Home renovation loan: The home renovation loan from MoneyTap, allows you to add new furniture, lights, etc. to give your home a new look
Mobile loan: If there is a latest mobile phone in the market and you really wish to buy it, you can instantly purchase it with MoneyTap mobile loan without having to wait for days to save money
Laptop loan: With MoneyTap laptop loan, you can get financing for the latest of laptop model you wish to buy instantly from the comfort of your home or office
Consumer durable loan: Is it a TV you want to buy? Or a home theatre? Or a speaker? With MoneyTap consumer durable loan, you can by the appliance of your choice rasily
Debt consolidation loan: This loan from MoneyTap allows you to consolidate multiple loans and debts with separate payment dates into a single EMI to help ease the strain of repayment
MoneyTap Personal Loan Eligibility Criteria
The following are the key eligibility criteria if you opt for a MoneyTap credit line personal loan:
You should either be a salaried employee or a self- employed professional (lawyer, doctor or businessman)
Your minimum monthly income should be at least Rs. 20,000
You should be at least 23 years old and your maximum age should not be more than  55 years
Salaried individuals should have been in their current job for at least 6 months (at the time of application submission) and have an overall work experience of at least 2 years. Self-employed individuals should have been in the business for a minimum of 3 years and have an overall work experience of at least 3 years.
You should be residing in any of the following cities:
| | |
| --- | --- |
| Ahmedabad |  Ambala |
|  Anand |  Aurangabad |
|  Bengaluru |  Bharuch |
|  Bhopal |  Bhubaneshwar |
|  Chandigarh |  Chennai |
|  Coimbatore |  Dehradun |
|  Delhi |  Erode |
|  Faridabad |  Gandhinagar |
|  Greater Noida |  Ghaziabad |
|  Guntur |  Gurgaon |
|  Guwahati |  Haridwar |
|  Hyderabad |  Indore |
|  Jaipur |  Jodhpur |
|  Kochi |  Kolhapur |
|  Kolkata |  Lucknow |
|  Mangalore |  Mohali |
|  Mumbai |  Mysore |
|  Navi Mumbai |  Nagpur |
|  Nashik |  Noida |
|  Panchkula |  Pune |
|  Raipur |  Rajkot |
|  Salem |  Secunderabad |
|  Surat |  Thane |
|  Tirupati |  Trichy |
|  Vadodara |  Vijayawada |
|  Visakhapatnam | |
Documents Required for MoneyTap Personal Loan
The following are some of the key documents that you need to provide when applying for a MoneyTap personal loan:
PAN Card Number
Address Proof: Passport, Driving License, Aadhaar Card, Voter ID Card
ID Proof: Passport, Voter ID Card, Driving License, Aadhaar Card
Income Proof: Payslip, Form 16, Certified P&L statement/Balance Sheet, etc.
How to Apply for MoneyTap Personal Loan with Paisabazaar?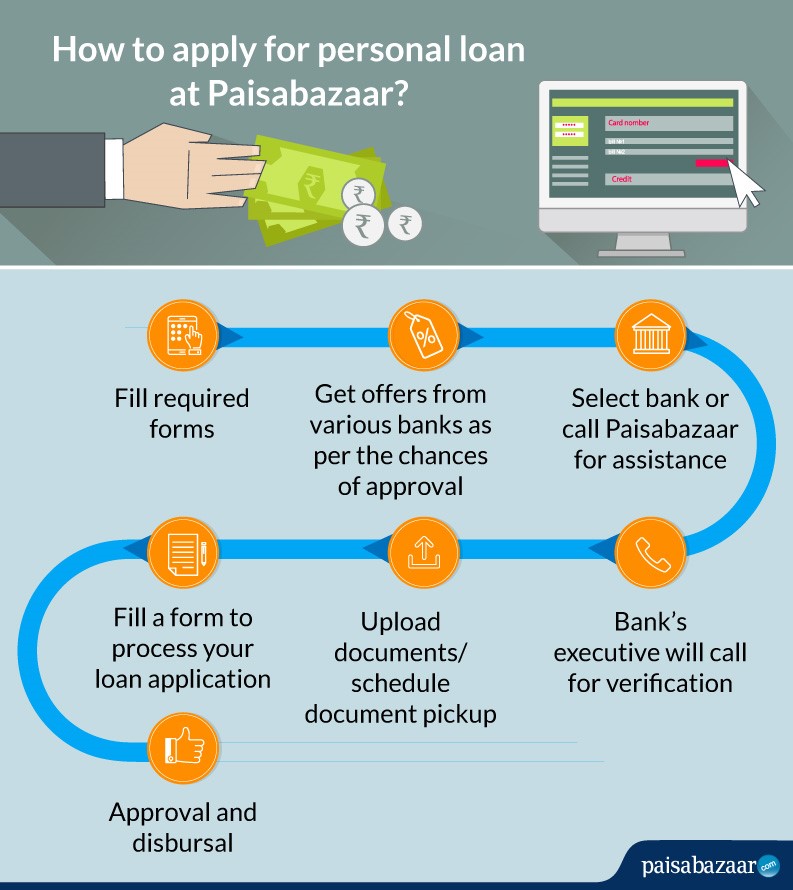 Fill your details like occupation type, required loan amount, monthly income, current city, etc. in the form and click on proceed
Personal loan offers from various lenders would get displaced on your screen as per the chances of approval
You can either select a favourable offer or can call Paisabazaar for assistance
Once you have selected the lender, you get an instant e- approval from the lender and you get a call from the customer care executive of Paisabazaar for further assistance
Personal Loan Verification Process
When you complete and submit your online personal loan application at Paisabazaar, it is forwarded to the lender
You get a verification call from the lender's representative and he also initiates document pickup from the comfort of your home or office
Once the documents are successfully verified, the loan gets approved and you receive another verification call from the lender
After the call, the amount gets disbursed to your account within 3 to 5 working days
Check MoneyTap Personal Loan Application Status
To check the status of your MoneyTap personal loan application, you will have to download the app. The following are the links to the app:
MoneyTap App for Android Users
Fees and Other Charges
The following are some of key fees and charges (excluding interest) associated with obtaining a MoneyTap personal loan:
| | |
| --- | --- |
| One-time Line Setup Fee | Rs. 499 + GST |
| Processing Fee (Every time you withdraw money from the app, you are charged a nominal processing fee + GST only on the amount that you use.) | 2% on the amount of cash transferred |
| Late payment fee | 15% of principal amount overdue |
How to Login on MoneyTap Portal?
MoneyTap is an app-based lending platform and can be only accessed by using the app. Once you have downloaded, installed and registered the app on your phone, the following are the steps that you can follow to complete the log-in process:
Step 1: Open the App and click on the "Sign in on MoneyTap" button at the bottom of the page.
Step 2: Use your Google or Facebook credentials (ID/password) to log into the app. MoneyTap currently has a compulsory requirement for users to have a valid account on either of these platforms.
Step 3: Once you are logged in, you can choose to apply for a credit line using the MoneyTap App or apply for shopping vouchers/credit card:
Read more about Moneytap Personal Loan Login.
EMI Calculation
The following table illustrates the monthly EMI payable for different loan principal amounts, interest rates and tenures:
Loan principal @ interest
Tenure
9 months
18 months
27 months
36 months
50,000 @ 13%
Rs. 5,860
Rs. 3,072
Rs. 2,145
Rs. 1,684
1 lakh @ 13.25%
Rs. 11,733
Rs. 6,156
Rs. 4,303
Rs. 3,381
2 lakh @ 13.5%
Rs. 23,490
Rs. 12,336
Rs. 8,630
Rs. 6,787
3 lakh @ 14%
Rs. 35,307
Rs. 18,574
Rs. 13,016
Rs. 10,253
Comparison of MoneyTap PL VS Other Lenders
Let's compare the personal loan offering from MoneyTap to similar offerings from other top online lenders:
| | | | | | |
| --- | --- | --- | --- | --- | --- |
| Particulars | MoneyTap | KreditBee | Early Salary | Home Credit | Cashe |
| Interest Rate | Starting from 1.08% p.m. | Starting from 1.02% p.m. | 2% to 2.50% p.m. | Starting from 24% p.a. | 33% to 36% |
| Tenure | 2 to 36 months | 2 to 15 months | 90 to 730 days | 6 to 36 months | 2 to 12 months |
| Loan amount | Up to Rs. 5 lakh | Up to Rs. 2 lakh | Up to Rs. 5 lakh | Up to Rs. 2 lakh | Up to Rs. 3 lakh |
| Processing Fee | Up to 2% of borrowed amount + GST | Up to 6% of the loan amount | Rs. 899 + GST | Up to 5% of the loan amount | Up to Rs.1200 or 3% of the principle amount whichever is higher |
MoneyTap Customer Care
For all the queries and issues, you can send an email to MoneyTap at hello@moneytap.com. This online lender does not currently connect with borrowers over the phone or in person through a representative.
Read more about Moneytap Personal Loan Customer Care.
Benefits of Applying for Personal Loan at Paisabazaar
Compare before you select: MoneyTap and many other digital lenders, banks and NBFCs offering a personal loan are available at Paisabazaar. You can check the personal loan offers from all these lenders on a single website without visiting the official websites of these lenders separately
Calculate the EMI: By using Paisabazaar's Personal Loan EMI Calculator, you can easily calculate the EMIs that you would be paying if you apply for a personal loan and can borrow as per your repayment ability
Schedule document pickup: If you apply for a personal loan through Paisabazaar, you won't have to visit the lender's branch to submit the documents as Paisabazaar's representative calls to schedule document pickup from your home
Important Aspects
Build and maintain your credit score as it is a reflection of your repayment history and plans and important role in approval of your loan application
Ensure that you meet the eligibility criteria of the bank before you apply for a personal loam
Avoid applying for a personal loan with multiple lenders as it can hard your credit score
Maintain a low debt-to-income ratio, preferably less than 50%
FAQs
Q1. Can I get a personal loan from MoneyTap if I don't have a bank account?
No, you cannot avail a personal loan from MoneyTap if you don't have a bank account.
Q2. How can I repay MoneyTap personal loan?
You can repay the loan wither through cheque or through app or directly through bank where it is automatically deducted with eNACH.
Q3. How do I keep track of transactions regarding my personal loan?
You can keep a track of your transactions through the MoneyTap app.
Q4. What if I miss paying an EMI?
Your credit score will go down and a late payment fee equal to 15% of the overdue amount is applicable.
Q5. Is it possible to apply for MoneyTap Personal Loan without a PAN Card?
No, PAN Card is a mandatory requirement to process the loan application.