The term credit card usually refers to the 'unsecured' category of cards where no collateral is pledged. However, there are 'secured' credit cards in the market as well, which are offered against fixed deposits. Paisabazaar Step Up Credit Card is one such option. Secured cards are suited for those who wish to build or improve their credit score but are not eligible for unsecured credit cards. Here is all you need to know about what a secured credit card is and how it works.
What is a Secured Credit Card?
Secured credit cards work a lot like normal credit cards. The primary difference is that a secured credit card is provided against collateral, such as fixed deposits to lower the risk level for card issuers.
Secured credit cards are beneficial for people who have no or bad credit history. Therefore, it is one of the easiest ways to improve your credit score while availing the benefits of a credit card. These cards are offered against a fixed deposit which reduces the risk for credit card issuers. However, if you don't pay your bill on time, the credit card issuer can take the money from your deposit.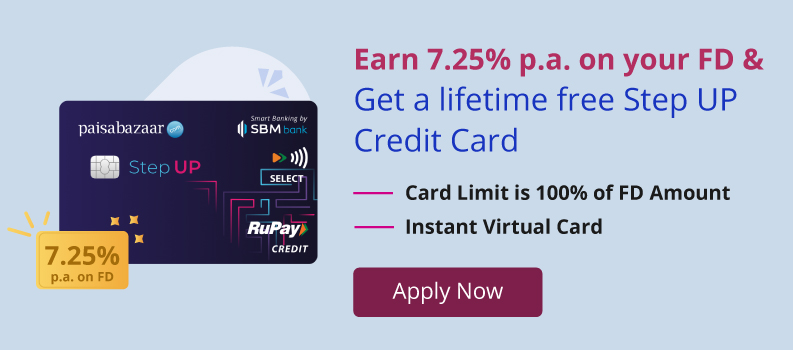 How does a Secured Credit Card Work?
The most important factor of a secured credit card is that it is issued only against some kind of fixed deposit which the customer has in bank or any financial institution. It is basically issued to those customers who are unable to get normal credit cards because of the current income criteria or bad credit history. Therefore, these cards are secured as the bank with which the deposit has been made has full right to liquidate the deposited amount in order to recover your debts if there is a situation of default on the payment terms.
The customer holding this kind of credit card has to continue with the fixed deposit with the bank till he/she uses this secured credit card. Usually, the bank offers such customers a maximum cap of around 85% against the deposit with the bank. Hence, these cards work very much similar to those of normal credit cards and the cardholder can also earn interest on the deposit with the bank or any of the financial institutions.

Benefits of Secured Credit Cards
Secured credit cards come with lots of benefits for their customers or cardholders. Some of them are as follows:
Easy for those with no credit history: People who do not have a credit history can get this card to start building a credit history which makes it easier for them to get loan approval in future
Increase the credit limit as well as earn interest on the Fixed Deposit: Customers who opt for a secured credit card need not pay anything extra other than the processing fee. This card can help cardholders to increase their credit limit as well as earn interest on their fixed deposits.
Build good credit history: Banks normally issue credit cards to those customers who have a good credit record or history. Therefore, with secured credit cards, an individual can work on building a good credit history even if he or she is not having a normal credit card. This secured credit card can also help an individual to build a good credit score by paying bills on time.
Increase chances of low-interest loans: When you have a number of financial products offered by the bank, the bank tends to offer you loans at relatively lower rates of interest, be it a personal loan, auto loan or a home loan.
Get a lifetime FREE Step UP Credit Card with a credit limit of 100% of your FD
Step UP Credit Card: Paisabazaar's Secured Credit Card
Issued by SBM Bank (India) Ltd, in association with Paisabazaar, Step UP credit card is a secured card provided against the fixed deposit opened at the time of card application. You can improve your credit score via this credit card. It is best suited for those who wish to own a credit card but are unable to qualify for the same.
Features of Step UP Credit Card
Below mentioned are some of the key features of Step UP Credit Card:
Joining Fee: It comes with a low joining fee of Rs. 200, which is applicable on an FD of Rs. 2,000
Interest on Fixed Deposit: A comparatively higher interest rate of 7% on your fixed deposit
Interest-Free Period: The interest-free period ranges from 20 to 50 days
Credit Limit: The credit limit of this card is 100% of your fixed deposit amount
Rewards: Decent rewards are given on your spends
How to apply for Step UP Credit Card?
To apply for this credit card, you can follow the below-mentioned steps:
Visit Paisabazaar's Step UP Credit Card Page
Click on 'Apply Now'
Fill in the form on the redirected page with your KYC details
Complete your Digital KYC by uploading your Aadhaar Card
Pay for the selected Fixed Deposit plan from your verified savings account
Access your Step UP virtual card immediately
Get your physical Step UP Credit Card delivered to your home