YES FIRST Preferred Credit Card is a premium credit card well-suited for shopping and travel. An excellent rewards program and complimentary access to international airport lounges are among its major highlights. Read more about this credit card here.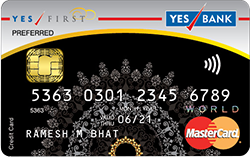 Highlights & Rewards
Highlights
Welcome privilege of 15000 Reward Points on first transaction
Enjoy 25% discount on movie bookings at BookMyShow
Avail great offers across travel, dining, shopping, wellness and more, in select cities
Rewards Value
₹100 = 8 Reward Points (On Travel Agencies & Tour Operators, Domestic Airlines and Dining)
₹100 = 4 Reward Points (On others)
Save upto ₹12918 on Annual Spend of ₹4 Lakh
Apply now for YES FIRST Preferred Credit Card
Find your perfect Credit Card
Best Suited For – Shopping, Travel and Rewards
Bonus Rewards on Joining and Renewal

Mastercard World Golf Programme

Yes Privileges Deals and Offers
Get YES FIRST Preferred Credit Card Now
*Offers are from Paisabazaar's partner Banks & NBFCs.
Eligibility and Documentation
| Criteria | Details |
| --- | --- |
| Occupation | Salaried or Self-employed |
| Minimum Income for Salaried Applicants | Rs. 24,00,000 per annum |
| Minimum Income for Self-employed Applicants | Rs. 24,00,000 per annum |
| Serviceable Cities | Click here for the list of eligible cities |
YES Bank will also ask for KYC documents including identity proof, income proof and address proof. List of acceptable documents is given below.
Features
Milestone Benefits

Spend Rs. 7.5 lakh in a year and earn 20,000 bonus reward points.

Preferred Reward Points

Earn rewards on this card for every purchase at the given rate-

4 Reward Points per Rs. 100 across all categories
8 Reward Points per Rs. 100 on domestic airlines, travel agencies and tour operators and dining
Register for YES PayNow for utility bill payment and get 1,000 reward points

Multiple Redemption Offers

YES Bank offers multiple ways to redeem the reward points-

Purchase from YES Bank's exclusive rewards catalogue
Convert reward points into JPMiles (4 Points = 1 JPMile)
Book movie tickets, hotels or flight tickets using the reward points on YES Bank's dedicated website YesRewardz

Note that NRI cardholders can redeem their rewards only for flights, hotels and movie tickets.

Lounge Access

YES FIRST Preferred Credit Cards allows the user to access airport lounges across the globe through-

Complimentary Priority Pass Membership giving 4 complimentary visits to the primary cardholder in a calendar year. Any visit beyond this limit will be chargeable at US $27 plus taxes.
Complimentary domestic lounge visits can be availed 3 times in a quarter across 25+ airport lounges only by the primary cardholder.

Dedicated Concierge Service

Cardholders can enjoy the exclusive concierge service by YES Bank- YES ASSIST. Special requests can be placed by the user including-

Hotel Reservation
Event and Performance Booking
Gift and Flower Delivery
Restaurant Referral
Car Rental
Roadside Repair Assistance

Insurance Benefits

The card also offers insurance cover including-

Flight Accident Cover of up to Rs. 1 crore
Emergency overseas hospitalization cover of Rs. 25 lakh
Credit Shield Cover in case of accidental death of the primary cardholder
Watch this video
If you are looking for a premium credit card with benefits across multiple categories, YES FIRST Preferred Credit Card is the best match for you. You can enjoy travel and lifestyle benefits along with generous rewards on all your spends. Here is a video about the features of this YES Bank Credit Card.
Fee and Charges
Title
Details
Annual Fee
Nil
Interest-free Period
Up to 50 days
Cash Limit
30% of the credit limit
Cash Advance Fee
2.5% of the amount withdrawn (min. Rs. 300)
Overlimit Fee
2.5% of the over-limit amount (min. Rs. 500)
Foreign Exchange Mark-up
1.75%
Late Payment Charges
For balance-Below Rs. 100- Nil
From Rs. 100 to Rs. 500- Rs. 100
From Rs. 501 to Rs. 5,000- Rs. 400
From Rs. 5,001 to Rs. 20,000- Rs. 500
Above Rs. 20,000- Rs. 700
Add-on Card Fee
Nil (up to 3 cards can be issued)
Payment Return Charges (Autopay/Cheques)
Rs. 350 per instance
YES Bank Credit Card Customer Care Details
| Title | Details |
| --- | --- |
| Customer Care Number for Resident Indians | 1800 103 1212 (Toll Free) |
| Customer Care Number for Resident Indian | +91 22 4935 0000 |
| Customer Care E-mail Address | yestouchcc@yesbank.in |
How to Apply for YES FIRST Preferred Credit Card
One can apply for this credit card in a few easy steps:
To start the application process, click here
Fill the basic details in the given form such as Pincode, Occupation, Net monthly income, etc.
Once the form is submitted, all eligible credit cards are displayed
Filter the results for YES Bank credit cards. If you are eligible for YES FIRST Preferred Credit card, it will be shown in the list
Click on 'Check Eligibility' and enter the required information
If you are eligible, you will be required to fill a detailed form and submit it
Once you have successfully submitted the form, an executive from Paisabazaar will call you and ask a suitable time for the bank representative to collect documents from your home or office
The bank will then scrutinize the documents provided and, if you qualify, you will get the card delivered at your address within 15 days
You can also apply directly from YES Bank's website or by visiting the nearest YES Bank branch.
FAQs
I am an NRI. Can I apply for this credit card?
Yes, this credit card is also available for NRIs.
How much GST will be levied on this credit card?
GST will be levied at the rate of 18% on all fees, charges and EMIs.
Can self-employed people apply for YES Bank credit card?
Yes. Self-employed professionals can also apply for YES Bank credit cards.
How to avail the Priority Pass Membership on my YES FIRST credit card?
To avail the service, you need to download the YES Bank Priority Pass Application Form. Fill the form and send it to the address mentioned on the form.
How to reach the golf concierge service of YES Bank?
Golf benefit on this card is offered by Mastercard. For bookings or any other assistance related to golf concierge, you can call on 1800 102 6263.
What is Credit Shield Cover?
Under the Credit Shield Cover, YES Bank covers any outstanding dues on the credit card in case of accidental death of the primary cardholder.
How to reach the YES Assist service?
To reach YES Assist, you can call on 1800 11 9371 (Toll Free number accessible by MTNL/BSNL/Reliance/Tata Network users) OR 022 42320239.
Can I convert my purchases made on this card into EMIs?
Instant EMI service is offered by YES Bank to covert purchases into EMIs across 80,000 partner merchants.
Other Rewards Credit Cards
| | | | |
| --- | --- | --- | --- |
| Credit Card | Annual Fee | Key Feature | Paisabazaar Rating |
| | Rs. 1,000 | Earn 1 reward point for every Rs. 125 spent | 4.2/5 |
| | Rs. 250 | Earn 5X reward points on dining and fuel spends | 3.5/5 |
| | Rs. 500 | Get up to 10% value back on AC1, AC2 and CC ticket bookings | 3.4/5 |
| | Rs.1,000 | Earn 1000 Reward Points on successful sign-up | N/A |