HDFC Solitaire Credit Card is designed for women and comes with a range of rewards across all categories. Users get shopping vouchers, accelerated reward points on dining and grocery shopping among other benefits. Learn more about this credit card here.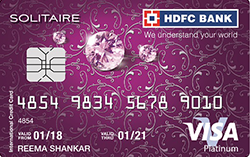 Highlights & Rewards
Highlights
Earn 1000 Reward points as a welcome/Renewal benefit on payment of membership fees.
Earn up to 3 Reward Points for every ₹150 spends.
Earn up to 50% more Reward Points on Dining & Grocery spends
Rewards Value
Explore Top Credit Cards in India
Find your perfect Credit Card
Whether you want to earn rewards or save more with discounts and deals, you will never fall short of Credit Card options. Paisabazaar is the right place to find the card that best fits your needs.
Get the Best Credit Card
*Offers are from Paisabazaar's partner Banks & NBFCs.
Find Similar Credit Cards from Other Banks
Features
Convert Rewards into Cash

Use the reward points to pay your dues (100 points = Rs. 20). This way, one can get more than Rs. 4,000 worth of cashback on spending Rs. 5 Lakh annually.

Lost Card Liability Cover

Report the loss of your card and carry no liability on the amount lost.
Fee and Charges
Title
Details
Annual/Renewal Fee
Rs. 500
Reward Redemption Fee
Rs. 99 per request
Reissue of Credit Card
Rs. 100
Cash Advance Charges
2.5% of amount withdrawn or Rs. 500 whichever is higher
Additional Card Fee
Nil
Overlimit Charges
2.5% of overlimit amount, subject to a minimum of Rs. 550
Charges on Revolving Credit
3.6% p.m. | 43.2% p.a.
Reissue of Lost, Stolen or Damaged Card
Rs. 100
Payment Return Charges
2% of Payment amount subject to a minimum of Rs. 450
Cash Processing Fee
Rs. 100 (for all card payments made by depositing in HDFC Bank branches or ATMs)
Balance Transfer Processing Charges
1% of BT amount or Rs. 250, whichever is higher
Late Payment Charges
For Statement Balance:

Less than Rs. 100 – Nil
Rs.100 to Rs.500 – Rs.100
Rs.501 to Rs.5,000 – Rs.500
Rs.5,001 to Rs.10,000 – Rs.600
Rs.10,001 to Rs. 25,000 – Rs.800
Rs. 25,000 to Rs. 50,000 – Rs. 1,100
Over Rs. 50,000 – Rs. 1,300
Eligibility and Documentation
Before applying for this credit card, you must fulfil the following eligibility criteria–
Applicants must be over 21 years of age
Salaried employees must be below 60 years of age
Self-employed applicant should be below 65 years of age
Apart from the age requirement, the bank have also listed several other criteria related to income, occupation, credit history and the city of residence. The applicant should meet such criteria set by the bank. Also, since HDFC Solitaire Credit Card is meant especially for women, the bank will not issue the cards to men.
*The minimum income requirement is different for different HDFC credit cards
Following documents are required by HDFC Card at the time of credit card application-
HDFC Card Customer Care Details
| | |
| --- | --- |
| Customer Care Number | 022-6160-6161(Toll Free) |
| Timings | 9:30 AM to 5:30 PM from Monday to Saturday |
Check More Cards from HDFC Bank
How to Apply for HDFC Bank Solitaire Credit Card Applicants can visit the nearest HDFC Bank branch and contact a bank official to apply for this credit card. Alternatively, Customers can visit the HDFC Bank website and apply for this card from there. Online application will require document submission from the applicant for which a representative from the bank will call the customer to set date and time for document collection and verification. Once the bank officials are satisfied with the information furnished and the documents provided as proof, the card will be issued in 7-10 business days.
Interested candidates can also apply for this credit card through the nearest branch of HDFC Bank.
FAQs
Does HDFC Bank issue the Solitaire Credit Card only to women?
Yes. HDFC Solitaire Credit Card is only for women; men are not eligible for it.
Is this credit card suited for travel?
No. We would not suggest this credit card for your travel needs as the travel privileges on the card very low. The only travel benefit it offers is reward point conversion into air miles.
Why do I have to pay finance charges?
Every credit card entails finance charges only when you miss a payment. The finance charges on HDFC Solitaire Credit Card is 3.49% per month, compounded on daily basis.
I do not have a savings account with HDFC Bank. How do I pay the credit card bill?
You can pay the bill through Bill Desk of NEFT using HDFC Credit Card IFSC Code.
When do I have to pay foreign exchange markup fee and how much?
HDFC Solitaire Credit Card charges a markup fee of 3.5% whenever you make payment in a foreign currency.