RBI's Rules regarding Credit Card MITC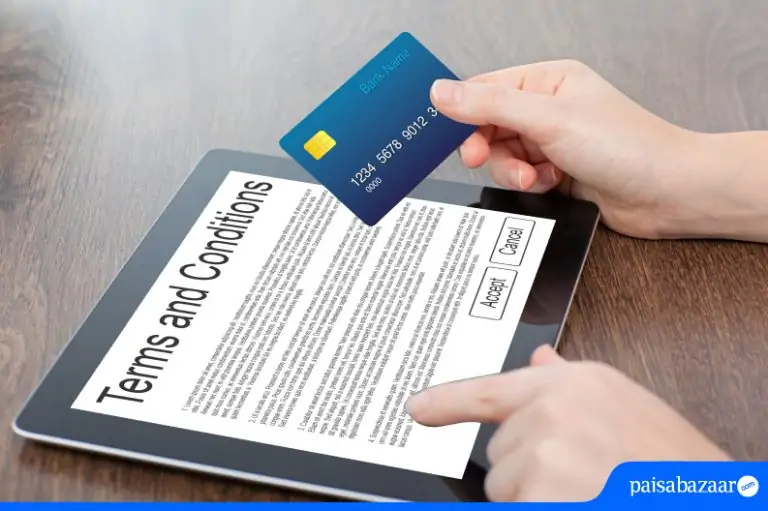 The Reserve Bank of India (RBI) on April 21st issued some new guidelines to safeguard the interests of credit card customers, which will be effective from July 1st 2022. As per these directions, the Most Important Terms and Conditions (MITC) will now be more oriented towards illustrated examples, user-friendly clauses and signed agreements on revised changes in terms and conditions. Read on to know these new regulations related to Credit Card MITC. But before that, let us understand what a MITC document is.
What is MITC and what is its importance for the card users?
MITC stands for Most Important Terms and Conditions and is a document comprising important information regarding a specific product. In terms of credit cards, MITC helps customers understand associated charges, interest rates, billing information, how their card works, what penalties can be levied and what can they do in case they need any help regarding the same.  
RBI's Rules regarding Credit Card MITC

MITC to be sent separately to the customers
With new regulations being effective, it would be mandatory for the credit card issuers to send MITC separately to the customers along with the welcome kit. The MITC will also be provided to the customer each time a condition is modified with notice to the customer. Also, a signed copy of the MITC and agreement between the card issuer and cardholder shall be sent to the cardholder's registered e-mail or postal address as per his/her choice.
MITC to be disclosed in stages
As per RBI's new directions, card issuers will have to disclose MITC in the following stages to the customer:
 

During marketing

– Fees and charges will be mentioned

At the time of application

– Key fact statement containing fees and charges, drawal limits and billing information along with any other information as asked by the customer.

Welcome kit

– Complete information regarding fees and charges, drawal limits, billing information, termination of card membership, lost/misuse/theft of a card, grievance redressal and more

On billing –

Information regarding fees and charges, billing statements, and withdrawal limits will be communicated.

On an ongoing basis, any change of the terms and conditions will be communicated to the customer
Click here to view the detailed contents of MITC
MITC to have illustrated examples
For the convenience of the customers, the MITC must specifically explain with the help of a suitable example, the fact that the interest-free period will be suspended if there is any outstanding balance from the previous month. These examples will also be a part of the card issuer's website and welcome kit.
MITC to explain information sharing procedure with Credit Bureaus
To make the procedure of information sharing transparent and more understandable for the customers, RBI has directed the credit issuers to incorporate the procedure into the MITC. This will help customers understand when and how will their information be shared with credit information companies(CICs).
Contents of the Most Important Terms and Conditions
As per RBI's new guidelines, MITC must contain the following details:
(a) Fees and Charges
Joining fees for the primary cardholders and add-on cardholder/s

Annual membership fees for primary and add-on cardholder/s

Cash advance fee

Service charges levied for transactions

Interest-free (grace) period – illustrated with examples

Finance charges for both revolving credit and cash advances

Overdue interest charges – to be given on a monthly & annualised basis

Charges in case of default
(b) Drawal Limits
Credit limit

Available credit limit

Cash withdrawal limit
(c) Billing Information
Billing statements – periodicity and mode of sending

Minimum amount payable

Method of payment

Billing disputes resolution

Complete postal address of card-issuer

The toll-free number, email-id and dedicated telephone number for SMS for customer care services, contact details of Grievance Redressal Official
(d) Default and Circumstances
Procedure including notice period for reporting a cardholder as a defaulter

Procedure for withdrawal of default report and the period within which the default report would be withdrawn after settlement of dues

Recovery procedure in case of default

Recovery of dues in case of death/permanent in capacitance of cardholder

Available insurance cover, if any, for cardholder and date of activation of policy including nomination details
(e) Termination/Revocation of Card Membership
Procedure for surrender/closure of card by the cardholder

The link provided for card closure on the website

Contact details for the cardholder to initiate closure – email-id, dedicated telephone number for SMS, IVRS

Procedure for closure of card account if the card has not been used for more than one year
(f) Loss/Theft/Misuse of Card
Procedure to be followed in case of loss/theft/ misuse of card – mode of intimation to card-issuer

Prominently visible website link, phone banking, SMS, e-mail, IVR, a dedicated toll-free helpline, reporting to home branch, etc. for reporting unauthorised transactions and initiating blocking of card

Credit cardholder's liability (zero or limited) in case of card loss/theft/misuse
(g) Grievance Redressal and Compensation Framework
Grievance redressal and escalation process

Timeline for redressal of grievances

Compensation framework for unsuccessful/failed transactions, delay in the redressal of grievance, delay in the closing of account/blocking of lost or stolen cards, etc.

Contact particulars of card-issuer – 24-hour call centres, email-ids, helpline, other important telephone numbers
(h) Disclosure
Type of information relating to the cardholder to be disclosed with and without the approval of the cardholder.