IndusInd Bank launches India's first interactive credit card- IndusInd Nexxt. The card has buttons to let you choose the mode of payment- EMI, Credit or Rewards. One can enjoy movie benefits, rewards and travel privileges on this card. Here are the detailed features and benefits of IndusInd Nexxt Credit Card.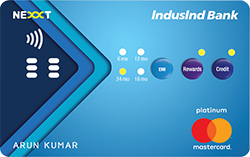 Highlights & Rewards
Highlights
Get 1 Reward Point for every ₹150 spent*
Priority Pass Membership for Primary and Add-on card holder which gives access to 700 + lounges across the world*
1 complimentary visit in participating international lounge within India & Abroad per quarter*
Rewards Value
Apply now for IndusInd Bank Nexxt Credit Card
Find your perfect Credit Card
Whether you want to earn rewards or save more with discounts and deals, you will never fall short of Credit Card options. Paisabazaar is the right place to find the card that best fits your needs.
Get IndusInd Bank Nexxt Credit Card Now
*Offers are from Paisabazaar's partner Banks & NBFCs.
Find Similar Credit Cards from Other Banks
Eligibility and Documentation
| Criteria | Details |
| --- | --- |
| Occupation | Salaried or Self-employed |
| Minimum Income for Salaried Applicants | Rs. 25,000 per month |
| Minimum Income for Self-employed Applicants | Rs. 25,000 per month |
| Serviceable Cities | Click here for the list of eligible cities |
Along with your application form, you should also submit valid proof of identity, address and income. Given below is the list of documents.
Features
Rewards

Users will earn 1 Reward Point for every Rs. 150 spent on the card. Accumulated rewards can be used to pay for a purchase by choosing the same on the card. The value of 1 reward point is Re. 1. Apart from this, the rewards can be converted into air miles in 1:1 ratio or redeemed on IndusInd Bank's Rewards Portal

Insurance Cover

On IndusInd Nexxt Credit Card, users can also avail complimentary insurance cover.

Lost Card Liability cover under the Total Protect Program offers a sum equal to the credit limit on the card
Personal Air Accident cover of up to Rs. 25 Lakh
Lost Baggage cover up to Rs. 1 Lakh
Delayed Baggage cover up to Rs. 25,000
Loss of Passport coverage up to Rs. 50,000
Loss of Ticket coverage up to Rs. 25,000
Missed Connection Coverage of up to Rs. 25,000

IndusInd Assistance

IndusInd Bank has an international team of experts to offer assistance to its Nexxt Credit Card holders. The following services can be availed:

Pre-trip Assistance
Flight booking assistance
Hotel reservations
Sports and Entertainment bookings
Exclusive bookings
Flower and gifts

IndusInd Auto Assist

IndusInd Bank also covers the users against unforeseen auto halts or accident through its Auto Assist service. One can avail the following services:

Roadside Repair
Keys Locked in the vehicle
Road Accident Management
Medical Assistance
Emergency Fuel Requirement
Flat Tire
Emergency Towing
Fee and Charges
Title
Details
Joining Fee
Rs. 3,499
Annual Fee
Rs. 3,499
Add-on Fee
Nil
Interest-Free Period
Up to 50 days, only when the previous amount is paid in full
Cash Advance Fee
2.5% of the amount/ Min. Rs. 300
Overlimit Charges
2.5% of the over-limit amount (Min. Rs. 500)
Interest on Revolving Credit
3.83% per month (46% Annual)
Late Payment Charges
For balance-
Below Rs. 100- Nil
Between Rs. 100 to Rs. 500- Rs. 100
Between Rs. 501 to Rs. 1,000- Rs. 350
Between Rs. 1,001 to Rs. 10,000- Rs. 550
Above Rs. 10,000- Rs. 700
Foreign Exchange Mark-up
3.50%
IndusInd Bank Credit Card Customer Care Details
| Contact via | Details |
| --- | --- |
| Customer Care Number | 1860 500 5004 / 022 44066666 |
| WhatsApp | 022-44066666 |
| Email | reachus@indusind.com |
Check More Cards from IndusInd Bank
How to Apply for IndusInd Bank Nexxt Credit Card
One can apply for IndusInd Nexxt Credit Card on Paisabazaar.com. Follow the steps given below:
Visit this link to start the application
Enter required details like mobile number, monthly income, pin code, etc.
Filter the results for IndusInd Credit Cards and select Nexxt Card from the list
Click on 'Check Eligibility'; enter more details as asked
If qualified, fill in the personal details, address, employment details, etc.
Enter the OTP and proceed
After this, an executive from IndusInd Bank will call the applicant to take the process further.
FAQs
How is IndusInd Nexxt an interactive credit card?
IndusInd Nexxt Credit Card is an interactive card with buttons on it which can be used to select the mode of payment from EMI, Credit and Rewards.
Where can I avail the fuel surcharge waiver?
1% fuel surcharge waiver can be availed across all petrol pumps in India. Remember that surcharge can only be availed on transactions worth Rs. 400 and Rs. 4,000.
How can I pay for purchases using the rewards on Nexxt Credit Card?
You can push the Reward Button on the card before the payment. 1 Reward Point equals to Re. 1.
How many free BookMyShow movie tickets can I get in a month?
You can avail 2 free movie tickets per month using your IndusInd Nexxt Credit Card.
What is IndusInd Bank Travel Plus Program?
Under IndusInd Bank Travel Plus Program, users can avail some more travel benefits such as waiver of $27 lounge access fee at international airports for 8 visits in a year.