Mobile banking is a facility that enables customers to initiate and/or perform banking tasks on their mobile phones. This is provided by most of the banks in India and abroad. Customers can use mobile banking to view their account balance, make instant fund transfers and pay bills, etc.
There are various types of mobile banking, viz. via SMS, USSD and mobile apps. Some of the banks like SBI, have incorporated services like loan approval and linking of insurance policy in their mobile banking apps. Let us read the features and benefits of mobile banking and how to use mobile banking.
Types of Mobile Banking Services
Mobile banking is one step closer to creating a completely digitalized environment. It lessens paperwork and shrinks waiting time which is otherwise wasted in long queues.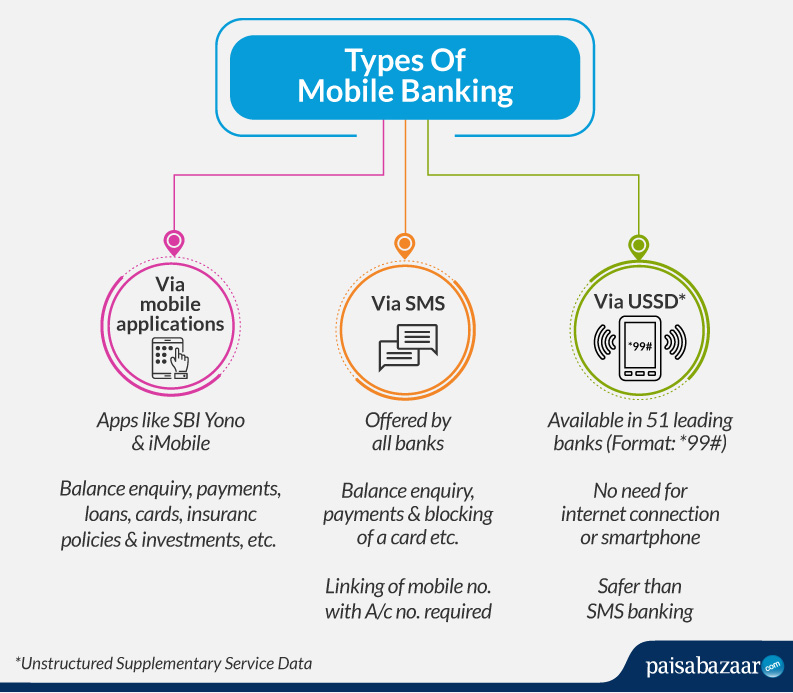 Banks provide mobile banking services to their clients in the different ways listed here:
Mobile Banking over mobile applications (for smartphones; e.g. SBI Yono and iMobile by ICICI Bank, etc.)
Mobile Banking over SMS (also known as SMS Banking)
Mobile Banking over Unstructured Supplementary Service Data (USSD)
Mobile Banking – Services Available
Mobile banking is useful to customers in the following ways:
Access to Account Information
Information is power. And thus, knowing your exact bank balance is important. This helps you in better management of your funds. And thus, this is the primary mobile banking service provided by any bank. You can check the following:
View account balance (balance enquiry)
Transaction history
e-statement of account
Loan statements
Card statements
e-Passbooks
Transactions
Making payments and transferring money from one account to another is the most basic banking activity. Therefore it only makes sense that these are the most used and in-demand mobile banking services. You can transfer funds to anyone by adding them as beneficiaries or simply via Unified Payments Interface or UPI.
Bank to bank transfers
Transfer of funds to self
Payments to third parties (rent payments, bill payment, etc.)
Giving standing instructions for periodic payments
Investments
Opening fixed deposit/recurring deposits
Mutual fund investments
Portfolio management services (e.g. SBI Capital Securities)
Other Services
Apart from the account summary, bill payments, fund transfers and investments, there are other services that a customer requires for smooth banking experience. Also, there may be times when you have some grievances and due to lack of time, are not able to address. For such extra services, you can always resort to your bank's mobile banking and find solutions to your complaints or queries. These services include:
ATM locators
Branch locators
Lodging complaint/ tracking applications
Ordering new cheque book
Cancelling/stopping an issued cheque