Updated: 28-01-2021 09:43:42 AM
Mobile banking is a facility that enables customers to initiate and/or perform banking tasks on their mobile phones. This is provided by most of the banks in India and abroad. Customers can use mobile banking to view their account balance, make instant fund transfers and pay bills, etc.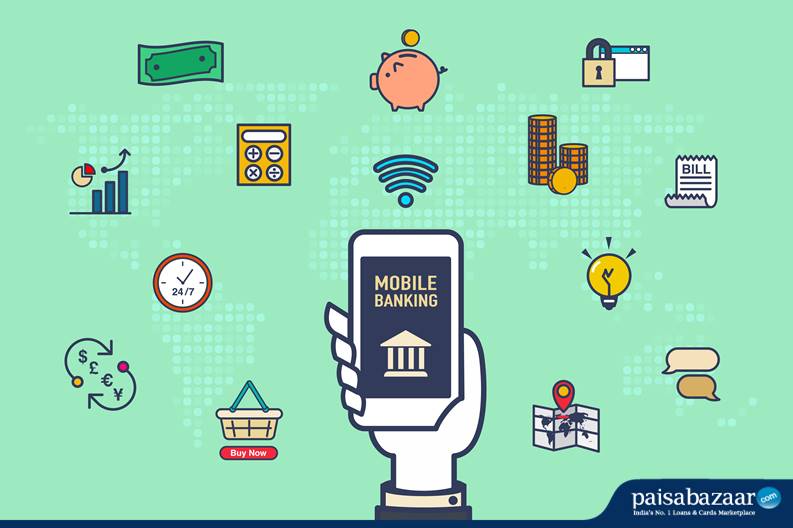 There are various types of mobile banking, viz. via SMS, USSD and mobile apps. Some of the banks like SBI, have incorporated services like loan approval and linking of insurance policy in their mobile banking apps. Let us read the features and benefits of mobile banking and how to use mobile banking.

Get Your Free Credit Report with Monthly Updates Check Now
Types of Mobile Banking Services
Mobile banking is one step closer to creating a completely digitalized environment. It lessens paperwork and shrinks waiting time which is otherwise wasted in long queues.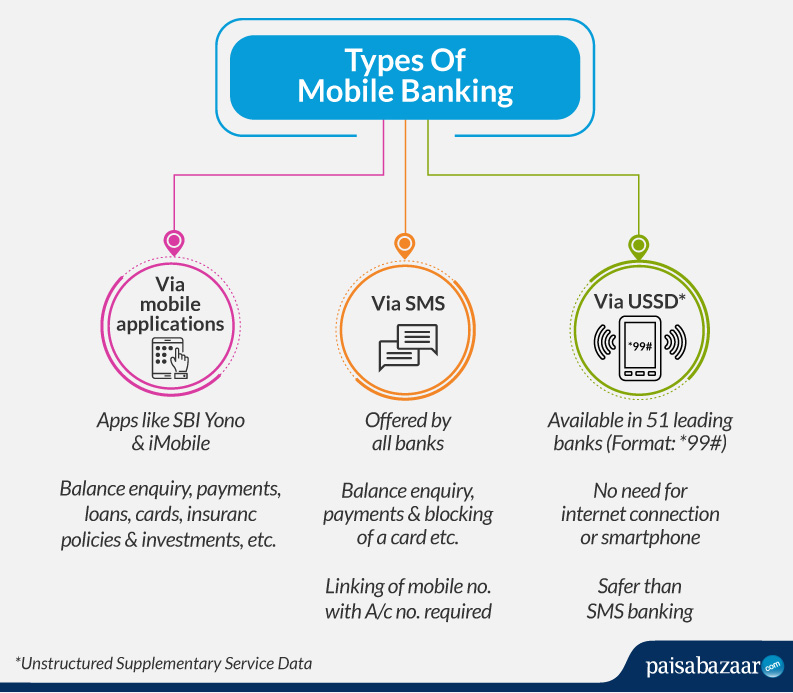 Banks provide mobile banking services to their clients in the different ways listed here:
Mobile Banking over mobile applications (for smartphones; e.g. SBI Yono and iMobile by ICICI Bank, etc.)
Mobile Banking over SMS (also known as SMS Banking)
Mobile Banking over Unstructured Supplementary Service Data (USSD)
Mobile Banking – Services Available
Mobile banking is useful to customers in the following ways:
Access to Account Information
Information is power. And thus, knowing your exact bank balance is important. This helps you in better management of your funds. And thus, this is the primary mobile banking service provided by any bank. You can check the following:
View account balance (balance enquiry)
Transaction history
e-statement of account
Loan statements
Card statements
e-Passbooks
Transactions
Making payments and transferring money from one account to another is the most basic banking activity. Therefore it only makes sense that these are the most used and in-demand mobile banking services. You can transfer funds to anyone by adding them as beneficiaries or simply via Unified Payments Interface or UPI.
Bank to bank transfers
Transfer of funds to self
Payments to third parties (rent payments, bill payment, etc.)
Giving standing instructions for periodic payments
Payments via NEFT/IMPS/RETG/UPI/MMID
Investments
Opening fixed deposit/recurring deposits
Mutual fund investments
Portfolio management services (e.g. SBI Capital Securities)
Other Services
Apart from the account summary, bill payments, fund transfers and investments, there are other services that a customer requires for smooth banking experience. Also, there may be times when you have some grievances and due to lack of time, are not able to address. For such extra services, you can always resort to your bank's mobile banking and find solutions to your complaints or queries. These services include:
ATM locators
Branch locators
Lodging complaint/ tracking applications
Ordering new cheque book
Cancelling/stopping an issued cheque
Mobile Banking over SMS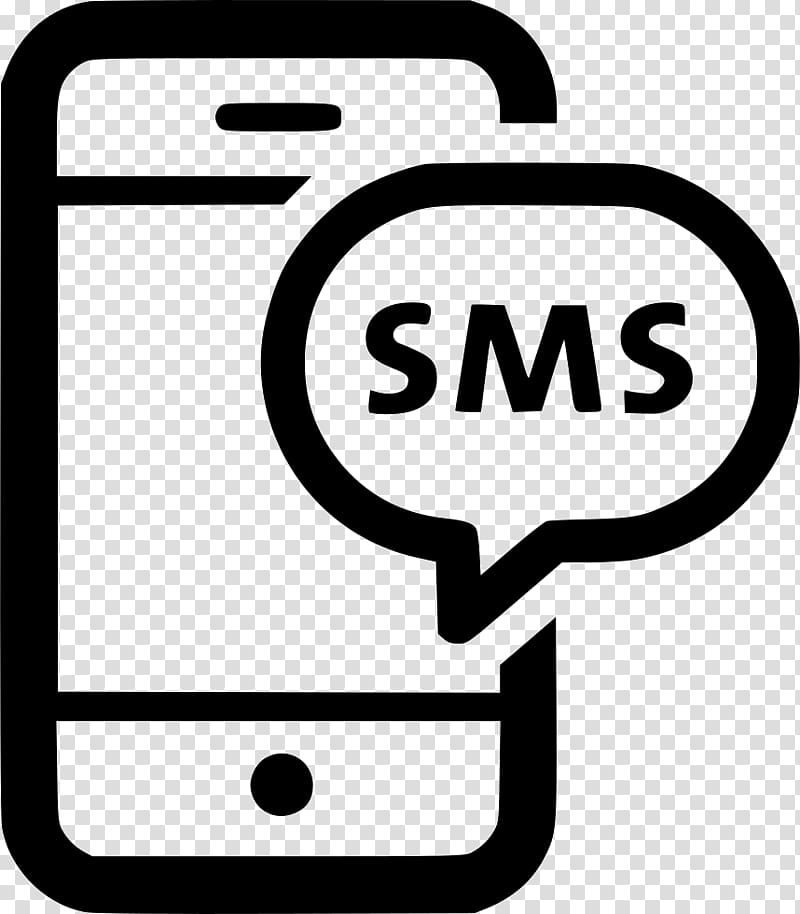 Along with mobile apps, most banks offer mobile banking services over SMS. This service is useful for those who do not have smartphones and/or internet connection. Customers need to register their mobile number with their bank in order to avail SMS banking.
Services Offered by SMS Banking
Balance Enquiry
Get mini-statement
Transfer of funds to/from self-accounts (e.g. savings A/c to current A/c)
Block ATM card or a credit card
Enquiry for forex rates
Enquiring about current interest rates (e.g. FD rates and savings rates)
These services are carried out by push/pull messages. Push messages mean when the bank initiates a communication, often reminding about payment or notification about a withdrawal. OTP or One-Time Password is also a type of push message that falls within the periphery of mobile banking.
Pull messages are those messages that are initiated by the customer. These can be for account balance enquiry and for cancelling an issued cheque, etc.
For instance, to check the available balance in their account, they may have to send an SMS in the format: AVAIL BAL XXXX where XXXX is the last 4 digits of the account number. The bank replies with an SMS with the current available balance in the account.
Mobile Banking over USSD
USSD or Unstructured Supplementary Service Data is a type of communication via which one can exercise basic banking services. There is no need for a smartphone or an internet connection for this service. It allows services like balance enquiry and transfer of funds.
*99# – a USSD based mobile banking service, has been launched by NPCI which is supported in 51 leading banks in India. The following services are offered by *99# USSD payment option:
Balance enquiry
Mini statement
Transfer of funds via
Change MPIN
Generate OTP
Know MMID (Mobile Money Identifier – a 7-digit unique no. given by the respective bank)
Note: Basic charges of Rs. 0.50 are charged from the customer to carry out USSD transactions. There is a daily limit of Rs. 5,000 set
Tips for Safe Mobile Banking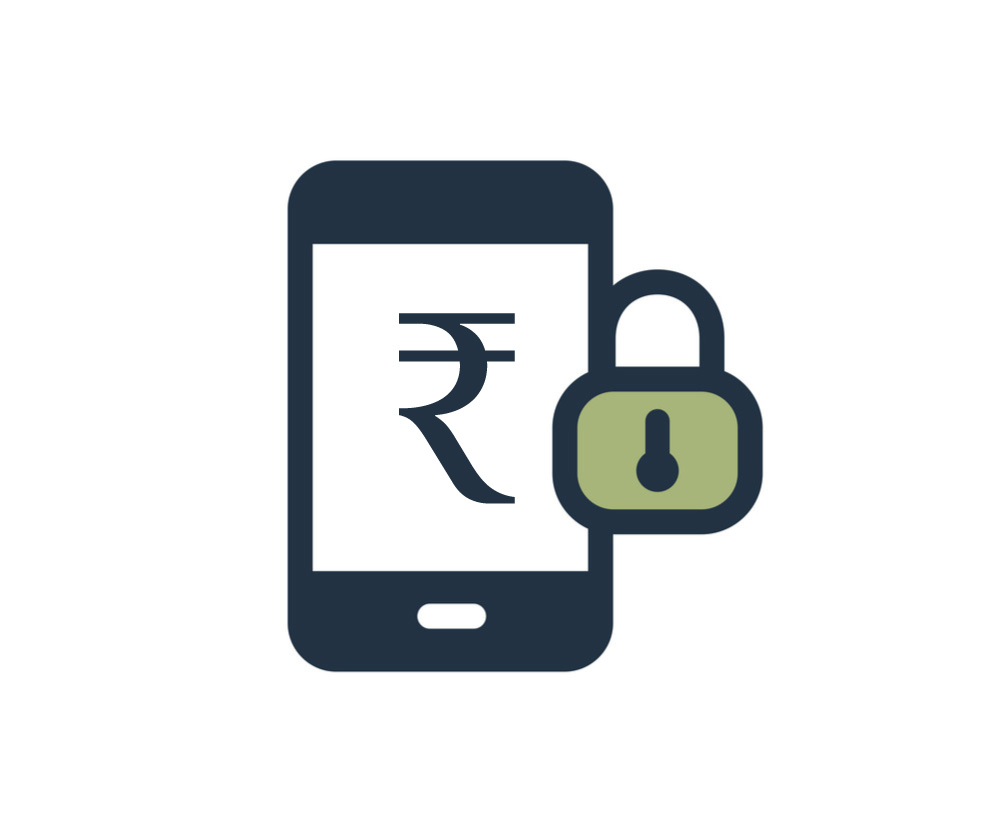 Mobile banking, either by mobile banking apps, internet banking, USSD or SMS, is protected. If you use the bank's website or mobile app to transfer funds, etc. there are protections like firewalls and SSL encryption that make sure your data is safe and cannot be used by anyone else.
That being said, there are some measures that you must take when doing mobile banking or online banking. These are:
Use a safe network connection – It is important that you do not use any public Wi-Fi and/or someone else's device for online banking. If you have to use a public network, set up a VPN software and only then go ahead.
Licensed anti-virus – Make sure you have anti-virus software installed in your device for an added layer of protection. Also, this should be a licensed software for which you will receive a key when you buy it. Without this key, nobody can make any changes in the software. This provides full-proof protection.
Subscribe for push message notification – Doing this ensures that you are always informed about any transaction that takes place to/from your account. Also, if there are any unsuccessful login attempts to your internet banking account, your bank will send you a notification. In such cases, you can contact your bank and get your account secured.
Avoid signing in via a third-party website or promotional emails – Never click on URLs received in an SMS or promotional email. Also, avoid using third-party websites to sign in to your account at all costs. This can be extremely harmful and can place a big dent in the security of your accounts.

Checking Credit Report monthly has no impact on Credit Score Check Now
Frequently Asked Questions (FAQs)
What is the full form of USSD?
Full form of USSD is Unstructured Supplementary Service Data.
What is *99#?
*99# is a USSD based channel for basic banking services like balance enquiry, fund transfers and mini statement, etc. It is launched by NPCI and is supported by all the leading banks in India.
Can I transfer funds without downloading a mobile banking app?
Yes. Most of the banks provide this facility where customers can simply transfer funds by logging into the bank's official website using their mobile browser.
How to activate mobile banking?
Get your mobile number linked to your bank account and then request for activation of mobile banking on your registered number. Once your number is registered, dial *99# and follow the steps to get your MPIN. This will be used every time you want to transfer funds via USSD.  For banking on mobile apps, install your bank's app and register on it. You will need to create a User ID and Password. Some apps, like SBI YONO or iMobile allow login using debit card details.