SBI Card, in association with Vistara Airlines, has launched Club Vistara SBI Card PRIME. Offered at an annual fee of Rs. 2,999, the card makes travel cheaper and convenient for the users. Cardholders will get a complimentary Premium Economy class ticket from Vistara Airline. Read on to know more about this SBI Credit Card.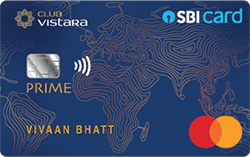 Best suited for
Welcome Offer
REWARDS
TRAVEL
Fee
Annual Fee: ₹ 2999
Get Welcome Gift of Premium Economy Ticket E-Voucher, base fare waived off
Joining Fee: ₹ 2999
Get Welcome Gift of Premium Economy Ticket E-Voucher, base fare waived off
Highlights & Rewards
Highlights
Enjoy 1 Premium Economy class ticket E-Gift Voucher (base fare waived off) on payment of Annual fee*
Enjoy 8 complimentary visits per year to Domestic Airport lounges (subject to a max of 2 per quarter)*
Get 1 Hotel E-Voucher from Yatra worth ₹10,000 on reaching annual spends of ₹8 lakhs*
Rewards Value
₹100 = 2 Club Vistara Points
1 Club Vistara Point = ₹1
Apply now for Club Vistara SBI Card PRIME
Find your perfect Credit Card
Whether you want to earn rewards or save more with discounts and deals, you will never fall short of Credit Card options. Paisabazaar is the right place to find the card that best fits your needs.
Get Club Vistara SBI Card PRIME Now
*Offers are from Paisabazaar's partner Banks & NBFCs.
Find Similar Credit Cards from Other Banks
Eligibility and Documentation
| Criteria | Details |
| --- | --- |
| Occupation | Salaried or Self-employed |
| Minimum Income for Salaried Applicants | Rs. 40,000 per month |
| Minimum Income for Self-employed Applicants | Rs. 33,333 per month |
| Serviceable Cities | Click here for the list of eligible cities |
Along with the duly filled application form, you will also be required to submit proof of identity, address and income. Given below is the list of acceptable documents.
Features
Welcome Benefit

Get one complimentary Vistara premium economy class ticket on payment of joining fee. It will be an e-gift voucher and will be sent to the registered email ID and mobile number of the user.

Club Vistara Membership

Get complimentary Silver Membership to Club Vistara and enjoy loyalty privileges

Rewards

Cardholders will earn 4 CV points per Rs. 200 spent across all categories including fuel. Accumulated CV points can be used to purchase Air Vistara tickets and other partner airline tickets.

Insurance Benefit

Users will get the following insurance covers along with their Club Vistara SBI Card PRIME:

Air accident cover up to Rs. 1 Crore
Lost card liability cover of up to Rs. 1 Lakh
6 flight cancellation covers, each up to Rs. 3,500
Baggage Damage cover up to Rs. 5,000
Lost check-in baggage cover up to Rs. 72,000
Lost travel documents cover up to Rs. 12,500

Priority Pass Membership

Enjoy 4 complimentary international lounge visits per year (limited to 2 visits per quarter) under the Priority Pass Membership.

Milestone Privileges

On reaching preset spending milestones, cardholders can avail the following benefits:

3,000 bonus CV points on spending Rs. 75,000 within 90 days of card activation
1 premium economy ticket each on reaching annual spending threshold of Rs. 1.5 Lakh, Rs. 3 Lakh, Rs. 4.5 Lakh and Rs. 8 Lakh
Yatra Hotel e-voucher worth Rs. 10,000 on spending Rs. 8 Lakh
Fee and Charges
Title
Details
Annual Fee
Rs. 2,999 plus GST
Renewal Fee
Rs. 2,999 plus GST
Free Credit Period
Nil
Add-on Fee (per annum)
Nil
Extended Credit Interest-Free Credit Period
20-50 days, applicable only on retail purchases and if previous month's outstanding balance is paid in full
Extended Credit Charges/ Cash Advance Charges
Up to 3.35% per month, accounting to 40.2% per annum, from the date of transaction
Cash Advance Limit
Up to 80% of the credit limit, maximum Rs. 15,000 per day
Cash Advance Fee SBI or Other Domestic ATMs
2.5% of withdrawal or Rs. 300 per transaction, whichever is higher
Cash Advance fee International ATMs
3.0% of withdrawal or Rs. 300 per transaction, whichever is higher
Overlimit Charges
2.5% of the over-limit amount subject to a minimum of Rs. 500
Late Payment Charges

Nil for the total amount due from Rs. 0 to Rs. 500
Rs. 400 for the total amount due greater than Rs. 500 and up to Rs. 1,000
Rs. 750 for the total amount due greater than Rs. 1,000 and up to Rs. 10,000
Rs. 950 for the total amount due greater than Rs. 10,000
SBI Credit Card Customer Care Details
Customer Care Toll-free Number
1860 180 1290
1800 180 1290
Alternate Number (Local charges may apply)
(STD Code) 39020202
Check More Cards from SBI Bank
How to Apply for Club Vistara SBI Card PRIME
Follow the steps below to apply for Club Vistara SBI Card PRIME through Paisabazaar:
Click here to start the application by filling basic details such as income, mobile number, pin code, etc.
Filter the results for SBI Credit Cards and look for Club Vistara SBI Card PRIME
Check eligibility by entering some more details
If found eligible, fill the detailed application form by providing details of employment, residence, current loans, etc.
Verify by entering the OTP received on the registered mobile number and submit
Next, the applicant will be contacted by an executive of Paisabazaar or SBI Card to decide a time and place for document collection. Once the documents are submitted, the issuer will verify the same and, if satisfied, issue the card and dispatch it to the communications address of the applicant.
Alternately, applicants can also send their application through SBI Card website.
FAQs
What is the customer care number of SBI Card?
The customer care numbers for SBI Card are 1860 180 1290, 1860 500 1290, 39 02 02 02 (prefix local STD code) or 1800 180 1290.
What are CV points and what can I do with these points?
CV points are Club Vistara Loyalty points that you will earn with card usage. These points can be redeemed against an Air Vistara or partner airline ticket.
Can I use this card in a foreign country?
Yes. Club Vistara SBI Card PRIME is globally accepted across ATMs and merchant outlets.
What are the benefits of Club Vistara Silver Membership?
With this free membership, you can enjoy benefits like priority waitlist clearance, priority check-in, 5 kg excess baggage and exclusive offers and promotions.
How will I redeem my free Vistara ticket?
To redeem your complimentary premium economy ticket, contact Vistara Customer Service Center at +91 9289228888.
Compare Similar Credit Cards from Other Banks
Credit Card
Annual Fee
Reward Points
Net Savings
Club Vistara SBI Card PRIME
Rs. 2,999
4 CV Points per Rs. 200 spent
Rs. 11,058 *
Rs. 15,054**
ICICI Bank Sapphiro Visa Credit Card
Rs. 3,500
Up to 6 PAYBACK Points per Rs. 100
Rs. 25,796*
Rs. 35,504**
HDFC Regalia Credit Card
Rs. 2,500
4 Reward Points per Rs. 150 spent
Rs. 9,605*
Rs. 15,229**
Standard Chartered Emirates World Credit Card
Rs. 3,000
Up to 6 Skyward Miles per Rs. 150
Rs. 15,796*
Rs. 17,404**
Citi PremierMiles Credit Card
Rs. 3,000
Up to 10 Miles per Rs. 100 spent
Rs. 10,644*
Rs. 19,788
*On spending Rs. 2 lakh annually
**On spending Rs. 4 lakh annually