HDFC Regalia Credit Card is among the most popular credit cards by HDFC Bank. The card charges an annual fee of Rs. 2,500 with easy waiver conditions and is best suited for frequent shoppers, travelers, and diners. Cardholders will also enjoy benefits under an excellent rewards program.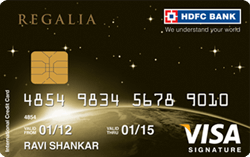 Fee
Annual Fee: ₹ 2500
Fee is 0 if spends within first 90 days = ₹40,000
Highlights & Rewards
Highlights
Earn 15,000 Reward Points on annual spends of ₹8,00,000 or more in each anniversary year
Welcome bonus of 2500 reward points
Earn 4 Reward Points for every ₹150 spent
Complimentary Priority Pass Membership for access to 850+ airport lounges globally
Rewards Value
₹150 = 4 Reward Points
1 Reward Point= ₹0.50
Save upto ₹15299 on Annual Spend of ₹4 Lakh
Apply Now for Your Next Premium Credit Card
Find your perfect Credit Card
Best Suited For – Travel, Dining and Fuel
Travel Concierge Assistance

Exclusive Dining Privileges

Fuel Surcharge Waiver

Very Low Foreign Currency Markup Fee of 2%
Find the Best Credit Card for You Now
*Offers are from Paisabazaar's partner Banks & NBFCs.
Find Similar Credit Cards from Other Banks
Eligibility and Documentation
| Criteria | Details |
| --- | --- |
| Occupation | Salaried or Self-employed |
| Minimum Income for Salaried Applicants | Rs. 90,000 per month |
| Minimum Income for Self-employed Applicants | Rs. 1,00,000 per month |
| Serviceable Cities | Click here for the list of eligible cities |
Along with your application form, you should also submit valid proof of identity, address and income. Given below is the list of documents.
Features
Airport Lounge Access

Enjoy access to 850+ airport lounges around the globe through complimentary Priority Pass Membership. Both primary and add-on cardholders can collectively avail the benefit for up to 6 times in a year.

Dining Benefits

Get up to 40% discount on dining including some 5-star restaurants under HDFC Bank's Good Food Trail Dining Program

Fuel Surcharge Waiver

Enjoy 1% surcharge on fuel purchases across all petrol pumps for transactions between Rs. 400 and Rs. 5,000.

Air Accident Cover

Air accident cover of Rs. 1 Crore for the primary cardholder. It is applicable in case the cardholder sustains any air accident injury or suffers a bodily injury resulting in death within 12 months of the accident.

Travel Concierge Assistance

Enrich your travel and hotel experience with Travel Concierge Assistance.
Looking for a Premium Credit Card with All-Round Benefits?
Choose SBI Card ELITE and save more on Travel, Movies, Shopping, Lounge Access and Golf
✔Movie tickets worth Rs. 6,000 per year
✔Priority Pass Membership with 2 free international lounge visits per quarter
✔Complimentary Club Vistara Silver Membership
✔4 free rounds of golf & up to 50% off on golf games*
✔5X reward points on dining, departmental stores and grocery spend
* Terms & Conditions Applied
Watch this video
HDFC Regalia Credit Card is among the most popular cards by HDFC Bank. It offers benefits across multiple categories including dining, travel, shopping and more. Know more about this card through a short video.
Confused whether HDFC Regalia Credit Card is the right choice for you?
Click here
to read a detailed review of this credit card.
Fee and Charges
Title
Details
Annual Fee
Rs. 2,500
Cash Advance Charges
2.5% of amount withdrawn or Rs. 500 whichever is higher
Add-on Fee (per annum)
Nil
Overlimit Charges
2.5% of overlimit amount, subject to a minimum of Rs. 550
Finance Charges
3.6% p.m. | 43.2% p.a.
Railway Ticket Purchase Fee
1.8% of the transaction amount + GST
Reissue of Lost, Stolen or Damaged Card
Rs. 100
Payment Return Charges
2% of Payment amount subject to a minimum of Rs. 450
Cash Processing Fee
Rs. 100 (for all card payments made by depositing in HDFC Bank branches or ATMs)
Balance Transfer Processing Charges
1% of BT amount or Rs. 250, whichever is higher
Late Payment Charges
For Statement Balance:

Less than Rs. 100 – Nil
Rs.100 to Rs.500 – Rs.100
Rs.501 to Rs.5,000 – Rs.500
Rs.5,001 to Rs.10,000 – Rs.600
Rs.10,001 to Rs. 25,000 – Rs.800
Rs. 25,000 to Rs. 50,000 – Rs. 1,100
Over Rs. 50,000 – Rs. 1,300
HDFC Card Customer Care Details
| | |
| --- | --- |
| Customer Care Number | 022-6160-6161(Toll Free) |
| Timings | 9:30 AM to 5:30 PM from Monday to Saturday |
Check More Cards from HDFC Bank
How to Apply for HDFC Bank Regalia Credit Card
One can apply for this credit card in a few easy steps:
To start the application process, click here
Fill the basic details in the given form such as Pincode, Occupation, Net monthly income, etc.
Once the form is submitted, all eligible credit cards are displayed
Filter the results for HDFC Bank credit cards. If you are eligible for Regalia card, it will be shown in the list
Click on 'Check Eligibility' and enter the required information
If you are eligible, you will be required to fill a detailed form and submit it
Once you have successfully submitted the form, an executive from Paisabazaar will call you and ask a suitable time for the bank representative to collect documents from your home or office
The bank will then scrutinize the documents provided and, if you qualify, you will get the card delivered at your address within 15 days
You can also apply directly from HDFC Bank's website or by visiting the nearest HDFC branch.
FAQs
Who can apply for HDFC Regalia Credit Card?
All Indian nationals above the age of 21, whether salaried or self-employed, can apply for this credit card, provided that they meet the income criteria and other card-specific requirements.
What is the minimum income to be eligible for HDFC Regalia Credit Card?
For salaried individuals, the monthly income should be more than Rs. 1,20,000 and for the self-employed individuals, it is Rs.12 Lakh per annum.
How much GST will be applicable on my HDFC Regalia Credit Card?
GST will be levied at the rate of 18 per cent.
What benefits will I get with HDFC Regalia Credit Card?
You will get travel privileges, dining benefits along with financial benefits like fuel surcharge waiver. You will also get comprehensive insurance cover with the card.
How to Apply for HDFC Bank Regalia Credit Card?
You can apply for this credit card through Paisabazaar as well as directly through the bank.
How many reward points do I get on HDFC Regalia Credit Card transactions?
For retail purchases, you will get 4 reward points for every Rs. 150 spent on the card.
How do I get the complimentary Priority Pass Membership with HDFC Regalia Credit Card?
You have to complete 4 transactions in a statement within the first 90 days to be eligible for Priority Pass membership. Once you do that, a link will be sent to your registered number where you can apply for a Priority Pass.
What are EMV Chip Cards?
HDFC Regalia Credit Card is an EMV Chip enabled card. The chip makes your transactions more secure and saves you from counterfeiting.
Can HDFC Bank Chip cards be used as a normal Swipe card?
Yes, the magnetic strip is also present on the HDFC Regalia Card and hence it can be used as a normal swipe card
Compare HDFC Regalia with Similar Credit Cards from Other Banks
Credit Card
 Annual Fee
Reward Points
Net Savings
HDFC Regalia
Rs. 2,500
Earn 15,000 Reward Points on spending Rs. 8 lakh or more in every anniversary year
Rs. 9,605*Rs. 15,299**
CitiBank PremierMiles
Rs. 3,000
Earn 10,000 Air miles on spending Rs. 1,000 within 60 days of issuance
Rs. 11,616*Rs. 21,732**
SBI Card Prime
Rs. 2,999
Earn 20 Reward Points on spending Rs. 100 on utility bills and 10 Reward Points on spending Rs. 100 on dining, groceries etc.
Rs. 10,337*Rs. 16,661**
American Express Platinum Travel
Rs. 5,000
Earn Welcome Gift of 5,000 milestone bonus membership Reward Points
Rs. 8,520*Rs. 34,640**
SBI Card Elite
Rs. 4,999

Earn

 up to 50,000 bonus reward points worth Rs. 12,500 and 5X Reward Points on dining, departmental stores etc.
Rs. 12,081*Rs. 20,661**
*On spending Rs. 2 lakh annually
**On spending Rs. 4 lakh annually