A PAN Card is a 10-digit alpha-numeric unique code issued by the Income Tax Department of India to file the Income Tax Returns or to make banking transactions exceeding Rs. 50,000. Moreover, a PAN Card is also considered as one of the important identification documents for opening a bank account, purchasing a property, investing in mutual funds, applying for a debit/credit card and more.
According to the Union Government of India, it is now mandatory for all the individuals to link their Aadhaar Card with a PAN Card and failure to do the same will result in an inoperative PAN Card. You will also be fined Rs. 10,000 for using an inoperative PAN Card under the Section 272B of the Income Tax Act. The deadline for linking PAN with Aadhaar has been extended to 31st March 2021.
However, getting a PAN Card has now become quite easy as compared to the offline procedure which was lengthy, paper-heavy and tedious. You can instantly get your PAN Card Application  through an Aadhaar Card. It is worth mentioning that in order to avail this facility of getting an instant PAN Card through Aadhaar Card, your mobile number must be registered with Aadhaar to generate One Time Password(OTP) for the verification.
This facility  of instant and free PAN Card through Aadhaar based e-KYC has been recently launched by the Finance Minister of India , Nirmala Sitharam on 25th June 2020.
Let us now understand what are those five important things for instant PAN Card Application using Aadhaar Card.


A Good Credit Score shows that you manage Your Finances Well Check Score
Process of Instant PAN Card through Aadhaar Card
You must know the steps involved for availing Instant PAN through Aadhar Card. The steps are as follows:
Step 1: You have to visit the official website of the Income Tax Department at https://www.incometaxindiaefiling.gov.in/e-PAN/
Step 2: Click on the ' Get New PAN' option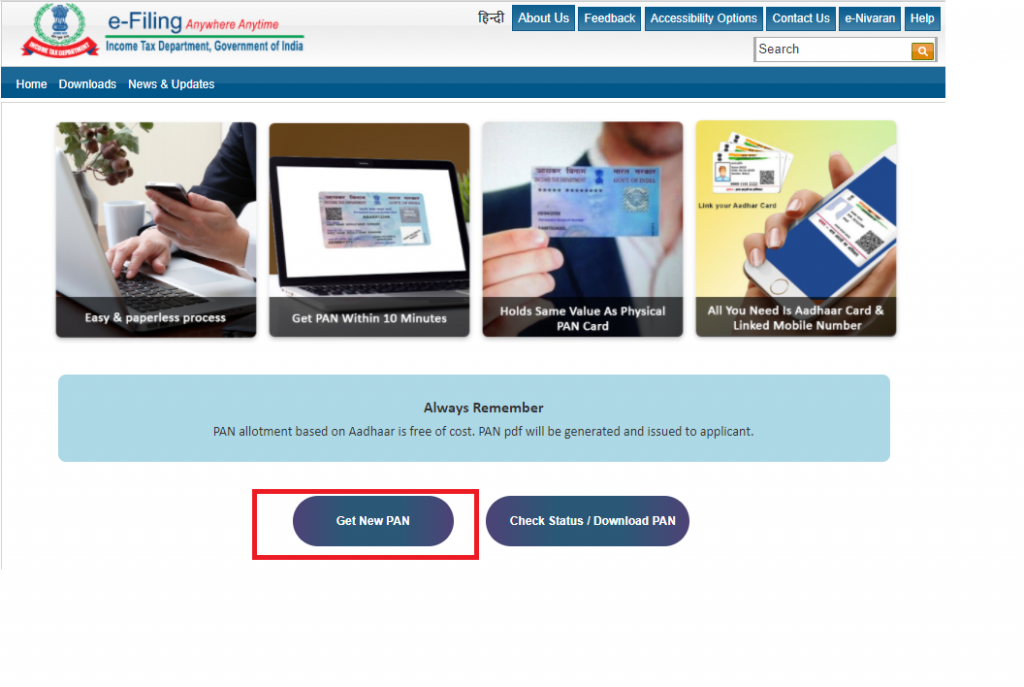 Step 3:  You will be redirected to a new page. Enter your 12-digit Aadhaar Number for PAN allotment

Step 4: Enter the 'Captcha Code' for verification
Step 5: Now, you need to confirm the following details:
I have never been allotted a PAN Card
My mobile number is linked with Aadhaar number
My complete date of birth is available on the Aadhaar Card (DD/MM/YY)
I am not minor as on application date of Permanent Account Number (PAN)
I have read the Terms and Conditions

Step 6: Once done, click on the 'Generate Aadhaar OTP' button
Step 7: You have to  enter the OTP  be sent on your registered mobile number
Step 8: You have to validate your Aadhaar details, your email address (optional)

Step 9: Once all the details will be validated from the database UIDAI, your e-PAN will also be sent if the email ID of the applicant is registered with Aadhaar
Note: You will receive a 15-digit acknowledgement number for further tracking of PAN Card Status

Format of of Instant PAN Card facility through Aadhaar based e-KYC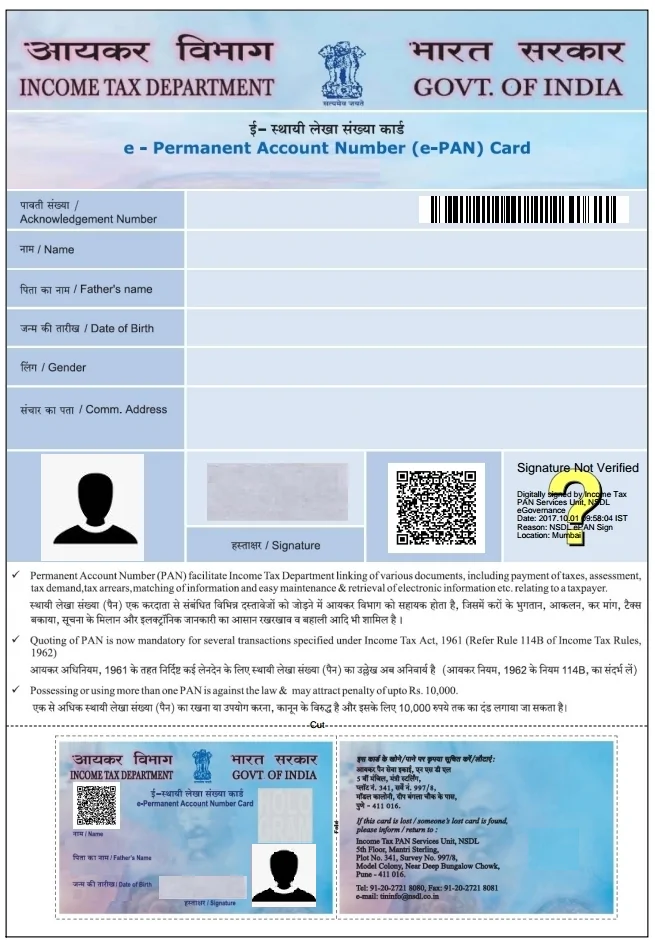 The issued instant PAN Card is in the format of pdf which also has a QR code containing all the demographic information such as your name, date of birth, gender and the photograph too. Morerver, this instant e-PAN can be downloaded through the  15-digit acknowledgement number sent to you once the process of PAN Card application is completed on your registered mobile number and email address. Moreover, you will also be sent a soft copy of your PAN Card on your email address (if registered with Aadhaar Card).
Note: Sometimes, the applicants get confused whether the e-PAN is considered equally valid or not, but as per the recent rules of the Income Tax Department of India, the e-PAN is equivalent to a laminated  PAN Card.

Charges for Instant PAN Card through Aadhaar Card
You can also get your PAN Card through the official website of NSDL and UTIITSL, but both these PAN Card issuing authorities charge for the PAN Card application whereas the issuing of a 10-digit alphanumeric number is free of cost at the Income Tax Department's portal.
Read more at: PAN Card Fees and Charges
Documents Required for Instant PAN Application
There is no documentation required for the Instant PAN Application facility through Aadhaar Card as the data will be automatically fetched from the database of the Unique Identification Authority of India (UIDAI) once you enter your Aadhaar number.
The income tax department says the turnaround time for issuing an instant PAN is just about 10 minutes. So far more than 6.7 lakh such instant PAN cards have been issued.

Get Your Free Credit Report with Monthly Updates Check Now
 How to Check Status of Instant PAN Application
You can also check the status of your Instant PAN Application by following the steps mentioned below:
Step 1: Go to the official e-filing home page of the Income Tax Department (https://www.incometaxindiaefiling.gov.in/home)
Step 2: Click on the 'Instant PAN through Aadhaar' option under the 'Quick Links' section on the homepage which will redirect you to the instant PAN allotment webpage
Step 3:  Now, you need to select the 'Check Status/Download PAN' option
Step 4: Enter your Aadhar number and captcha code
Step 5: Click on the 'Submit' button
Step 6: You have to validate the OTP which will be sent to your registered mobile number. Once again click on the 'Submit' button
Step 7: A new page will appear on your screen to check the status of your Instant PAN Card Application
Step 8: Upon successful approval of your PAN Application, you will receive a PDF link within ten minutes to download the PAN
Note: The PDF which will be generated will be password protected and you need to use your date of birth in the format 'DDMMYYYY' as the password to open the PDF file.