Masked Aadhaar: Here's All You Need to Know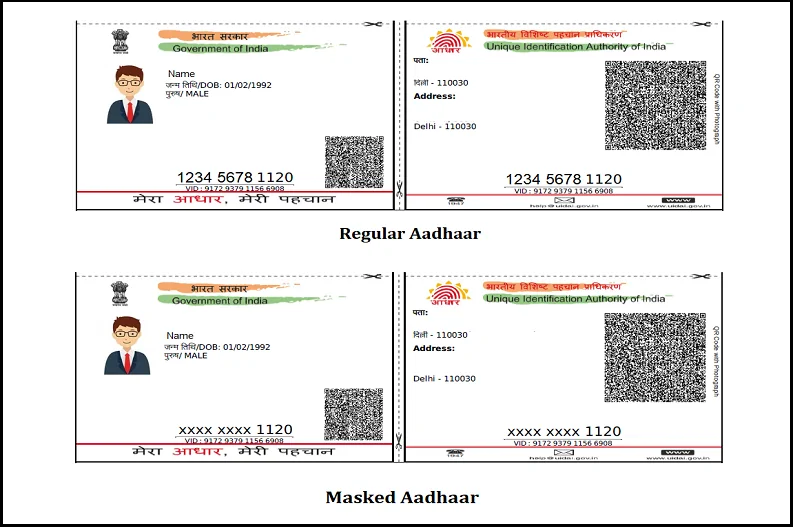 The government made a plan to give Indian residents a unique identity a decade ago. UIDAI, the body authorized to carry out this task, has generated Aadhaar card for more than 123 crore residents of India as per the data published on its website. The government asked people to link their Aadhaar cards with a number of services and instruments to expedite and improve the service delivery mechanism which was challenged in the apex court on account of privacy infringement. In an answer to these calls, UIDAI has come up with masked Aadhaar.
What is Masked Aadhaar?
Masked Aadhaar is similar to a regular Aadhaar with a difference that the Aadhaar number is partially hidden. Only last four digits of the Aadhaar number are visible and the rest are crossed. Other details in the Aadhaar card remains the same such as the name, date of birth, gender, address and the QR code. You can download Aadhaar card quite easily online.

A Good Credit Score shows that you manage Your Finances Well Check Score
How to Download Masked Aadhaar?
You can download the masked Aadhaar online from UIDAI's official website. It is, however, worth noting that you can avail this facility only when your mobile number is registered in UIDAI's database. Follow the steps mentioned below to download masked Aadhaar:
Visit UIDAI's website and click on "Download Aadhaar"
Select the option of Aadhaar/VID/Enrolment ID in "I Have" section
Now tick the "Masked Aadhaar" in "Select your Preference" option
Enter other required details in the fields provided and click on "Request OTP" and then click on "I Agree"
An OTP will be sent to the mobile number linked with Aadhaar when you click on "Confirm"
Enter the OTP, take the Quick Survey and click on "Download Aadhaar"
Your masked Aadhaar will be downloaded on your system.
Password of Masked Aadhaar
The downloaded copy of Aadhaar card is password protected. You have to enter the password to open the masked Aadhaar copy which can then be printed and shared wherever required.
The 8-digit masked Aadhaar password is in the following format:
First four letters of your name and year of your birth.
If the name is Jaidev Singh and the year of birth is 1990, the password will be JAID1990
If the name is Jai Singh and the year of birth is 1990, the password will be JAIS1990
If the name is J. Singh and the year of birth is 1990, the password will be J.SI1990
If the name is Jai and the year of birth is 1990, the password will be JAI1990
Acceptance of Masked Aadhaar
Masked Aadhaar can be used for identity proof when travelling in trains, at airports and for hotel bookings. It can also be used to prove your identity wherever required. However, it cannot be used for availing benefits provided under government welfare schemes through DBT. You have to submit regular eAadhaar or a copy of your Aadhaar card for all government welfare schemes.
Why you should Use Masked Aadhaar Instead of Regular Aadhaar Card?
Masked Aadhaar has a number of benefits over regular Aadhaar cards. Some of these are mentioned below:
Your original Aadhaar number is hidden and nobody can get hold of it in masked Aadhaar. But, in case of regular Aadhaar cards, your complete Aadhaar number is visible which can be used by others.
Masked Aadhaar can be downloaded whenever required whereas the regular Aadhaar card can be requested by visiting an Aadhaar Enrolment Centre.