India is a country of 1.2 billion people where the government provides various social security services and manages other tasks on a very large scale. We have to submit and get various documents verified to avail different services regularly. The paperwork sometimes may be time-consuming and in turn, delay the delivery of services provided by the government. In its resolve to make governance simpler and less time-taking, the government launched the Digital India initiative. It came up with DigiLocker, which is a cloud-based portal, where documents issued by different government departments can be stored and shared for quick approval.

Get Your Free Credit Report with Monthly Updates Check Now
What is DigiLocker?
DigiLocker is a cloud-based platform through which a user can get a number of government documents issued and verified digitally by the concerned department. Indian citizens get free cloud storage of up to 1 GB for every account. Only one such account can be opened by an individual as the user has to provide his Aadhaar details to avail services related to it. The portal allows a user to share issued documents through registered repositories. This ensures that documents shared online with the concerned authority are authentic.
The platform also allows a user to upload the e-document and self-attest it using the e-signature facility. The authentic digitally signed documents can then be shared with different government entities and agencies. DigiLocker helps in minimizing the requirement of physical documents as a user can share authentic e-documents with various agencies online in a few simple steps. The service can be availed online as well as through the mobile app.
Benefits of DigiLocker
DigiLocker provides various benefits to the user. Some of the important benefits are mentioned below:
Accessibility – Documents once uploaded or issued on the portal can be accessed online anywhere. It can also be printed and submitted by the user for verification. A user can also access the DigiLocker app to avail all services on the smartphone itself.
Authenticity – Documents are issued directly by various government departments and institutions and are thus authentic. A user cannot make modifications in such documents. Thus, it becomes easier for agencies to carry out the e-KYC process.
Paperless Processing – As authentic documents can now be shared online, a user does not require submitting hard copies of documents. Thus the delay in paperwork is reduced considerably improving the overall processing time in government organisations.
eSign – The self-attestation carried out for hard copies can now be done online as well, albeit, in the form of eSign. A user can digitally sign the e-document proving the authenticity of the document before sending the uploaded document for verification to agencies or institution.
How to Register for DigiLocker
A user can register for DigiLocker easily in a few simple steps mentioned below:
Step 3: An OTP will be sent to the mobile number. Enter the OTP and click on "Verify"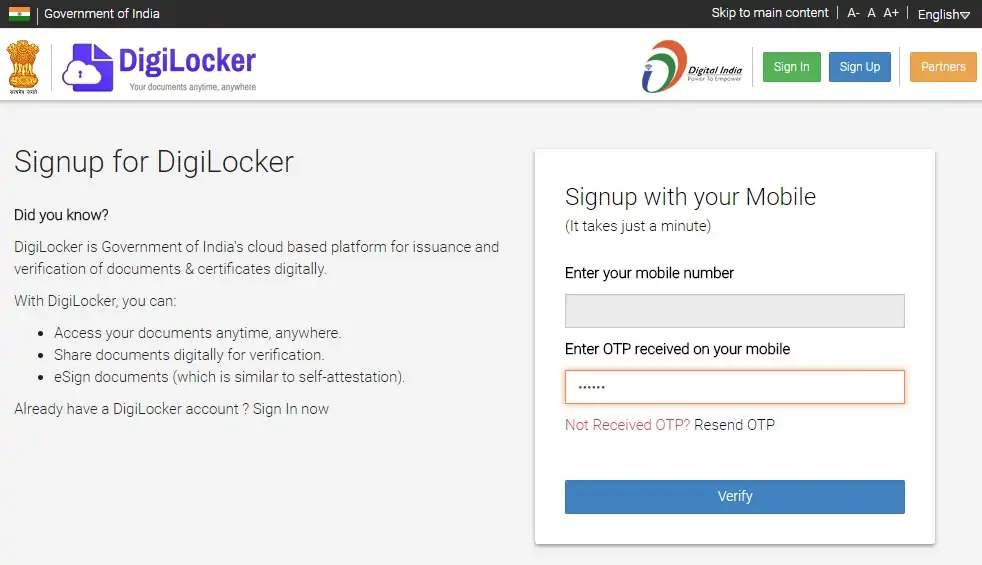 Step 4: Now set your username and password for the DigiLocker account
Step 5: Your DigiLocker account will be created successfully
Step 6: Enter your 12-digit Aadhaar number and click on "Submit" to use the services
Step 7: An OTP will be sent to the mobile number registered with Aadhaar
Step 8: Enter this OTP to set up your DigiLocker account
Step 9: You will be successfully able to Login to your DigiLocker account.
Working of DigiLocker
DigiLocker can be used to avail a number of services – getting documents issued, uploading documents, eSign uploaded documents, sharing e-documents for eKYC and Aadhaar verification. Here's how to do these things in a few simple steps:
Sign up with your mobile number
Create your profile using your Aadhaar number
Get your documents issued by government departments and institutions
You can also upload documents in your account and eSign them to establish its authenticity
Share these documents with Requesters for authentication and verification
The Requester can verify the documents submitted by you online and approve your application request.
How to Issue Documents in DigiLocker
You can get your important documents such as PAN, Aadhaar, driving license, etc. issued directly by the concerned institution in your DigiLocker app and access it even when there is no internet connection in your smartphone. At present, there are 53 issuer organisations and 21 requester organisations providing services for government's digital locker. Follow the below-mentioned steps to download the Aadhaar card in your DigiLocker account:
Login to your DigiLocker account using your username and password
Click on the "Search" symbol on the bottom right corner of the app interface
Now search for "Unique Identification Authority of India (UIDAI)" from the list
Click on the Aadhaar option
Tick the declaration and click on "Get Document"
An OTP is sent to the mobile number registered with Aadhaar
Enter this OTP in the space provided and click on "Submit"
Your Aadhaar will be downloaded in your DigiLocker account
Similarly, you can download your PAN by selecting the "PAN Verification Record" from "Income Tax Department, Govt. of India, All States" option
In order to download the driving license, you have to select the "Driving License" option from the menu under "Ministry of Road Transport and Highways – All states "
You can access the issued documents from the portal as well as on the smartphone app.
Features of the DigiLocker Mobile App
DigiLocker app is available for android as well as iOS platforms. To download the app, click here
Certificates can be issued or uploaded through the app as well
All uploaded and issued certificates can be viewed and shared through the app as well
Users can set a 4-digit PIN to prevent unauthorized access from their smartphone
Safety of DigiLocker
DigiLocker is a highly secure portal from where it is difficult to access documents and other details without authorization. The makers of DigiLocker have ensured that the data is nearly impossible to get leaked. Let us have a look at some of the steps taken by the National eGovernance Division to prevent any security breach:
The app/portal deploys Aadhaar OTP feature for logging in to the account. Every time you have to log into your account, an OTP is sent to your mobile number for verification
A 4-digit security PIN has to be entered while logging in to the DigiLocker app. This added layer of security prevents anyone from accessing your details in the app even if he has your smartphone
The system is protected with 256 Bit SSL Encryption
Timed Log out ensures that no one can access your account in case you leave the portal open on your system for long
The organisation carries out a security audit from time to time to find loopholes in the system and prevent any security breach.