HDFC Bank has introduced internet banking service for all its accountholders. Account-holders are required to apply/register for the HDFC net-banking facility at the bank after which, a unique User ID and password are allotted to the customer. Let us know more about how one can register to HDFC net-banking, how to change/reset the net-banking password, and more.
How to Reset Forgotten HDFC Net Banking Password
In case you have forgotten your HDFC net-banking password, you can regenerate the same online. Follow the given steps to reset/change your online banking password:

Steps to Reset HDFC Net-Banking Password Online
Follow the steps mentioned below to regenerate your password: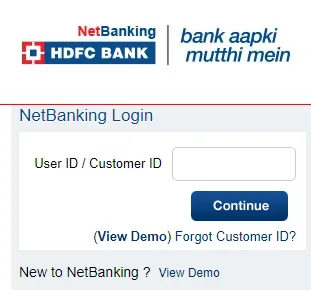 On the next page, click on 'Forgot IPIN (Password)' and click on 'Continue'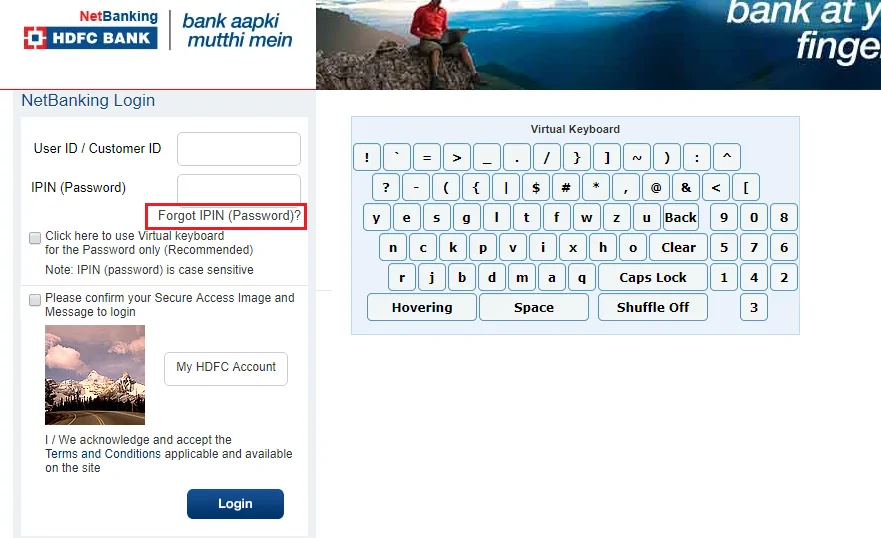 Enter your Customer ID again and click on 'Go'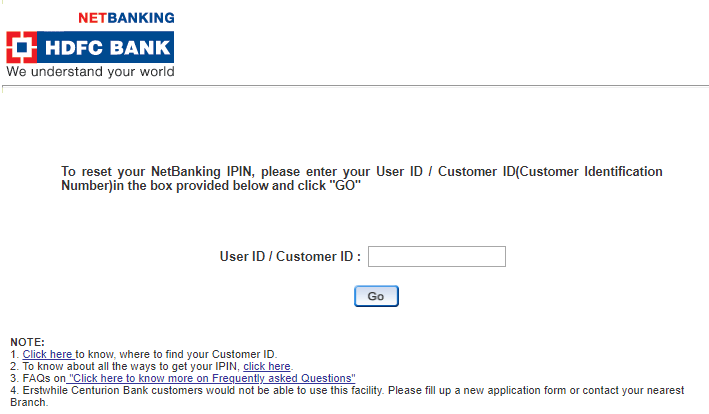 You will see two options on the next screen for authentication – select either of the two and continue
After that, enter the registered mobile number and then enter the OTP received
NR customer with an Indian mobile number registered with the bank has to click on the debit card option and enter their card details

NR Customers with an international mobile number registered with the bank have to put the OTP (One Time Password) sent on their registered Email ID with the bank

The IPIN will be instantly set and the customer can use the new password with the Customer ID to log in to net-banking
Reset HDFC Net-Banking Password via Phone Banking
To generate a new IPIN (Password), the customer can contact the HDFC phone banking customer service and request for a password change. Besides this, one can also send 'IPIN' to 5676712 and request for a new password via SMS.

Reset HDFC Net-Banking Password via ATM
Online banking users can generate IPIN by submitting a request at HDFC ATM using his/her debit card and ATM PIN.
Reset HDFC Net-Banking Password by visiting the Branch
Visit your nearest HDFC Bank branch

Fill and submit an application form for new IPIN

Once generated, the IPIN will be delivered to the registered mailing address
Features of HDFC Net Banking
Customers can check their account balance, book fixed and recurring deposits, download a/c statement up to five years, pay their bills, and recharge mobile/DTH connection
Using their Customer ID/User ID and IPIN (NetBanking Password), customers can log in to net-banking
Choose and personalize their User ID and Net Banking login
Customers can pay utility bills
Invest in mutual funds online
Request for Debit Card PIN regeneration
Transfer funds between accounts within HDFC Bank and other bank accounts.
Manage HDFC Credit Card services such as bill payment, request card upgrade, request loan, etc.
How to Register for HDFC Net Banking Service
Only resident and non-resident individuals who have an active mobile number can avail the HDFC Net Banking facility. Given below are the steps for registering to HDFC Net Banking using different modes like phone banking, ATM banking, etc.
Register for HDFC Internet Banking Online
Visit the HDFC Bank's Net Banking page at

https://v1.hdfcbank.com/assets/popuppages/netbanking.htm

Click on the 'Register' link at the bottom of the page

Now, enter the Customer ID and click on 'Go'

Confirm your mobile number by entering the OTP received on the registered mobile number

Select and enter relevant Debit Card details

Set your IPIN

You can use the Customer ID and new IPIN to access HDFC Net Banking
Register for Internet Banking at the Branch
Download the Net Banking registration form (individual or corporate)

Submit the filled form at your HDFC Bank branch

User-ID and IPIN will be delivered at the registered mailing address after verification
Register for HDFC Internet Banking via ATM
Visit the nearest HDFC Bank ATM

Enter the ATM PIN and Debit Card number

Select the 'Other Option' from the main menu

Click on the 'Net Banking Registration' option and confirm

The Bank will then send the IPIN to the provided mailing address of the customer
Register for HDFC Internet Banking via Phone Banking
Call on the Phone Banking customer service number and provide the Customer ID and Telephone Identification Number (TIN) or Debit Card number and PIN

The Bank's Phone Banking agent will register the Net Banking registration request

IPIN will be delivered at the registered mailing address within 5 days
Important Points to be noted while using Net Banking Service
The online banking password should be changed at least once every two months

Customer ID and Password should be kept confidential and should not be revealed to anyone. If disclosed to anyone in case of an emergency, one should change the password as soon as possible

Never click on any link that claims to be from the particular bank he is connected with to redirect them to their online banking site
Frequently Asked Questions
Q. How do I change my password?
To change your password, you can log in to your HDFC online account and select the 'Change Password' option available in the main menu. Enter your current password and the new password, you want to keep in the given boxes and click on 'Go'.
Q. I forgot my HDFC Net Banking password. Can I regenerate it?
Yes, you can regenerate your HDFC Net Banking password online or via phone banking and ATM. You can also visit your nearest HDFC branch and apply for a new IPIN by filling the respective form.
Q. How can I register for HDFC Net Banking?
You can visit your HDFC branch and fill in the application form for net-banking. You can also register for HDFC net banking through any of the four processes i.e. online, ATM, phone banking and branch.