IDBI net banking facility provides the customers with easy access to all banking products and services. To avail internet banking services, one has to register for the same at the bank. After that, IDBI Bank net banking login details are sent to the users to avail online banking benefits. Let us find out more about this.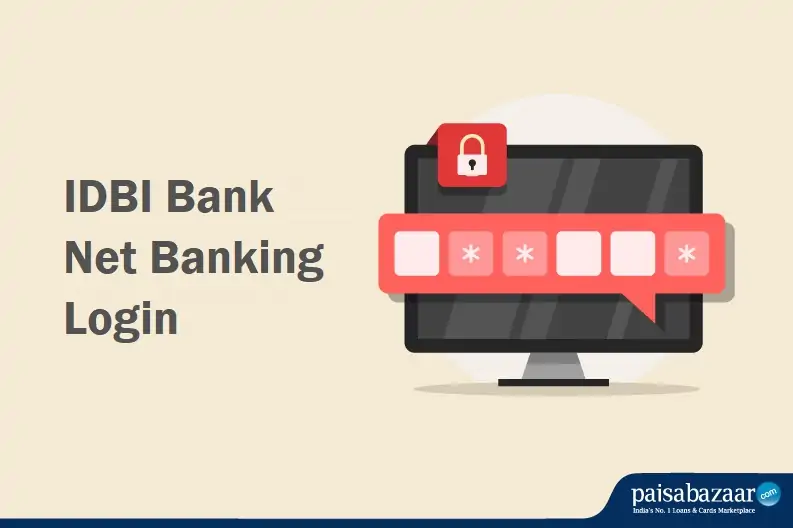 Steps for IDBI Net Banking Login
Follow the given steps for IDBI net banking login into retail/corporate account-
Step 1: Visit IDBI's net banking login page
Step 2: Select a type of account for login and click on the 'Login' button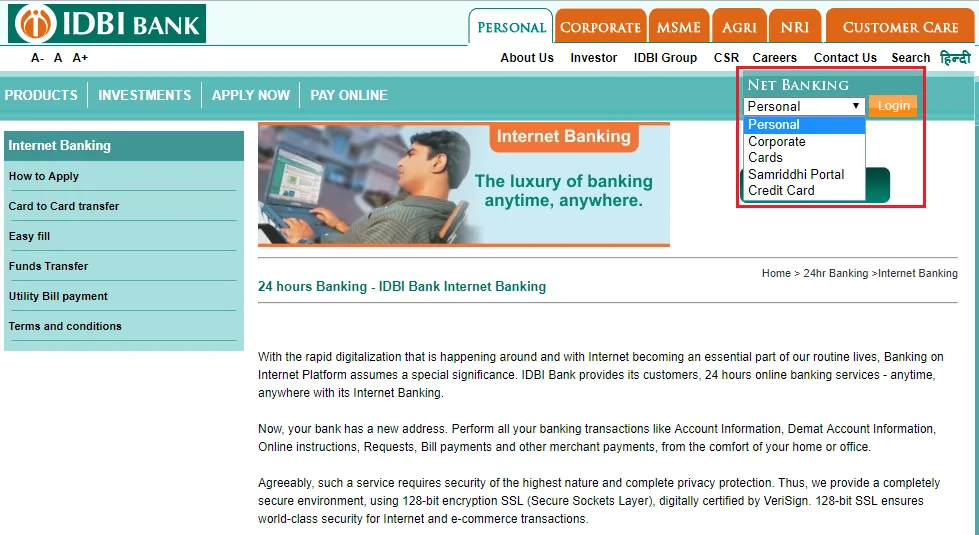 Step 3: After one has gone through the above security guidelines, the user should click on the button below 'Continue to Login'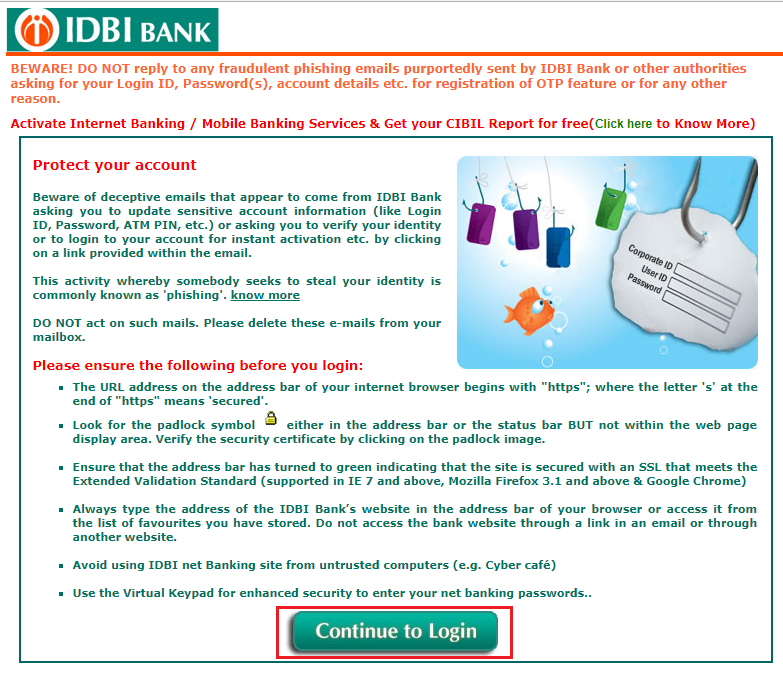 Step 4: Enter your customer ID and password. Click 'Login'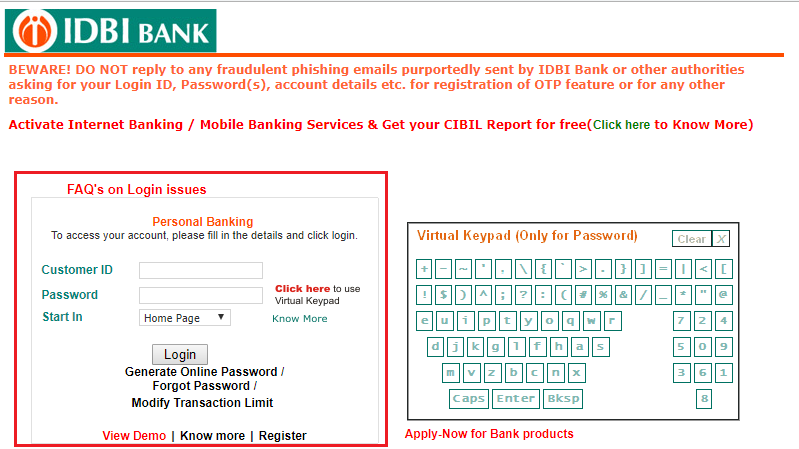 How to register for IDBI Bank net banking?
A customer needs to register himself to avail IDBI Bank net banking facility. Here are the steps:
Step 1: Download the IDBI Net Banking Registration Form from the login page. You can also obtain this form from your IDBI Bank branch
Step 2: Fill the form and submit the same at your IDBI branch
Step 3: After verification, you will be enrolled for online banking at IDBI Bank. Your customer ID and password will be sent to your registered email address or mobile number. 
How to reset the IDBI net banking login password?
In case you have forgotten your net banking login password, follow these steps:
Step 1: On the login page, click on the 'Forgot Password' button
Step 2: Enter details such as user ID, type of user, registered mobile number, mode of delivery 
Step 3: Select the service for which the password has to be generated
Step 4: Click on Submit to reset your password
IDBI Bank Online Password Guidelines
The most important things that the system considers while servicing the online password requests are:
Debit Card

and ATM Card must be activated

Correct Mobile Number is updated in bank records

Never disclose any sensitive information like account details, Debit Card, login, and OTP, etc. to anyone using any mode of communication

IDBI Net Banking feature is currently not applicable for PPF Subscription, NPS Subscription, Online

Fixed deposits

, and other investment options like the GOI Bonds, PMJBY, ASBA IPO, PMSBY, and APY, etc.
If due to the wrong password attempts the account gets locked, then a password request can be made and a new password can be set by the IDBI Bank customer.
Key Features of IDBI Internet Banking
Retail or Corporate Banking customers of IDBI Bank can access below features upon the activation of internet/mobile channels:
Account Information
Account Requests and Status Reports

Transaction tracking and historical data

Loans EMI

Cheque Status

Customized Bank Statements
Demat Account Information
Displays Demat Scrip with ISIN Code, scrip name, and balance

Transaction Statements

Billing Information along with the charges applied
Online Instructions
Cheque Book

Stop Payment

Fixed and Recurring Deposit

Mobile and DTH recharge
Online Payment Services
IDBI Bank has partnered with various merchant websites or e-commerce stores, Online Share Trading Portals, and Mutual Funds sellers, etc.
Security & Privacy of IDBI Bank Net Banking
With new opportunities, new threats are also identified from time to time. Hence, IDBI Bank is also sensitive about the privacy and internet security of its customers and provides an SSL Encrypted website to register and transact for its banking products or services. Some of the below criteria one must keep in mind while trying to register for IDBI net banking login and be extra careful. They are:
One must always validate the authenticity of emails requesting the account holders to update passwords, ATM Pins, and Login ID etc. These could be phishing emails trying to steal the user data disguised in almost similar corporate branding etc.

One must always beware of such deceptive e-mails requesting for verifying account holder's identity or immediate login to instantly activate the services by clicking on the attached link. Ideally, such emails must be deleted from the mailbox as generally banks never ask such sensitive information

With the genuine URL of IDBI Bank, one can see that automatically there is an inclusion of "https" just before the website URL

The security encryption sign for users is generally a padlock symbol in the website address bar and one must always ensure to explore such padlock if searching for the authentic URL of the IDBI Bank

Generally, the address bar will also turn green in mostly all Web Browsers including Mozilla Firefox, Google Chrome, and IE7 & above etc.

One must also avoid logging to the IDBI Bank from sources that are not trust-worthy and access IDBI net banking login page from "Favorite Folder" in bookmarks saved from the trust-worthy sources

One must also avoid using

net banking services

from computer cafes or other public assets which are not virtually protected and secured

One must also try using a virtual keyboard on the login page while entering passwords

One must always link his/her personal mobile number to activate alerts related to their individual accounts
Frequently Asked Questions
Q. What do I need to login to IDBI Bank net banking?
To login to IDBI net banking, you should have a valid customer ID and I-Net password or login password.
Q. Can I change the User Id and Password?
Yes, you can change your password any number of times. However, you cannot change your user ID.  You must change the machine-generated passwords at first login. 
Q. How to get the IDBI Bank net banking registration form?
One can visit any of the IDBI branches and ask for the internet banking registration form or download the net banking form from the official IDBI website.
Q. I forgot my IDBI Bank net-banking password. How to login?
If you have forgotten your login password, go to the IDBI Login page and click on 'Forgot Login Password'. On the next screen, enter your mobile number and click on the 'Submit' button. Enter the OTP received on the registered mobile number and then set your new login password.