Updated: 17-11-2020 12:10:48 PM
This page contains key details of the personal loan restructuring framework offered by Bajaj Finserv. However, if you intend to apply for resolution of your outstanding Bajaj Finserv personal loan, you have to apply directly on the Bajaj Finserv website, by visiting a branch in person or by calling the contact centre number.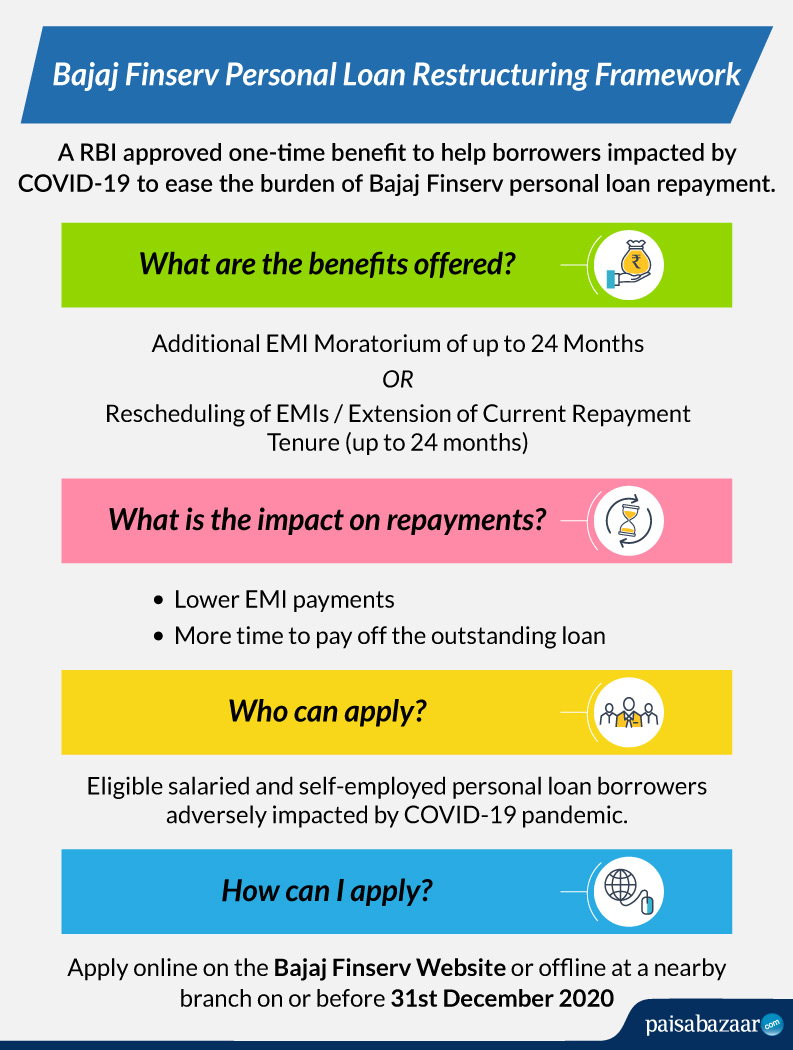 The COVID-19 moratorium on Bajaj Finserv personal loans ended on September 30, 2020. Therefore, from October 2020 onwards, borrowers who opted for the moratorium are required to start making their regular EMI payments again. However, if a borrower is still unable to start making regular repayments, he/she may opt for the COVID-19 personal loan restructuring plan offered by Bajaj Finserv.  It is important to remember that those opting for this resolution plan will have to pay additional interest charges as well as have their credit score impacted, thus one should opt for this only if absolutely necessary.
What is loan restructuring?
Bajaj Finserv has introduced its resolution plan as per RBI guidelines in order to provide relief to borrowers who have been adversely impacted by the COVID pandemic after end of the COVID-19 loan moratorium. The resolution plan offers relief to borrowers in one of the following ways:
Moratorium on EMI payments for a maximum period of 24 months
Current loan tenure extension or EMI payment rescheduled for up to 24 months
By opting for either type of relief mentioned above, the EMI amount payable for the loan will be adjusted as per the applicable criteria specified by Bajaj Finserv.
Eligibility Criteria
The key criteria for determining eligibility for the resolution framework offered by Bajaj Finserv include the following:
Lower monthly income or salary in August 2020 in comparison to February 2020
Salary withheld or salary reduced during COVID-19 lockdown
Closure of business or loss of job
Reduced activity/closure of shop/business unit during lockdown
Borrowers who have already opted for the loan moratorium
"Standard" loan account designation at the time of submission of application
Loan accounts in default for 30 days or less as of March 1, 2020
Loan accounts that were opened on or before February 29, 2020
Bajaj Finserv may introduce additional criteria at its discretion on a case-by-case basis.
Documents Required
Documents required to apply for this resolution plan including submission of new NACH (national automated clearing house mandate) will be decided by Bajaj Finserv on a case-by-case basis. The following is a tentative list for your reference, however actual documents required will be as per criteria set by the lender:
Salary Slips (for salaried)
Acknowledge Income Tax Return (for self-employed)
Salary account/current account statement
Documented proof of termination of employment (for salaried)
Self-declaration from borrower mentioning adverse business conditions caused by COVID-19 (for self-employed)
Any other documents at the discretion of Bajaj Finserv.
How to Apply
Those interested in opting for the loan restructuring framework offered by Bajaj Finance can apply in the following ways:
Online application submitted through the Bajaj Finserv website
By visiting a Bajaj Finserv branch in person
By calling the Bajaj Finserv customer care number (+91-8698010101)
The application for Bajaj Finserv personal loan resolution plan has to be submitted between 28th to 5th of the month and by 31st December 2020.
FAQs
Q1. I have only 6 EMI payments due on my outstanding loan. Am I eligible to opt for the loan restructuring plan?
Ans. Yes, all borrowers with more than 1 EMI due on their outstanding loan are eligible to apply for Bajaj Finsev COVID-19 loan restructuring plan subject to meeting all other eligibility criteria.
Q2. Am I eligible to apply for fresh loans after opting for loan restructuring?
Ans. You may be eligible for new loans even after being approved for loan restructuring with Bajaj Finserv, however, this will be subject to the bank's criteria and at its discretion.     
Q3. How many days will Bajaj Finserv take to process my restructuring application?
Ans. Bajaj Finserv is expected to inform applicants regarding its loan restructuring decision within 10 days of submission of the completed application.
Q4. Can I select the type of relief such as extension of moratorium/tenure extension as part of my loan resolution plan application?
Ans. No, the type of relief offered to you will be decided by Bajaj Finserv depending on the offer applicable to your outstanding loan.
Q5. Will Bajaj Finserv charge me a fee for processing my loan resolution application?
Ans. No, Bajaj Finserv is not charging a fee to process loan resolution applications resulting from the COVID-19 pandemic.