Bajaj Finserv Personal Loan Highlights

Interest rate
Starting from 11.49% per annum
Loan Amount
Upto Rs. 15 Lakh
Eligible Applicants Categories

Salaried Individuals
Self-employed individuals
Doctors
Chartered Accountants

Eligibility Age
From 25 years to 59 years at loan maturity
Loan Tenure
Upto 60 months
Types of Personal Loans

Flexi Loan
Personal Loan for Wedding
Personal Loan for Travel
Personal Loan for Medical Emergency
Personal Loan for Doctors
Personal Loan for CA
Personal Loan for Self-Employed
Bajaj Finserv offers personal loans to meet various types of expenses that may arise due to financial emergency or a planned expenditure such as a vacation or home renovation. Apart from flexible end-use and loan tenure of up to 5 years, Bajaj Finserv personal loan disbursals can be up to Rs. 15 lakh without the need for any collateral.
Features
High loan amount: Personal loans offered by Bajaj Finserv can feature disbursal as high as Rs. 15 lakh without need for any collateral
Minimal Documentation: Bajaj Finserv require minimal documentation which ensures ease of the application process
Flexible tenure: At Bajaj Finserv, you can repay your personal loan within tenure ranging from 12 to 60 months. You can decide the desired tenure as per your repayment ability
Pre-approved offers: If you are an existing customer, you can share your basic contact details and OTP to check your pre-approved personal loan offer
EMI Network Card offer: In case you already have a personal loan from Bajaj Finserv, you have the option of availing various Bajaj Finserv EMI Network Card offers.

Your pre-approved Personal Loan offers are just a click away Apply Now
Interest Rates 2021
Bajaj Finserv offers various types of personal loans depending on end-use as well as applicant type. The following are the personal loan interest rates for the key variants offered by this NBFC:
| | |
| --- | --- |
| Type of Personal Loan | Interest Rate (p.a.) |
| Personal Loan | 11.49% onwards |
| Flexi Loan | 11.49% onwards |
| Personal Loan For Wedding | 11.49% onwards |
| Personal Loan For Travel | 11.49% onwards |
| Personal Loan For Medical Emergency | 11.49% onwards |
| Personal Loan For Doctors | 14% to 16% |
| Personal Loan For Chartered Accountant | 14% to 15% |
| Personal Loan For Self- Employed | Starts from 18% |
Actual interest rates offered to an applicant may depend on various factors including but not limited to credit score, income, employer/employment type, etc.
Eligibility Criteria
The eligibility for a personal loan tends to vary slightly depending on the type of loan that you have opted for. However, some of the common eligibility criteria for these unsecured loans are as follows:
You should be a resident of India
You should be at least 25 years old
Your maximum age should be 59 years
The applicant must be residing in any of the eligible cities
A) For Salaried applicants
Applicant must be a salaried professional in a MNC (Multinational Corporation), private or public company.
Applicant should have a minimum total work experience of at least 3 years and should have been for more than 1 day in current employment
The minimum salary per month should be as follows*:
| | |
| --- | --- |
| City | Minimum Salary Per Month |
| Bengaluru, Delhi, Pune, Mumbai Hyderabad, Chennai, Coimbatore, Ghaziabad, Noida and Thane | Rs. 35,000 |
| Goa, Lucknow, Baroda, Indore, Bhubhaneshwar, Vizag, Nasik, Aurangabad, Madurai, Mysore, Bhopal, Jamnagar, Kolhapur, Raipur, Trichy, Trivandrum, Vapi, Vijayawada, Jodhpur, Calicut and Rajkot | Rs. 25,000 |
| Ahmedabad, Kolkata | Rs. 30,000 |
| Jaipur, Chandigarh, Nagpur, Surat, Cochin | Rs. 28,000 |
*As provided by Bajaj Finserv as of January 2020.
B) For Self-employed
Your business should be running for at least 3 years
Your business should have filed ITR returns in at least the past year
C) For Doctors*
| | |
| --- | --- |
| Type of Applicant | Doctor Loan Qualifying Criteria |
| Super-specialist doctors (MS/MD/DM) | No minimum post-qualification experience required |
| Graduate Doctors (MBBS) | Minimum 2 years of post-qualification experience required |
| Dentists (BDS/MDS) | Minimum 5 years of post-qualification experience required |
| Ayurvedic and Homeopathic Doctors: BHMS/BAMS | Minimum 6 years of post-qualification experience required, and must own a house or clinic |
| Homeopathic Doctors: DHMS | Minimum 15 years of post-qualification experience required, and must own a house or clinic |
*Data as provided by Bajaj Finserv as of January 2020.
D) For Chartered Accountants
Have a COP (Certificate of Practice) that is active for a minimum of 4 years
Own a house/office (at a location where Bajaj Finance Ltd operates)
Types of Bajaj Finserv Personal Loans
The following are the key types of personal loans offered by Bajaj Finance:
1. Flexi Loans
Based on your credit score, Bajaj Finserv offers you access to various pre-approved personal loan offers. If you opt for a flexi loan, you pay interest on only the amount that you utilize and not on the total amount sanctioned. This type of personal loan is offered to salaried individuals and self- employed individuals, businessmen and professionals.
2. Personal Loan for Wedding
Planning your dream wedding? You can avail a personal loan for wedding of up to Rs. 25 lakh to deal with various expenses like venue, catering, accommodation for guests, jewelry, invitation cards, etc. Also, you can conveniently repay the loan with a flexible tenure ranging from 24 to 60 months.
3. Personal Loan for Travel
If you are planning to travel the world anywhere with your friends or family, you can apply for Bajaj Finserv travel loan. The maximum limit for travel loan is Rs. 25 lakh. This loan helps you to have a stress- free vacation as it can be used to manage various expenses like ticket bookings, accommodation, sight-seeing expenses, etc.
4. Personal Loan for Medical Emergency
To cover emergency medical expenses for yourself or your loved ones, you can apply for a Personal Loan for Medical Emergency. This personal loan from Bajaj Finserv can be easily used to pay hospitalization and other medical bills without any inconvenience. Later, you can repay the loan in easy EMIs within flexible tenure ranging from 24 to 60 months.
5. Personal Loan for Doctors
With quick processing and hassle-free documentation, a doctor can avail the personal loan for Doctors from Bajaj Finserv. Offering an amount of up to Rs. 37 lakh, this loan may be disbursed with 24 hours and can help you to fulfil various personal needs. This personal loan features a tenure ranging from 12 to 96 months.
6. Personal Loan for Chartered Accountant
Easy to apply and quick to avail just by submitting a few documents, a Personal Loan for Chartered Accountant can be applied up to Rs. 35 lakh from the comfort of your home or office. The loan amount can be used to fulfil any personal need of a CA. Also, the loan amount can be easily repaid within a flexible tenure ranging from 12 to 60 months.
7. Personal Loan for Self- Employed
Self-employed individuals can opt for a personal loan for of up to Rs. 30 lakh to meet various business and personal expenses like wedding, debt consolidation, working capital, purchase of new equipment or machinery, etc.
Documents Required for Loan Application
Some key documents that are mandatorily required when applying for a personal loan with Bajaj Finserv are as follows:
PAN Card
KYC Documents – Aadhaar, Driving License, Voter ID Card, etc.
Recent photograph
a. Additional documents required for salaried individuals
Form 16 or latest salary slips
Bank account statements of previous 6 months
b. Additional documents for Self-Employed Individuals, Businessmen, and SMEs(Small and Medium Enterprises)
Business Proof (Certificate of business existence)
Business relevant financial documents (if annual turnover exceeds Rs. 1 crore)
Bank account statements
Certified copy of previous year's income tax return (ITR)
c. Additional documents required in case of personal loan for Chartered Accountant
Certificate of Practice (COP)
Bank statement
d. Additional documents required in case of personal loan for Doctors
Medical Registration Certificate
Know More About: Documents Required for Bajaj Finserv Personal Loan

Apply for a Personal Loan online with minimal documentation Apply Now
How to Apply For Bajaj Finserv Personal Loan with Paisabazaar.com?
The following is a step-by-step guide if you want to apply for a personal loan from Bajaj Finserv on Paisabazaar.com website: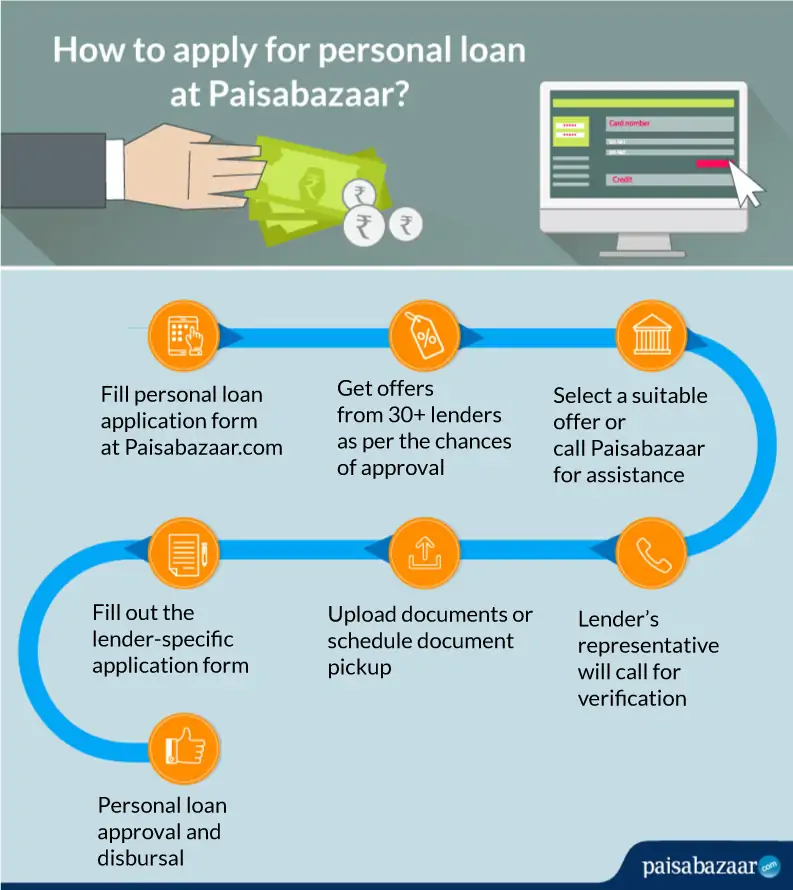 Fill out the online loan application form on Paisabazaar.com
Check offers from various prospective lenders sorted by chances of approval
Select the loan offer(s) from Bajaj Finserv (if available) or call Paisabazaar for assistance
Provide a few additional details about yourself on an online form so that your personal loan application can be forwarded to your chosen lender
Personal Loan Verification Process
After Paisabazaar forwards your completed online application, the lender's representative will give you a verification call to schedule pick-up of loan applicable documents.
Once you have provided all the required documents such as KYC, income proof, etc. documents they are verified by the lender
After verification, you get another call from the bank with confirmation of the final loan amount, interest rate and tenure of your personal loan
Once the bank gets the confirmation from your side that the loan terms are acceptable, the loan amount is disbursed
Check Personal Loan Application Status
In case you have applied for a personal loan with Bajaj finserv, you can easily check the loan application status online. Details that need to be provided to check status of your application is your mobile number (as on loan application). Use the OTP sent to your mobile to check loan application status.
Alternatively, you can also logon to your online account or the official Bajaj Finserv Mobile App to know the status of your personal loan application.
Fees and Other Charges
| | |
| --- | --- |
| Processing fees | Up to 4.13% of the loan amount |
| Bounce Charges | Rs. 600 – 1200 per instance (Inclusive of applicable taxes) |
| Penal interest | 2% of EMI amount per month + applicable taxes or Rs. 200 per month (including taxes), whichever is higher |
| Secure fee (only for online approvals) | Rs. 4,499 |
| Outstation cheque collection charges | Rs. 65 + applicable taxes per repayment instrument |
| Part-payment charges | Up to 2% of amount prepaid (minimum 2 EMI )+ taxes as applicable |
| Foreclosure charges | 4% on principal amount outstanding as of date or foreclosure. |
How to Login on Bajaj Finserv Portal?
Go to the Bajaj Finserv homepage and click on Customer Portal under the My Account menu.
Login using your customer ID, email ID or mobile number on the customer portal as shown below. Once logged in, you can perform key actions such as check your current loan details, apply for a new loan, check your eligibility for new loan, etc.
How to Check Loan Statement
Login into the Bajaj Finserv Customer portal using your customer ID, e-mail ID or mobile number
Select 'Services'

Click on 'View Details' mentioned under the loan type

Go to the e-statements header
Click to Download your loan e-statement (if you have a currently outstanding personal loan)
EMI Calculation
The following personal loan EMI calculation is an illustration of how the monthly EMI of a Bajaj Finserv Personal loan changes based on loan tenure, loan principal and interest rate.
Loan principal @ interest

Tenure

1 year
2 years
3 years
4 years
5 years
1 lakh @ 12.99%
Rs. 8,931
Rs. 4,753
Rs. 3,368
Rs. 2,682
Rs. 2,274
2 lakh @ 13.06%
Rs. 17,869
Rs. 9,514
Rs. 6,744
Rs. 5,371
Rs. 4,556
4 lakh @ 13.25%
Rs. 35,773
Rs. 19,063
Rs. 13,525
Rs. 10,780
Rs. 9,152
6 lakh @ 13.75%
Rs. 53,801
Rs. 28,736
Rs. 20,433
Rs. 16,320
Rs. 13,883