'How to check EPF balance' is one of the most asked questions by EPF account holders. Being an employee as well as a member of the EPFO (Employees' Provident Fund Organisation), it is your right to know your PF balance at any point of time. There are four ways of checking your EPF balance, viz. SMS, Missed Call, Umang App and EPFO official website. 
Read further to know all about checking your EPF balance offline as well as online. 
Earlier, employees had to wait for their employer to furnish their EPF statement at the end of every year. But now the employees can easily check their respective EPF balance both offline and online at any point in time.
There are two offline methods for PF balance check:
SMS

Missed call service/EPF balance check number
The EPF online balance check methods available for account holders are:
Using

EPF Portal

on mobile or desktop

Using Umang app on mobile

Get FREE Credit Report from Multiple Credit Bureaus Check Now
How to Check EPF Balance Online and Offline
a.) Check EPF Balance via SMS
Use your registered mobile number to send an SMS to EPFO to fetch information about your account. 
SMS Format to be used for sending EPF balance enquiry to EPFO:
EPFOHO UAN
to
7738299899
You will get a reply in the English language since it is the default language. For language-specific reply, please add the language code in the SMS. 
You can receive the SMS in 10 different languages, viz.
Language and Code

English (Default)

Hindi (HIN)

Gujarati (GUJ)
Punjabi (PUN)
Marathi (MAR)
Kannada (KAN)
Malayalam (MAL)
Tamil (TAM)
Telugu (TEL)
Bengali (BEN)
E.g. If you need balance details in Hindi or Marathi or Bengali, send SMS like: 
EPFOHO UAN HIN to 7738299899

EPFOHO UAN MAR to 7738299899

EPFOHO UAN BEN to 7738299899
Note that this facility can be used only if your UAN is active and seeded with your Aadhaar, bank account and PAN. If you have not seeded your UAN with the above-mentioned documents, first you have to complete the eKYC with UAN.
b.) Check EPF Balance by Giving a Missed Call
The easiest way to check your EPF balance is by giving a missed call on the EPF balance check number – 
 9966044425
You will receive details of the last contribution along with the PF balance. To use the epf balance check missed call number facility, make sure the following requirements are met with: 
The member's UAN should be activated

The member's mobile number should be registered with the UAN as the missed call will be valid only when made from the registered number
Note: Members are not required to pay any charges to avail this epf balance check on mobile service.
Suggested Read: What is UAN and how to register for UAN?
c.) EPF Balance Enquiry through Umang App
EPFO provides various services through the centralized mobile app of the government, called Umang. You can check your EPF balance and get your PF passbook on the Umang App by simply logging in using your UAN and OTP. 
Steps to check PF balance using Umang App:
Step 1: Install the application from Play Store/App Store or directly by clicking on this link: Umang App (Link will open in new tab).
Step 2: Open the Umang app on your smartphone and choose your preferred language. Also, read the terms and conditions of the "End to End License Agreement".
Step 3: Get your mobile number verified and register.
Step 4: Click on the 'All Services' option at the bottom.
Step 5: Find and select 'EPFO' from the list of options.
Step 6: Click on 'View Passbook' to check your EPF balance.
Step 7: Enter your UAN and click on 'Get OTP'. Enter the OTP and click on 'Submit'. (You will get OTP on your registered mobile number). Your passbook will be displayed on the screen along with your EPF balance.
Suggested Read: UMANG App: Download, Registration, Login, Services & Benefits
d.) Check EPF Balance Using EPFO Portal
Members of the EPFO can check their balance by visiting the official website of the Employees' Provident Fund Organization (EPFO). 
Follow the steps given below to check your EPF balance online at EPFO Portal:
Step 1- Visit the official EPFO Website (copy this in a new tab – www.epfindia.gov.in)
Step 2: From the 'Our Services' drop-down menu, click on 'For Employees'
Step 3: From the 'Services' menu, click on 'Member Passbook' (You will be redirected to the login page. You can also directly visit the page by clicking on this link: EPF India – Member Passbook)
Step 4: Log in with your UAN and Password.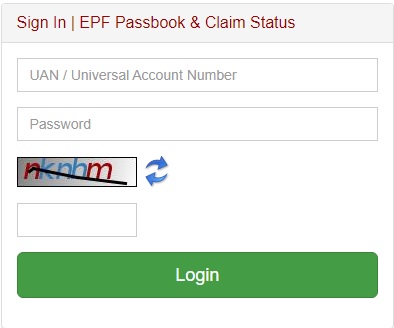 Step 5: After logging in, you will find Member IDs of all the accounts linked with your UAN 
Step 6: Click on the Member ID of the EPF account for which you want to carry out the epf balance check online
Suggested Read: How to register on EPFO Portal
EPF Balance Check via Website – Points to Remember
There are a few points that members should keep in mind about the EPF balance check by visiting the website. Some of those are mentioned below:
Only those members who have 

activated their UAN

 and have registered on the UAN Member Portal can check their PF balance through this method

The facility of viewing passbook will be available after 6 hours of registering on the UAN Member Portal

If you have made some changes on the UAN Portal, the same will reflect on the website after 6 hours

The passbook will show the latest entries that have been reconciled by the EPFO Field Offices

Exempted Establishments Members, Settled Members and members of inoperative accounts will not be able to view their passbook on the EPFO website

If you have stopped contributing to your EPF account for more than 3 years, your account will become inoperative 
Suggested Read- EPFO Member Portal – Login, Registration, Services, Password Reset & Passbook
How to Transfer Your EPF Balance into New Account?
When you switch your job, you get the option to either withdraw your EPF balance or transfer it to the EPF account generated by your new employer. 
It is advised to transfer the EPF balance rather than withdraw it. Withdrawing the amount triggers tax deduction at source if your employment period (with an EPF registered employer) is less than 5 years. 
The accumulated amount in your EPF account can be transferred into your new account through the UAN Member Portal.
You need to login to the EPFO member's portal using your UAN and password.
Also Read: Steps to transfer EPF Balance into New Account
How to Withdraw EPF Balance
For online PF withdrawal, you should activate your UAN and register on the UAN Member Portal. From the portal, you can claim full/partial withdrawal of your EPF Balance. 
Must Read: Steps to withdraw EPF balance online
If your PAN data is linked to UAN and you are withdrawing the amount before 5 years of service, TDS will be deducted at the rate of 10%. 
However, if your PAN is not linked to your EPF account, 34.6% TDS will be deducted.
Suggested Read: Rules regarding EPF Balance Withdrawal 
Interest on EPF Balance
EPF Interest rates are reviewed and recognised every year by the EPFO Central Board of Trustees. After the recent consultation with the Ministry of Finance, the interest rate for the financial year 2022-23 is 8.15%.
How to Check EPF Balance of Exempted Establishments/Private Trusts
In case of an exempted establishment/private trusts, one cannot view the EPF Balance or put a request for online withdrawal. However, the information can be drawn by checking the salary slips or by raising a request to the HR department.
What is an Inoperative EPF Account?
It is that EPF account in which no PF contribution has been received for 3 years after retirement/death/permanent migration. On being declared inoperative, no interest shall be payable 
Please note that currently, if the member is of up to 58 years of age, interest will be credited to the account (including inoperative accounts).

Get FREE Credit Report from Multiple Credit Bureaus Check Now
FAQs – EPF Balance Check 
Can I check EPF balance using Aadhaar number?
No, you cannot check your balance using Aadhaar. You have to provide your UAN to check your EPF account balance.
How to check your balance through EPF number?
EPF number is not asked for checking the EPF balance. You have to use your UAN and password to check the balance online. 
Is there a method to check EPF balance using PAN?
No. PAN is not required to check the EPF balance. However, you should link your UAN with EPF to avail various online facilities related to EPF.
I have not linked my mobile number with EPF. Can I do an EPF balance check on mobile number through SMS without mobile linking?
EPF balance check by SMS can be done only when it is sent through the mobile number registered with UAN. You have to link your mobile number with UAN. 
How to link my mobile number to my UAN?
I want to check the EPF balance of my previous account. How can I do it?
All EPF accounts linked to a UAN will be displayed on the screen when you log in to the EPF portal. You can select the respective Member ID to check balance.
How can I transfer my EPF Balance to my bank account?
EPF Account balance can be transferred from one EPF account to another. But, you cannot transfer the balance to your bank account if you are currently employed. However, the transfer or withdrawal is possible if you are unemployed for more than two months. (75% of the amount can be withdrawn after the first month of unemployment and the remaining 25% after the second month)
Who is eligible to check EPF balance?
Individuals having a registered EPF account are eligible to check their account balance. If you are someone above the age of 55 and your account is declared inoperative by the EPFO, you can access your account balance by filing a request at the EPFO helpdesk.
Why is my EPF balance not updated?
The EPF passbook is updated within 24 hours from the time of credit made. You are advised to wait for at least 24 hours. However, if your balance is not updated after 2 days, you should contact your HR department or file a complaint at the EPFO helpdesk.
When does the EPF balance get updated?
EPF Balance is updated in your respective passbook after 24 hours of making the contribution.
Why is my EPF account showing zero balance?
At times, the UAN based contributions to PF accounts are delayed. You can wait for 2 or 3 days after the date on which your account was credited. However, if the issue continues, you should contact the HR department in your company or raise a query at the EPFO helpdesk. 
How to do EPF passbook balance check?
You can visit EPFO Passbook portal to check EPF balance in passbook after logging in to your account using the UAN and password.