Opening a savings account under the Post Office Savings Scheme is beneficial for individuals who want to start saving small and earn fixed returns on their investment with minimum risk. On opening a post office savings account, one can earn interest @ 4% p.a. Let's know more about Post Office Savings Account including interest rates, eligibility, documentation and more.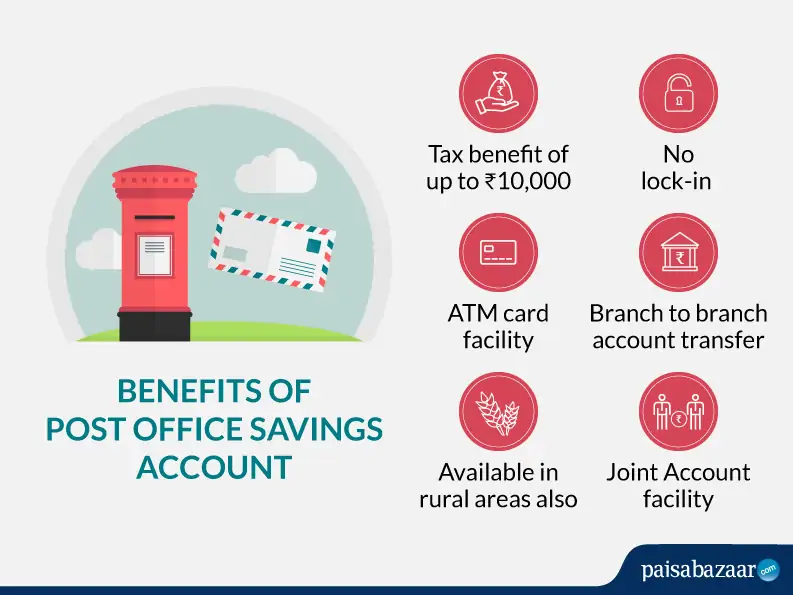 Post Office Savings Account Interest Rates 2023
Currently, an individual earns interest at the rate of 4% on their account balance. The interest is calculated monthly and credited annually into the account.
Interest rates for Post Office Savings Accounts are decided by the Reserve Bank of India. 
Features & Benefits of Post Office Savings Account
Can be opened in the  name of a minor and minors above the age of 10 years can open and operate the account
Nomination is mandatory
Can either be opened individually or jointly by 2 adults
A single account cannot be converted into a joint account and vice versa
Debit card/ ATM card facility provided
Accessible to the people from rural areas can easily due to pan India presence
Minimum deposit required to open the account: Rs. 500
No maximum deposit limit
To earn interest, it's required to maintain a minimum balance of Rs. 500 (between 10th and last day of the month)
Interest credited to the concerned account at the end of each financial year
If the account holder closes their account, interest will be credited up to the preceding month in which the account is closed
If no deposit/withdrawal takes place for 3 continuous financial years, the account shall be treated as silent or dormant
To revive a silent/dormant account, a fresh application with KYC documents needs to be submitted
Post Office Savings Account – TDS Implication
Interest earned up to Rs. 10,000 in a financial year is exempt from taxable income (no TDS). This provision is as per section 80TTA of the Income Tax Act, 1961.
Post Office Savings Account – Eligibility Criteria
Any Indian resident above the age of 10 years
In the case of minors, guardians can open a savings account on their behalf
When the minors attain the age of 18 years, they have to get the account transferred to their name
An individual can only hold one single and one joint account at a particular post office
Aadhaar and PAN Now Mandatory for Post Office Savings Account
As per the latest notification issued by the Ministry of Finance, you need to mandatorily provide your Aadhaar number and PAN to open a new Post Office Savings account. If you have not been assigned an Aadhaar, you need to provide proof of application of enrollment for Aadhaar or enrollment ID at the time of account opening and furnish the Aadhaar number to the Accounts Office within 6 months from the date of opening the account.
If you already have an existing Post Office Savings account and have not submitted your Aadhaar number, you need to do so within a period of 6 months with effect from 1st April 2023. Moreover, in case you have not submitted your PAN at the time of opening the account, you need to submit the same within a period of 2 months from the date of happening of any of the following events, whichever is earliest, namely:
– The balance at any given time in the account exceeds Rs. 50,000
–  The aggregate of all credits in the account in any financial year is more than Rs. 1 lakh
–  The aggregate of all withdrawals and transfers in a month from the account is more than Rs. 10,000
Failure to submit Aadhaar and PAN within the specified period of 6 months and 2 months respectively will result in the account becoming inoperational till the time Aadhaar number and/or PAN is submitted to the accounts office
Note: We have taken this information from The Gazette of India. To read more, click on https://egazette.nic.in/WriteReadData/2023/244822.pdf
Documents Required to Open a Post Office Savings Account 
Post Office Savings Account Opening Application Form (click here)
KYC Form (click here)
PAN Card
Aadhaar Card/ Passport/ Driving License/ Voter's Card/ MNREGA job card/ letter issued by National Population Register
How to Open a Post Office Savings Account
Follow the steps given below to open a Post Office Savings Account:
Download the application and KYC form (link given above) and duly fill the same

Submit these forms and the documents mentioned above along with Rs. 500 at a Post Office near you 

After successful completion of the above steps, the savings account will be opened in 2 business days.
How to Activate Indian Post Internet Banking for New Users
Go to the

Indian Post eBanking website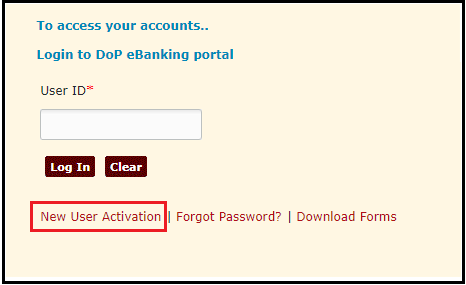 2. Click on "New User Activation"

3. Enter the required details- Customer ID (printed on the first page of your passbook) and Account ID
4. You will receive a 'User ID' within 48 hours, once your activation process is completed
Post Office Savings Account eBanking Login 
Enter your "

User ID

"and captcha code and click on

"Log In"

Now, you can easily access your savings account. After logging in to the eBanking website, you will also be able to perform different banking activities, check balance etc.
Post Office Savings Account Balance Check
You can check your account balance in the following ways:
1. Missed Call
| | |
| --- | --- |
| Purpose | Number |
| Registration for missed call service | 8424054994 |
| Balance Enquiry | 8424046556 |
| Mini Statement | 8424026886 |
2. Post Office SMS Banking 
Purpose
Code
Send To
SMS Banking Registration
REGISTER
7738062873
For Balance Enquiry
BAL
For Mini Statement
MINI
Withdrawals/Deposits in a Post Office Savings Account
Important points to consider:
All deposits and/or withdrawals to be made in whole rupees only
Minimum withdrawal amount: Rs. 50
Minimum deposit amount: Rs. 500
Withdrawals allowed only when the balance is above Rs. 500
Rs. 50 deducted as Account Maintenance Fee if the minimum balance (Rs. 500) is not maintained for one financial year
 Withdrawal limit at Post Office GDS (Gramin Dak Seva) Branches hiked from Rs. 5,000 to Rs. 20,000 per customer (w.e.f. March 2021)
Frequently Asked Questions(FAQs)
Q. When does a Savings account become silent? How can I revive it?
A savings account is considered a Silent Account if there is no record of transactions for 3 continuous financial years. To revive a silent account, the account holder is required to submit a fresh application with a duly filled KYC form. 
Q. What is the minimum balance required for a POS account?
You need to maintain a minimum balance of Rs. 500 throughout the financial year. Failure of this may lead to a fine of Rs. 50 as Account Maintenance Fee. Also, you will not be able to withdraw from your account if the balance is Rs. 500 or below.
Q. What is the maximum withdrawal limit in rural post offices or Gramin Dak Seva (GDS)?
One can withdraw a maximum of Rs. 20,000 from a GDS. Earlier this limit was set at Rs. 5,000
Q. What happens to the account balance if the depositor dies?
After the death of the depositor, the amount in the respective bank account is given to the nominee. If the amount in the account is less than Rs.60000 and there is no nominee for the same, the Department of Post Office pays the amount to a person appearing before the deceased person, who is entitled to receive it or to administer the estate.
Q. Can I check my account balance online?
India Post Department has launched its online banking website and mobile application for the users to record their account activities easily. However, you will have to generate a unique User ID and apply for e-Banking to start the same service.
Q. Can I transfer my POS account from one Post Office branch to another?
Yes, it is possible to change the post office branch. You will have to submit the required form or application, as and what is asked for.
Q. Can I get a debit card or ATM option for my POS account?
Debit card and ATM card options are not offered by all the post offices. However, there are some core banking post offices that provide such services. So, you can ask the concerned administrator of your post office branch to check for these facilities.
Q. What is the rate of interest for a Joint POS account?
4% is the ROI on a Joint Post Office Savings account.
Q. How can I withdraw money from my POS account?
The account holder can make a premature withdrawal whenever he/she wants. But, the POS account requires a minimum balance of Rs.500 to be maintained by all the account holders.