Updated: 01-03-2021 11:12:37 AM
Currently, the fixed interest rate is at 4%for both single and joint accounts. Post Office Savings Scheme is beneficial for individuals who want to earn fixed returns on their investment with minimum risk. Keep reading to know more about this scheme in detail.

Get Your Free Credit Report with Monthly Updates Check Now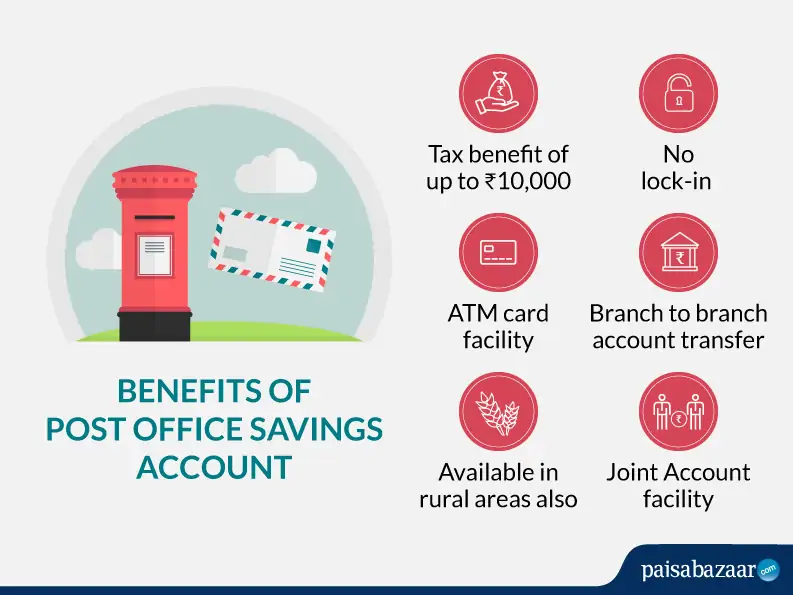 Salient Features of Post Office Saving Account
Account can be opened with cash only.
The account can be opened in the name of a minor and minors above the age of 10 years can open and operate the account.
Nomination facility can be availed at the time of and after opening the account.
The account can either be opened individually or jointly by 2 or 3 adults.
Minimum balance in an account without the cheque facility is ₹50. For accounts with cheque facility, this amount is ₹500.
A minimum of one transaction in 3 financial years is required to keep the account active.
Post Office Savings Account Interest Rates
Interest rates for Post Office Savings Accounts are decided by the Reserve Bank of India. Over the years, it has hovered around 3-4%.
Currently, an individual earns interest at the rate of 4% on their account balance. The interest is calculated monthly and credited annually into the account.
Eligibility Criteria
Any indian resident above the age of 10 years can open a Post Office Savings Account.
In case of minors, guardians can open the savings account on their behalf. When the minors attain the age of 18 years, they have to get the account transferred to their name.
An individual can only hold one single and one joint account at a particular post office.
Post Office Savings Account Form
The application form for Post Office Savings account is available at all the post offices and India Post website. You can either get the form from the nearest post office branch or download it from the link provided below:
Download: Post Office Savings Account Application Form
This application form is to be duly filled and submitted by all applicants as, with this form, the applicant gets to access open a Post Office account successfully and benefit from other banking facilities such as account portability, joint accounts, tax exemptions, interest for the  deposit, etc.
How to open a Post Office Savings Account Online or Offline?
The process of opening a Post Office Savings Account is quite simple. Follow these simple steps to open a Post Office Savings Account:
After generating the application form, fill all the required details
Submit the form at the Post Office along with necessary KYC documents and passport size photographs.

Pay the minimum deposit amount of ₹20 for account without the cheque facility or a deposit amount of ₹500 for account with a cheque facility.

After successful completion of the above steps, the savings account will be opened in 2 business days.
Post Office Savings Account Login
Indian Post has now given its subscribers the facility to access their savings account online. The new users must generate the User ID for internet banking to benefit from the service. 
How to activate Indian Post internet banking for new users?
Click on 'New User Activation'

Enter the required details- Customer ID and Account ID

You will receive a 'User ID' once your activation process is completed
Post Office Savings Account eBanking Login 
Enter your 'User ID'

You will be logged in to the portal. Now, you can easily access your savings account

After logging in to the eBanking website, you will be able to perform different banking activities, check balance etc.
How to perform Post Office Savings Account Balance Check?
You can check your account balance by:
1. Missed Call
For balance enquiry, give a missed call to 8424046556

To get minimum statement, dial 8424026886
*You must register your mobile number for IPPB's missed call`banking service. To register your number for this service, giving a missed call on 8424054994 from the mobile number linked to your savings/ current account
2. SMS
Send a text message "BAL" with the last four digits of your account number to 32302

You will receive a reply with your account balance

1 SMS costs Rs.1.00 only
*Your mobile number must be registered for this service
Withdrawals from Post Office Savings Account
Just like a Savings Account in any Scheduled Bank, depositors can withdraw money from Post Office Savings Account as per their wishes and needs. There is no lock-in or maturity period.
However, a depositor has to make sure that a minimum balance of ₹50 is maintained in an account without the cheque facility, and a balance of ₹500 for an account with a cheque facility.
Post Office Savings Account App
The Department of Post, in October 2019, has announced the launch of mobile banking for their savings account subscribers. To avail the mobile banking facility, the customers must have POS account in CBS Post office, valid login credentials. The customer must have a single or Joint 'B' type account to be eligible for the same. 
Conditions to be fulfilled prior to availing the POS mobile app service:
Availability of valid Email-id, PAN, unique mobile number

Updated CIF or customer ID

Valid identity proof, address proof, current address
Important: The account holders who are eligible must enrol for the service at any CBS head/sub post office but not in branch offices. The Post office savings bank (POSB) ATM card/Internet/Mobile/SMS banking service request form must be filled and submitted at the post office. Also, the KYC of the account holder must be done before the submission of this form.
Benefits of Post Office Savings Account
Individuals can also avail tax benefit on interest earned through Post Office Savings Account. Interest earned upto ₹10,000 is exempted from tax in a given financial year.
There is no lock-in or maturity period unlike Fixed Deposit Schemes. It works like any other savings account in a scheduled bank.
A single account can be converted into a joint account and vice versa.
One can also get a debit card or ATM card for this account. Transactions from this account at branches with core banking facility.
Because of the vast presence of Post Offices across India, adults from rural areas can also avail the benefits of banking services through this scheme.
Account at one post office can be transferred to another branch as well.

Your Credit Score Is Now Absolutely Free Get Report
Frequently Asked Questions(FAQs)
Q.1: When does a Savings account become silent? How can I revive it?
Ans.: A savings account is considered as a Silent Account if there is no record of transactions for continuous 3 financial years. To revive a silent account, the account holder is required to submit one application. 
Q.2: What happens to the account money if the depositor dies?
Ans.: After the death of the depositor, the amount in the respective bank account is given to the nominee. If the amount in the account is less than Rs.60000 and there is no nominee for the same, the Department of Post Office pays the amount to a person appearing before the deceased person, who is entitled to receive it or to administer the estate.
Q.3: What is the process of opening the POS account?
Ans: All you have to do is generate the application form from your nearest post office or online, fill the same, attach all the required documents related to KYC etc. and make a minimum deposit of Rs.20 in the account. 
Q.4: What are the documents required to open the account?
Ans: To open a Post Office savings account, you need to submit the following documents-
ID Proof

(Aadhar card/PAN/Driving License/Ration card/University/school/institution ID card with photograph)
Address Proof

(Bank account statement/Passport/Electricity bill/Salary slip with current address/Telephone bill etc.)
Two Passport size photograph
Q.5: Can I check my account balance online?
Ans: India Post Department has recently launched their online banking website and mobile application for the users to record their account activities easily. However, you will have to generate a unique User ID and apply for eBanking to start the same service.
Q.6: Can I transfer my POS account from one Post Office branch to another?
Ans: Yes, it is possible to change the post office branch. You will have to submit the required form or application, as and what is asked for.
Q.7: Can I get a debit card or ATM option for my POS account?
Ans: Debit card and ATM card options are not offered by all the post offices. However, there are some core banking post offices that provide such services. So, you can ask the concerned administrator of your post office branch to check for these facilities.
Q.8: What is the rate of interest for Joint POS account?
Ans: 4% is the ROI on a Joint Post Office Savings account.
Q.9: Can I withdraw money from my account?
Ans: The account holder can make a premature withdrawal whenever he/she wants. But, the POS account requires a minimum balance of Rs.50/- (generic account) and Rs.500/- (cheque facility) to be maintained by all the account holders. 
Q.10: How do I pay using my Postal Saving Bank(POSB) NetBanking?
Ans: To pay through your POSB Account either you can pay directly by using your net banking credentials or create a GCIF Account on IndiaPost Portal which will provide you with the direct payment option through you linked netbanking account and a personalised view of your Account. This will help you avoid the hassle of entering your credentials every time while booking.