Bandhan Bank is a Kolkata-based financial service company that started banking operations in 2014 after getting the in-principle approval from RBI. The bank has 840 branches and 383 ATMs across the country. An individual can open a savings or current account with the bank and avail the internet banking facility of the bank. Net banking allows us to do banking transactions such as transferring money, paying a bill, checking balance or setting up a regular payment on bank or building society's secure website. It is very easy that it can be accessible through a computer/tablet or a mobile phone.

Get Your Free Credit Report with Monthly Updates Check Now
Bandhan Bank Net Banking New User Registration Process
For the new user of Bandhan Bank Net Banking, one should know all the facilities and the registration process and how to use it. To avail the net banking facility of the bank, one needs to register first. There are few steps for Bandhan Bank net banking new user registration process: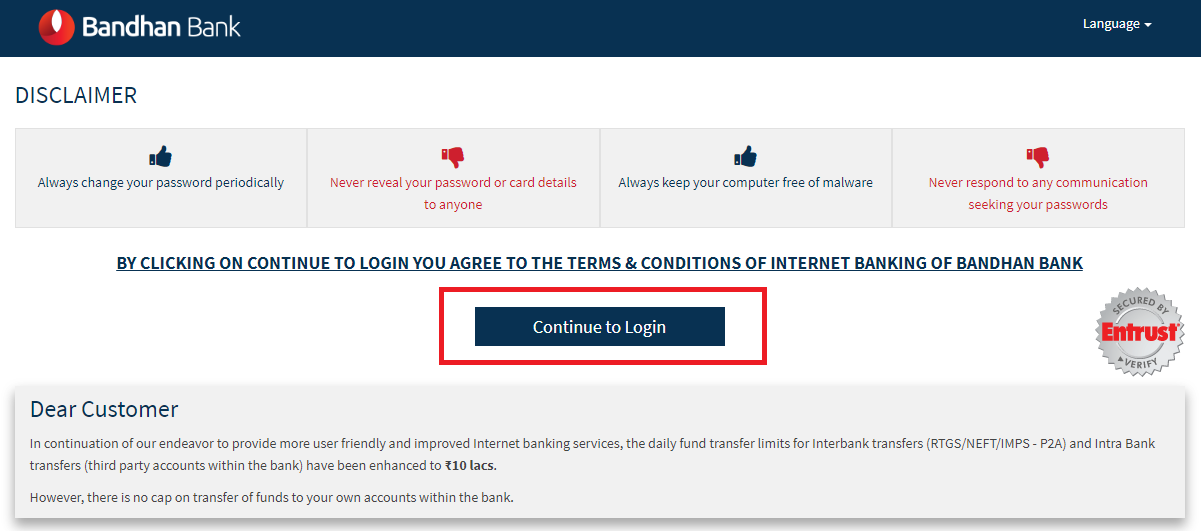 On the login page click on 'New UserSign Up' and create an account.

Tick "Yes" on all buttonson the 'User Driven Registration – New User' page. Now click on the 'Submit' button.
Select the method to register using Debit Card and ATM Pinor the Reference Number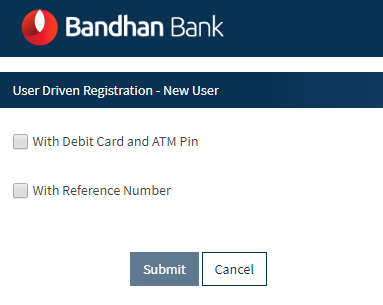 Enter the CIF, Reference Number, Captcha and then click on Continue
In case you select the Debit card and Pin option, fill up the fields like CIF number, date of birth, debit card number and date of expiry of debit card. Insert the captcha and press 'Continue'.
After getting an OTP,enter it into the appropriate field and press on 'Submit' button.
Enter 'ATM Debit Card pin' and press on 'Continue'.
Enter User Id, Login password and Transaction password of choice, then press 'Continue' button.
The 'Successful Registration' page will appear. Now, the new user is ready for net banking of the Bandhan Bank.
Advantages of Net Banking Registration
 Convenience
 24×7 Availability
 Efficient medium of transaction
 To secure your account
 Opening and closing of fixed deposit
Important Requirements for Bandhan Bank Net Banking New User Registration
For the net banking registration process a new user needs 3 things
Registered mobile number which is linked to user's bank account.
Bandhan bank ATM Debit Card
Then note down, CIF number or Customer Identity Number. (It is written on Passbook)
How 'Net Banking' Helps Us
All the banks have digitalized their banking services including Bandhan Bank. Let us know the registration process and more important points about Bandhan Net banking. Internet banking allows customers just about every service traditionally available through a local branch, including deposits, which is done online or through the mail, and online bill payment.
Bandhan Bank allows all account holders to access net banking services. New Users can use Bandhan Bank Online Banking Login to monitor their accounts, transfer funds, open new accounts, apply for loans, pay bills, and more.
Divisions of Bandhan Bank
There are two divisions under the Bandhan bank- General banking and Micro banking. The customers of Bandhan Bank can take the facility of net banking, like other banks. Net banking or digital banking help to make payment easily, check account balance, easily manage account.