All You Need to Know About EPF Contributions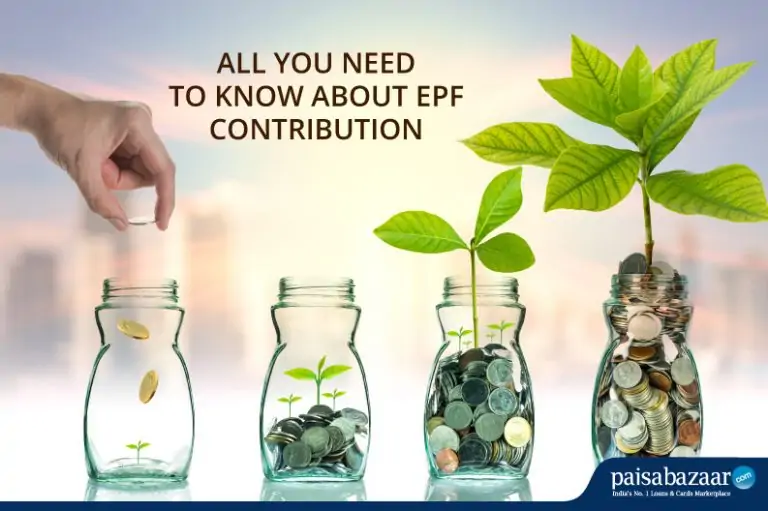 EPF is the main scheme managed by the Employees' Provident Fund Organization (EPFO) under the Employees' Provident Funds and Miscellaneous Provisions Act, 1952, to provide social security cover to the members. The scheme generally covers employees of every organization in which 20 or more persons are employed.
Employees enrolled under the EPF scheme need to pay a certain contribution towards the EPF fund and an equal contribution is paid by the employer. It is a government guaranteed scheme where the employee gets a lump sum amount compounded with interest on retirement.
EPF Contributions
The contribution of an employer towards the employee's EPF account is 12% of the salary (basic salary+ dearness allowance+ retaining allowance). The maximum salary limit on which the employer's contribution is calculated is capped at Rs.15,000.

Similarly, the employee contributes 12% of his salary to the EPF account. However, as per the employee has the choice to contribute more to his EPF account as per his discretion. There is no such prescribed cap on employee's contribution towards EPF as per the law. The contribution in excess to the mandated 12% goes towards Voluntary Provident Fund (VPF). VPF contributions also earn tax-free interest income.
However, it should be noted that not all of the employer's contribution goes to the EPF account. Out of the 12% of employer's contribution, 8.33% goes to the Employees' Pension Scheme (EPS) and the balance will be credited to the EPF account. Further, the employer is not obliged to match any contribution made by the employee towards VPF.

Additionally, the employer also pays 0.5% towards the Employee Deposit Linked Insurance (EDLI), 0.01% as EDLI handling fees and 0.50% or Rs.500 whichever is higher as the EPF administrative charges.

In order to promote new employment opportunities, the government has also come out with

Pradhan Mantri Rojgar Protshahan Yojna

. Under this scheme, the government pays 8.33% (EPS part) of the employer's side contribution

for the first three years

if the employee is earning wages of less than Rs.15,000. The scheme aims to especially promote MSME businesses to avail the benefits of the project and encourage job creation.

In the current financial year (2018-19), the rate of interest on EPF is 8.55%. Also, the interest on EPF savings is calculated on the basis of monthly average balance.

In order to incentivize women employment in the organized sector and augment their in hand salary, the central government in the budget, 2018 has reduced the women employee's contribution to 8% from 12% for the first three years. However, there will be no change in the employer's contribution, it will stay at 12% only.