5 Things to Do at the EPF Member Portal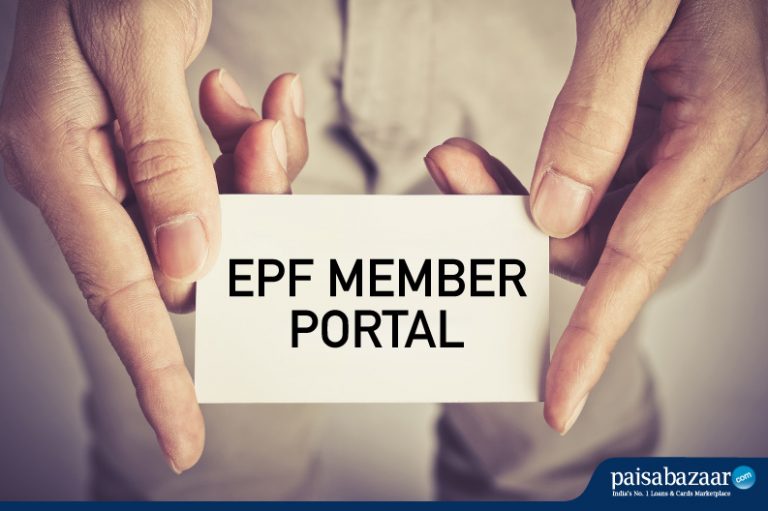 If you are a member of Employees' Provident Fund Organization (EPFO) and have already activated it using your Universal Account Number (UAN), then you can access a host of EPF related services through EPFO Member e-Sewa Service Portal.
Here are the 5 things that you can do by logging in at the EPF member portal.
1. Add/Update KYC Details
You can add your KYC details by linking your bank account, PAN card, and Aadhaar card to your EPF account. Here is how you can add KYC details to your EPF account at online.
Login to EPF Member Portal using your UAN number and password.

After logging in to the portal, go to "

Manage

" category.

Click on the "

KYC

" option.
Then, add details of the document you want to link to the account and click on Save

After saving the details, the document will show up in the "

KYC Pending for Approval

" 

category. So for example, if you have entered your PAN card details, EPFO will get it verified by the Income Tax Department.

Your EPF account will now appear in the "

Digitally Approved KYC

" category, once verified by the concerend department.




2. Transfer Request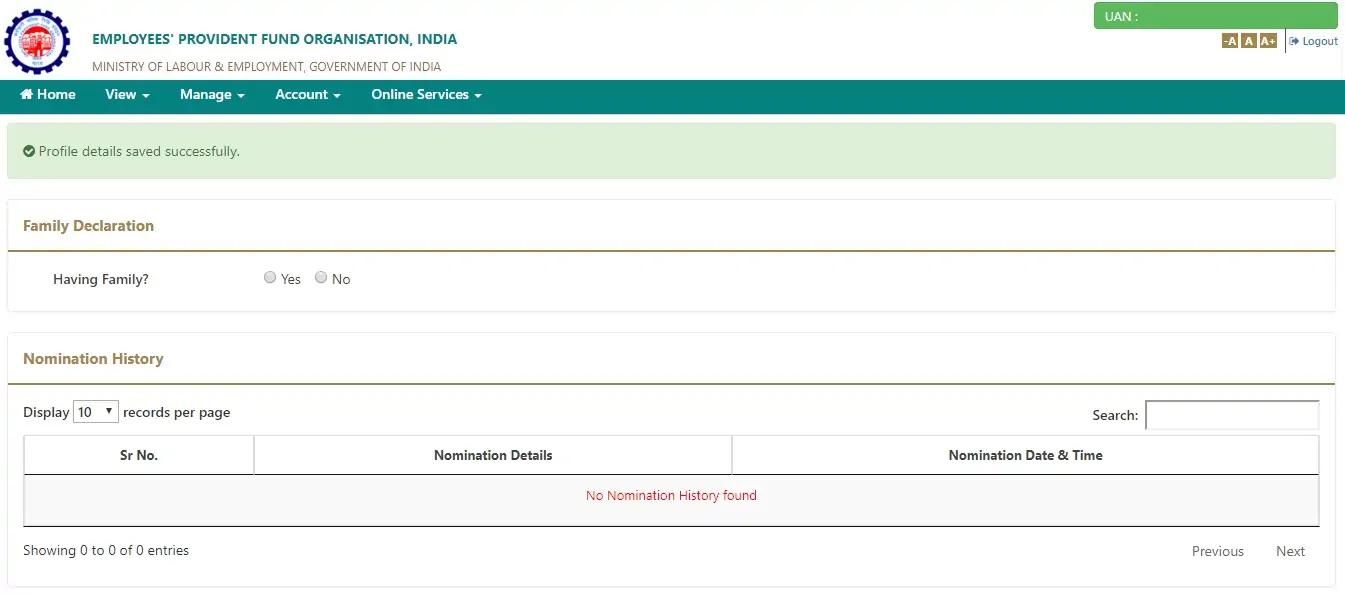 In case you have switched your job from one organization to some other organization and you want to transfer your PF balance to the new EPF account, now you can do that online using the e-SEWA portal.
Go to the "

Online Service Section"

Click on "

One Member-One EPF Account (Transfer Request)


Select details of previous accounts from which you want to make the PF balance transfer.

Now authenticate the action using the OTP sent to the UAN registered number and you have successfully placed the balance transfer request! Yes, it is that easy.




3. E-Nomination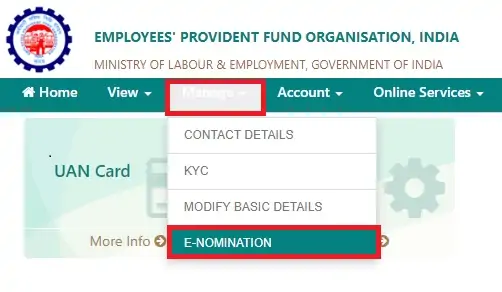 An EPF account holder can nominate someone to receive his EPF balance in case of his death. Earlier, it was done manually through EPF Form 2 but now this can be done online using the Member e-SEWA portal.
Go to "

Manage"

category.

Click on "

E-Nomination

" option.

Select whether you have a family or not.

Enter details of the family member such as

Aadhaar number

, name, date of birth, gender, relation, address, guardian (in case of minors) and click on "

Save Family Details

". In case you want to add more nominees, select the "

Add Row

" option.

Now select the nominees from the list and enter the total amount of share. Now click on "

Save EPF Nomination

" and you have successfully nominated your nominee.  

You can follow the same steps for EPS section to nominate for the pension scheme.




4. Raise Claims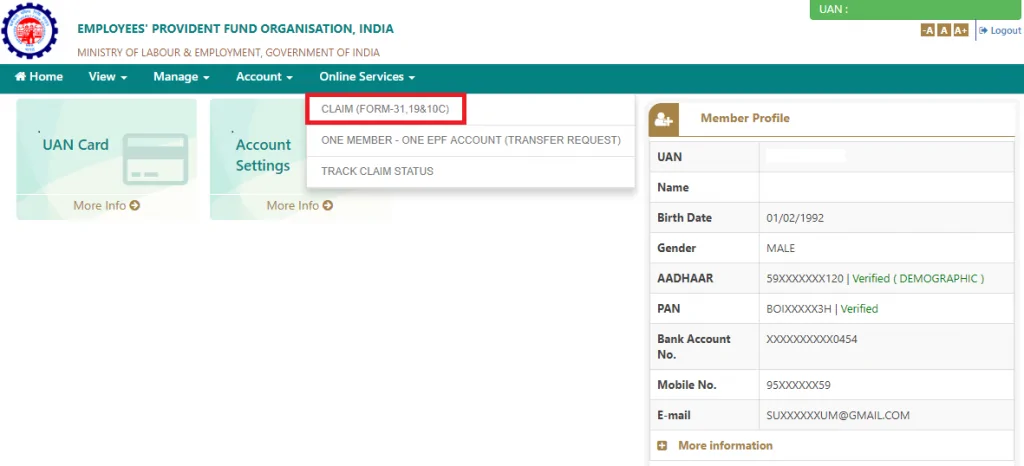 You can raise claims like partial withdrawal, full settlement of EPF or EPS using the online portal.
To raise online EPF claims (Form 31,19 &10C), click on "

Online Service"

Now enter last four digits of your bank account number which has been linked to your EPF account.

Once it is verified, you will have "

Proceed to Online Claim

" option, click on that.

There you will have the option for

Partial PF Withdrawal

( Form 31),

Only PF Withdrawal

(Form 19), and

Only Pension Withdrawal

(Form 10C). Click on the option you want to apply for.

You will be then asked to fill in your address details. Thereafter, click on

"Generate Aadhaar OTP"

.

After verifying your Aadhaar credentials using the OTP received on your registered mobile number, your request for the respective claim gets registered.
5.