UPI has enabled the users to send/receive money instantly in real-time basis by using a Virtual Payment Address and a UPI PIN. It is one of the most popular payment systems in digital India for many reasons, one of which is that it is free of cost. However, discussions have been going around regarding UPI Charges. Let us find out more.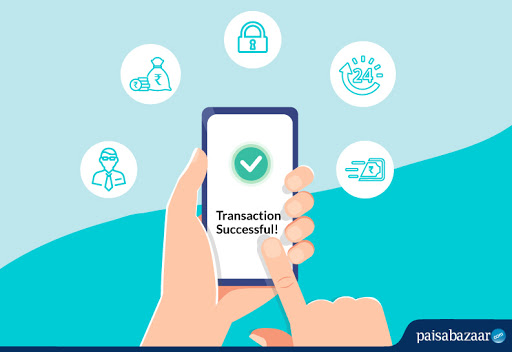 What is Unified Payments Interface (UPI)?
Created by the National Payments Corporation of India (NPCI) and regulated by the RBI, UPI is an instant payment system developed by over the IMPS structure. It permits the user to instantly send or receive payments between two parties.
This system doesn't require bank account number or other details while initiating transactions. Instead, it only uses a UPI PIN to carry out transactions

UPI-PIN (UPI Personal Identification Number), which is a 4-6 digit passcode, is necessary for making transactions. It is created during your first time registration with a UPI App

Get Your Free Credit Report with Monthly Updates Check Now
UPI Charges for Transactions
As one of the most successful payment system in digital India, UPI is now made compatible with most of the Indian banks and e-wallets such as Google Pay, PhonePe, Paytm, BHIM UPI, etc. However, an important question is whether there are any UPI charges associated with the transactions or not. 
UPI transactions are free of cost till now but, there are recent news articles which are pointing that some banks may be fixing a very meagre amount for UPI transfers. Other payment sources like IMPS, NEFT etc., also attract a particular charge on different transaction volumes.
In February 2020, the NPCI has also removed payment service provider (PSP) fees for all domestic UPI peer-to-merchant (P2M) transactions till further notice.
Expected Cost of UPI Transactions
Banks including Axis, HDFC, Kotak Mahindra providing UPI services are soon going to charge users for P2P (peer-to-peer) transactions after the first 20 transactions. 
Rs. 2.5 will be charged for transactions below or equal to Rs. 1000

Rs. 5 will be charged for transactions above Rs. 1000

18% Goods and Services Tax (GST) will also be charged on such transactions
As compared to other payment modes offered by the RBI, the charges for UPI are indeed very less and affordable to almost all of us. 


Your Credit Score is Now Absolutely Free Check Now
Mobile or Bank Applications with UPI option
It is to be noted that in order to use UPI payment system, one must have a UPI mobile application or a banking application that supports such transactions. Some of the mobile applications facilitating UPI payments include Google Pay, PhonePe, Paytm, BHIM UPI, Airtel Payments Bank, Amazon Pay.
Specific applications from particular banks have also been provided for the user such as the Payzapp Application from HDFC and ICICI Bank has added UPI into the iMobile and Pockets.
Features of UPI Fund Transfer
By selecting the 'collect fund' option, one can request and receive funds from other mobile/net-banking users

All the transactions are secured and there is no risk of theft or fraud unless your UPI PIN is not shared with anyone

Using a UPI Pin, transactions can be carried out between individuals, entities or even between an individual and an entity

For effecting a transaction between two parties, a nominal fee is charged by Visa/Mastercard
Advantages of UPI System
The primary objectives of regulating the UPI system is to make banking transaction smooth and relaxed, and also to make banking transactions easy to scrutinise. Some of the prime benefits of UPI fund transfer are-
The UPI transfers occur immediately and there is no restriction of working hours or holidays. Furthermore, bank strikes do not affect UPI payments

For making a UPI fund transfer you do not require any bank account number or IFSC code of the beneficiary

Interestingly, you can transact money from several bank accounts through a single UPI app

There is no need to wait for 24 hours to transfer funds to a new payee. Funds can be sent to anyone immediately without any additional processing time

Get Free Credit Report with Complete Analysis of Credit Score Check Now
Frequently Asked Questions
Q.1: Does UPI have any charges?
Ans: As for now, there are no charges for both person to person and person to merchant transactions. However, some news articles are pointing on discussions about charging Rs.2.5 for UPI transactions below or equal to Rs.1000 and Rs.5 on transactions above Rs.1000. 
Q.2: Does Google pay charges any fee?
Ans: 2.9% fee is charged when you use a credit card for transactions. No charges are applied to the transfer of money to family or friends, or when you use a debit card to make a purchase in a store or through a service.
Q.3: It is necessary for a customer to register before remitting funds via UPI?
Ans: Yes, a customer has to register in order to remit funds through his/her UPI mobile app after linking the accounts.
Q.4: Does the customer need to register a beneficiary so as to transfer funds through UPI?
Ans: No, to transfer funds through UPI, the primary requirements include a Virtual Payment Address/Account+IFSC/ Aadhaar Number or Mobile No+MMID of the beneficiary. Adding a beneficiary account is not required.
Q.5: Is it mandatory for the customer to hold a bank account or it can be connected to a card or wallet?
Ans: It is important to know that, even though a lot of flexible features are available under the UPI system, but a customer cannot connect a wallet to UPI. Only bank accounts can be linked for successful fund transfers.
Q.6: Can I access more than one UPI application on my smartphone if they are connected to different bank accounts?
Ans: Yes, it is quite convenient for using more than one UPI application on a single smartphone. It also offers you the ease to link different bank accounts without any difficulty.