The National Pension System (NPS), earlier known as the New Pension Scheme, was initially introduced for the benefit of government employees eligible for government pension. However, necessary amendments were made to the policies of the scheme eventually making it available for all the Indian residents. NPS is a mandatory pension scheme for all government employees but an optional pension plan for others.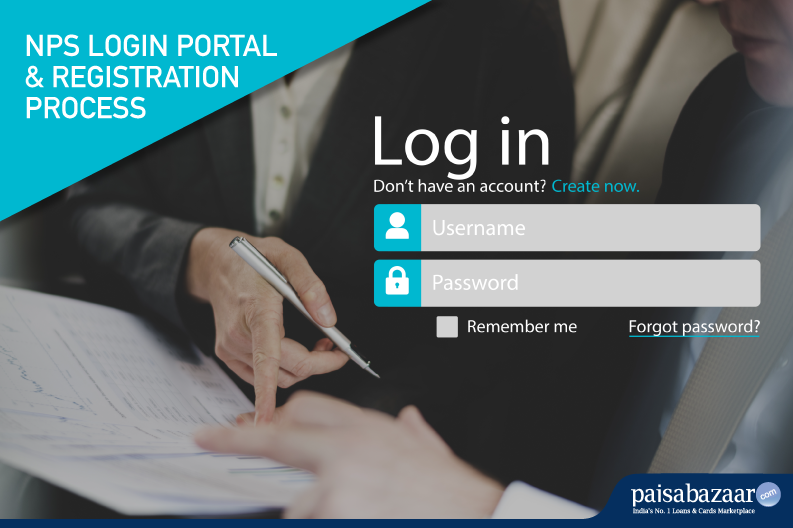 It is important to be familiar with the entire registration process and details for the general public under the all citizens NPS plan. Given below is a detailed description of how you can register for NPS online, how to fill the registration form, ways to login into your NPS account and more:
NPS Registration Process
New NPS subscribers can register themselves online as well as offline. The NSDL website allows the individuals to access the online NPS registration process.
Steps to register in NPS online
Go to

eNPS website

Choose the appropriate option under New registration. Whether you are-

Individual subscriber or Corporate Subscriber

Citizen of India or Non Resident of India (NRI)

Now, check the register with Permanent Account Number (PAN) option

Select the account type- Tier 1 or Tier 2

Enter PAN and Select your Bank/POP

Click to continue
Alternatively, you can fill the NPS registration form and submit it at the nearest NPS Point-of-Presence (PoP). PoPs majorly includes all the banks in India.
You can generate physical NPS registration form from the NPS PoP or download it from the links given below:
After filing the entire form, you must attach all the supporting documents along with a cheque/DD for initial contribution and submit it at the nearby PoP. Or, you can send the form with documents and contribution to:
NSDL e-Governance Infrastructure Limited,
1st Floor, Times Tower,
Kamala Mills Compound,
Senapati Bapat Marg,
Lower Parel, Mumbai – 400 013
Tel. (022) 2499 3499
Fax (022) 2495 2594/ 2499 497
How to fill NPS Registration Form?
After downloading the PDF file of the NPS registration form, you are required to print the form to fill the details. Here is the registration form which the subscriber needs to fill:
Some of the key details that you need to provide when filling out the NPS registration form are as follows:
Make sure that the form is filled with

BLACK INK

and in

BLOCK/CAPITAL LETTERS

. 
Avoid making errors and overwriting

. Corrections should be made by cancelling and re-writing. The applicant must counter-sign any correction made.
Select Category:

This is the NPS model for which you are applying. Government employees must select NPS (Central Government) or NPS (State Government). Corporate Employees of organizations which have enrolled for NPS have to select NPS (Corporate). All other citizens including private company employees not covered by the NPS (Corporate) plan have to choose the NPS (All Citizens) Model.
Personal Details:

Fill in your Personal Details including your name, father's name, mother's name, date of birth, country of birth, city of birth, gender, marital status, name of spouse (if applicable) and residential status (Indian resident or NRI).

Identity Proof:

Accepted identity proofs include-
School leaving certificate

Matriculation certificate

Degree of Recognised Educational Institution

Depository Account Statement

Bank Account Statement/Passbook

Credit Card bill/Water Bill/

Ration Card

Property Tax Assessment Order

Passport/Voter ID/Driving License

PAN Card
Address details and proof:

You must mention your permanent and correspondence address. As address proof, you can attach any of the following documents-
Electricity/telephone bill

Depository Account Statement

Credit Card Statement

Bank Account Statement/Passbook

Employer certificate

Rent receipt

Ration Card

Property Tax Assessment Order

Passport/Voter ID/Driving License

Aadhaar Card
Additional details:

Enter additional details such as occupation, income range per annum, educational qualifications and whether you are a politically exposed person (PEP).
Bank Details:

Enter your bank account details including account number, bank name, branch name, branch address, IFSC Code, MICR Code and PIN Code.

Nomination details:

Add your nomination details including the name, middle name and surname of your nominee. Also provide relationship with the nominee and date of birth of the nominee if the nominee is a minor.
The applicant can nominate maximum three people

Percentage share value for all the nominees must be integer. Decimals/Fractional values shall not be accepted in the nomination(s).

Sum of percentage share across all the nominees must be equal to 100. If the sum of percentage is not equal to 100, the entire nomination will be rejected. 

If a nominee is a minor, then nominee's guardian details shall be mandatory. 
Select the indicated boxes to state whether you also wish to subscribe to

NPS Tier 2

(open an NPS Tier 2 account) and whether you want your PRAN card to be printed in Hindi.

Pension Fund Manager:

Select your pension fund manager. You can only select one pension fund manager. However, if you are in NPS (Central Government) or NPS (State Government), you do not have the option of choosing a single pension fund manager from the list. There are

8 pension fund managers

in the NPS System-
SBI Pension Fund

UTI Retirement Solutions

LIC Pension Fund

Reliance Capital Pension Fund

HDFC Pension Fund

ICICI Prudential Pension Fund

Aditya Birla Sun Life Pension Fund

Kotak Pension Fund
Select your investment option –

Active choice or Auto choice. Based on this answer, the NPS system will split your money between the three asset classes.
Active choice

allows you to decide the split between the four NPS asset classes – Equity, Corporate Bonds, Government Bonds and Alternative Assets yourself. The upper limit for equities is 75% up to the age of 50 and for alternative assets is 5%. 

Auto Choice

decides the split between NPS asset classes according to your age. You can read more about this

here

. If you select Auto Choice, you have to indicate your risk appetite – conservative, moderate or aggressive. 
Specify whether you are a US person –

This includes all tax residents of the US as well as US citizens who may be tax resident abroad. If you are not a US person, but you are a tax resident of a country outside India, please provide your address in that foreign country, your tax identification number in that country and documentary evidence for the same.
Ways to Login to your NPS Account
You can log-in and access your NPS account through NSDL portal, Karvy website or Bank website. Many major banks have provided an option on their respective online banking website for NPS subscribers which, for now, directs the users to either the Karvy NPS Portal or the NSDL NPS Portal depending on which provider the bank is registered with. Hence, there is currently no separate bank-wise NPS Login portal for use by subscribers of the National Pension System. Given below are the different ways to login-
NSDL NPS Login Portal
To login to NSDL Portal, you will need to generate your IPIN using PRAN (Permanent Retirement Account Number).
Go to

NSDL CRA website

Enter all the requirement details

Enter new password

Click to submit
This will generate your IPIN which is further used to login to NSDL portal. Here are steps that follow-
Step 1: Log-in to the NSDL eNPS home page and click on the "Login with PRAN/IPIN".
Step 2: Now, you will get redirected to the NPS login page where you can use PRAN and IPIN to sign into your NPS account.
Karvy NPS Login
NSDL is perhaps the most commonly used portal for online NPS subscribers, you can also sign-up using the Karvy NPS Portal. 
Step 1: Go to the website and click on 'Login for Existing Subscriber'.
Step 2: Enter your PRAN and Password to log-in. If you are a new user, you can generate the password by clicking on 'Generate/Reset Password'.
If you are an existing user, you will be redirected to your account. However, new users will get directed to the following page. On this page, you will have to provide PRAN and Date of Birth along with captcha to generate an OTP sent to your registered mobile number. A new password can be set after confirming the "generate new NPS account password" request using OTP.
If you are logging into your Karvy NPS Account for the first time, you can set a new password by clicking the generate password link as shown below:
Once a password has been set, you can log into your Karvy NPS account online using the PRAN and new password.
How to reset NPS Login Password?
In case you have forgotten your NPS login password, you can reset the same by following a procedure similar to the one for generating a new login password for your NPS account. 
Once you are on the

Generate/Reset Password page

(shown below), you can use your PRAN and Date of Birth to initiate the process of NPS Login Password Reset.

Do ensure that you have your NPS registered mobile number handy because you will receive an OTP (one time password) via text on your phone to reset your NPS password online.
NPS Helplines
If you are seeking assistance or have queries regarding your NSDL NPS account or Karvy NPS account, you can call up the NPS Helpline Numbers and contact number provided below:
Office Location/Type 
NPS Helpline Numbers
Mumbai (Head office)
Telephone – (022)2499-3499

Fax – (022) 2499-4974 / (022) 2495-2594

NPS Grievance Redressal Officer (Level 1)
(022) 2499-3499
NPS Chief Grievance Redressal Officer (Level 2)
(022) 2495-2594
NPS Exit Grievance Escalation (Level 1)
(022) 2499-4274
NPS Exit Grievance Escalation (Level 2)
(022) 2499-4974
Kolkata (NPS Branch Office)
Telephone – (033) 2290-1396 / (033) 2281-4461

Fax – (033) 2289-1945

Chennai (NPS Branch Office)
Telephone –( 044)2814-3917/( 044)2814-3918

Fax – (044) 2814-4593

New Delhi (NPS Branch Office)
Telephone-(011) 23705418 / (011) 2335 3817

Fax- (011) 2335 3756

Ahmedabad (NPS Branch Office)
Telephone – (079)2646-1376

Fax – (079) 2646 1375
NSDL NPS App
In case you want to check you NPS account balance on the go, you have the option of using the NSDL NPS App which is free to download for Android as well as iOS devices.
Frequently Asked Questions
Q.1: How can I check my NPS account balance online?
Ans: `You can check your accumulated account balance till date online on NSDL portal or Karvy website. To avail the facility, login using your id and password along with PRAN.
Q.2: What is PRAN and PRAN Kit?
Ans: Once registered, the NPS subscriber receives a PRAN card with his/her name, Father's name, Photograph and Signature and subscriber's date of birth. This card proves the completeness of all information on the CRA system. The PRAN kit consists of a PRAN card, subscriber's details and an information booklet.
Q.3: What is IPIN?
Ans: IPIN is a password used to access your NPS account. 
Q.4: How can I reset my IPIN online?
Ans: Follow these instructions to change your IPIN-
Go to NPS account log-in

Click on 'Forgot Password'

Select 'Instant reset IPIN'

Enter all the details required

Enter the new password which you want to keep
You will receive an OTP on your registered number or email address. Enter the OTP and submit to reset your password. 
Q.5: Can I avail NPS services online?
Ans: Yes, there are some NPS related services which can be availed online. Here are the services-
Change of personal details (address, mobile number, email address)

Generate or reset IPIN

Change scheme preferences

View account statement online

ePRAN card view and reprint

Aadhaar seeding

Change account details
Q.6: How to request for a duplicate PRAN card?
Ans: In case you have lost or damaged your PRAN card, you can fill the S2 form to the nearby PoP-SP. After all the verification is done, the POP/POPSP will enter your concern and authorize the request in the CRA system. Eventually the request is processed and a duplicate PRAN card is sent to the subscriber.
Q.7: How can I change NPS account details?
Ans: Account details such as change / correction in personal details, nomination details, bank details, reissue of I-PIN/T-PIN/PRAN Card can be changed by requesting the same to the POP-SP. You can also update your photograph and signature by submitting a written request to the POP-SP. Following forms must be submitted, each for different purpose-
Form UOSS2- To change personal or nomination details or request for re-issue of T-PIN/I-PIN or Reprint of PRAN card.

Form S3- To request for change in Scheme Preference or Switch or change of employment.

Form S7 – To request for change in Photograph and/or Signature
Some details can be changed via NPS Mobile app available for android as well as iphone. 
Q.8: What are the services available on the NPS app?
Ans: NPS mobile app allows you to manage/access your NPS account easily anytime/anywhere. Here are the NPS related services available on the app-
Submit your Contribution Online for Tier I & Tier II

Request/View Transaction Statement to your email ID

Change Scheme Preferences

Change address using Aadhaar

Aadhaar Seeding

View your account details

View current holding

Change your password/ Secret Question

Generate your password using secret question/OTP

View last 5 contributions

Initiate withdrawal from Tier II

Change your contact details (Tel./Mobile/email ID)

Get notification related to NPS
The NPS application can be downloaded for android or iphone from google playstore or apple store. 
INVEST IN ELSS FOR 3 YEARS & GET HIGHER RETURNS
Invest in ELSS for 3 Years & Get Higher Returns
Invest Now