Updated: 17-11-2020 09:31:21 AM
Note: The information on this page is designed to provide key details of the SBI's personal loan restructuring framework. If you intend to apply for restructuring of your outstanding SBI personal loan, you have to do so directly through the SBI website or visit your home branch to apply in person.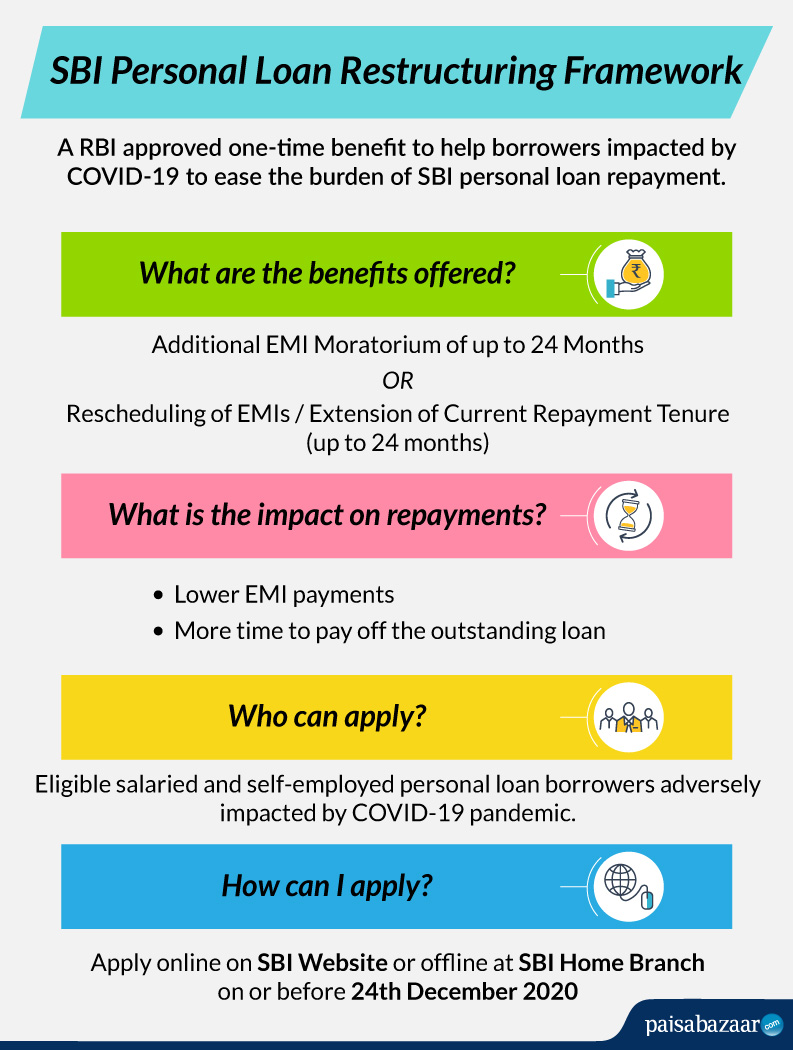 Now that the COVID-19 moratorium on SBI personal loans has ended, borrowers are required to start making regular EMI payments. However, in case the borrower is still unable to make regular payments due to decreased income, job loss, etc. he/she may be eligible for restructuring of their personal loan. Opting for the restructuring plan is optional and those who are able to continue paying their regular EMIs should do so in order to minimize interest charges and the impact on their credit score.
What is loan restructuring?
The SBI COVID 19 Loan restructuring framework is designed to provide relief to borrowers affected by the pandemic. The relief offered through SBI loan restructuring may include the following:
Moratorium of up to 24 months
Extension of current loan tenure/rescheduling of EMIs for up to 24 months
This loan restructuring will also include recalculation of the EMI payout according to the type of relief obtained by the borrower.
Eligibility Criteria
The key eligibility criteria to avail SBI loan restructuring facility include the following:
Reduced monthly income/salary in August 2020 as compared to February 2020
No salary or reduced salary during COVID-19 lockdown
Job loss or business closure
Closure/reduced activity at shop/business unit as a result of lockdown
Those who have opted for the SBI personal loan moratorium previously are also eligible
Loan account must be classified as "Standard" at the time of the restructuring application
Loan account must not have been in default for over 30 days as of March 1, 2020
Loan account must have been opened before March 1, 2020
Documents Required
In order to apply for SBI's COVID-19 loan restructuring program the borrower is required to submit the following documents either online or at the home branch:
Salary Slips for current/latest month and February 2020
Declaration of estimated salary/income at the end of moratorium period (max. 24 months)
In case of job loss, letter of discharge is required
Bank account statement (salary account/operating account) from February 2020 up to 15 days prior to submission of application
Declaration regarding adverse impact of COVID-19 pandemic on business (for self-employed businessmen/professional)
In case of online application, the documents need to be uploaded on the SBI website, while self-attested paper documents need to submitted when applying at the bank branch.
How to Apply
Those interested in opting for the loan restructuring framework offered by State Bank of India can apply in the following ways:
Online application submitted through the SBI official website
Offline application submitted at the SBI home branch
The application for SBI personal loan restructuring has to be submitted by 24th December 2020.
FAQs
Q1. Can I apply for restructuring if I think my future income will be affected by COVID-19?
Ans. No, you can apply for SBI loan restructuring only if your income has already been impacted by the COVID-19 pandemic.
Q2. Is there a time limit by which I need to apply for personal loan restructuring?
Ans. Yes, you are allowed to apply for restructuring of your SBI personal loan on or before December 24, 2020.
Q3. Will there be any change in the interest rate applicable to my outstanding loan with SBI if my restructuring application is accepted?
Ans. Yes, after restructuring your outstanding SBI loan will have an interest rate equal to 0.35% over and above the originally contracted rate personal loan interest rate. This will be done to partially offset the cost of additional provisions made by SBI to provide the benefit of loan restructuring.
Q4. Can I apply for a new personal loan after I opt for restructuring of my outstanding loan(s)?
Ans. Yes, however, you will need to complete all applicable personal loan eligibility criteria in order to get it disbursed.       
Q5. How soon will SBI accept my loan restructuring application?
Ans. After submission of your completed SBI personal loan restructuring application, the bank will normally process your request within 7 to 10 business days. However acceptance or rejection of your request is at the discretion of State Bank of India.