YES Premia Credit Card by YES Bank is a premium card that offers luxury and convenience to the user. Customers get lounge access, golf offers, accelerated reward points and much more. The card is best suited for international travellers who would like to enjoy luxury privileges. Additional details are given below.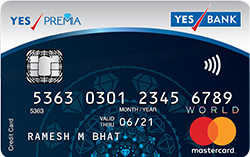 Fee
Annual Fee: ₹ 1599
Renewal Membership fee will be reversed on total retail spends of INR 1,50,000*
Joining Fee: ₹ 1599
Membership fee reversed on retail spends of INR 25,000 within 90 days*
Highlights & Rewards
Highlights
750 Reward Points on each YES PayNow registration
Avail 25% discount on movie tickets booked on BookMyShow Website or Mobile App
Avail great offers across travel, dining, shopping, wellness and more, in select cities
Rewards Value
₹100 = 4 Reward Points (On Grocery Stores & Supermarkets, Department Stores and Dining spends)
₹100 = 3 Reward Points (On others)
Save upto ₹7104 on Annual Spend of ₹4 Lakh
Apply Now
Find your perfect Credit Card
Whether you want to earn rewards or save more with discounts and deals, you will never fall short of Credit Card options. Paisabazaar is the right place to find the card that best fits your needs.
Get the Best Credit Card
*Offers are from Paisabazaar's partner Banks & NBFCs.
Eligibility and Documentation
| Criteria | Details |
| --- | --- |
| Occupation | Salaried or Self-employed |
| Minimum Income for Salaried Applicants | Rs. 1,44,000 per month |
| Minimum Income for Self-employed Applicants | Rs. 1,44,000 per month |
| Serviceable Cities | Click here for the list of eligible cities |
YES Bank will also ask for KYC documents including identity proof, income proof and address proof. List of acceptable documents is given below.
Features
Rewards Program

Key features of the reward program are:

4 Reward Points per Rs. 100 spent on grocery stores, department stores, supermarkets, and dining spends
3 Reward Points per Rs. 100 spent on other categories
750 Reward Points per YES PayNow registration. YES PayNow is the name of standing instructions service of YES Bank
1 Reward Point = Re. 0.25
4 Reward Points = 1 JP Mile

Priority Pass Membership

Primary Cardholders get free membership to the Priority Pass Program along with 2 free visits to the lounge when abroad every year

Golf Offers

Get the following golf offers with this credit card:

Get waiver on green fee at 4 golf courses in India
Get 1 free golf lesson each month at partner golf courses

Multiple Redemption Offers

YES Bank offers multiple ways to redeem the reward points-

Purchase from YES Bank's exclusive rewards catalogue
Convert reward points into JPMiles (4 Points = 1 JPMile)
Book movie tickets, hotels or flight tickets using the reward points on YES Bank's dedicated website YesRewardz

Cheaper International transactions

Foreign Currency Mark-up fee is just 2.50%.

Other Services

Get the following services on your YES Premia Credit Card:

Instant EMI
EMI on Call
Quick Loan
Set Standing Instructions via YES PayNow
Fee and Charges
Title
Details
Annual Fee
Rs. 1,599
Interest-free Period
Up to 50 days
Cash Limit
30% of the credit limit
Cash Advance Fee
2.5% of the amount withdrawn (min. Rs. 300)
Overlimit Fee
2.5% of the over-limit amount (min. Rs. 500)
Foreign Exchange Mark-up
2.50%
Late Payment Charges
For balance-Below Rs. 100- Nil
From Rs. 100 to Rs. 500- Rs. 100
From Rs. 501 to Rs. 5,000- Rs. 400
From Rs. 5,001 to Rs. 20,000- Rs. 500
Above Rs. 20,000- Rs. 700
Add-on Card Fee
Nil (up to 3 cards can be issued)
Nil (up to 3 cards can be issued)
Rs. 350 per instance
YES Bank Credit Card Customer Care Details
| Title | Details |
| --- | --- |
| Customer Care Number for Resident Indians | 1800 103 1212 (Toll Free) |
| Customer Care Number for Resident Indian | +91 22 4935 0000 |
| Customer Care E-mail Address | yestouchcc@yesbank.in |
How to Apply for YES Premia Credit Card
You can apply for this YES Bank credit card in a few easy steps:
Click here to start the application process
Fill the basic details such as Pincode, Occupation, Net monthly income, etc.
Out of the displayed credit cards, filter the results for YES Bank credit cards
If you are eligible for YES Premia Credit card, it will be shown in the list
Click on 'Check Eligibility' and enter the required information
If eligible, fill the detailed form and submit it
Once you have successfully submitted the form, an executive from Paisabazaar will call you and ask a suitable time for the bank representative to collect documents from your home or office
The bank will then scrutinize the documents provided and, if you qualify, you will get the card delivered at your address within 15 days
FAQs
How can I get e-welcome kit for YES Premia Credit Card?
To get a free e-welcome kit for YES Premia Credit Card click here. From the list select YES Premia Credit Card.
Does Premia Credit Card support Contactless Payment?
Yes, Premia credit card supports contactless payment. Simply wave the card above the reader of the POS machine. You can pay using this method as long as the amount is less than Rs. 2,000.
How can I generate password for IVR transactions?
To generate the OTP for an IVR transactions against YES Bank Premia Credit Card Send the following SMS: YESIVR<space>'last 4 digits of your Premia credit card number' to 9212738927. Send the SMS from registered mobile number only.
I got rejected from a lounge even when I had free visits remaining. Why?
You may contact YES Bank credit card customer care centre in this scenario. However, there is a possibility that the lounge might have removed its affiliation with Priority Pass/MasterCard lounge program.