YES Prosperity Rewards Plus Credit Card is best suited for every day spends. Users earn bonus reward points on grocery and supermarket transactions. Additional details of this credit card are given below.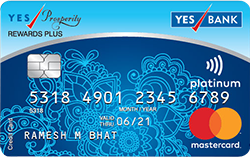 Fee
Annual Fee: ₹ 499
Renewal Membership fee will be reversed on total retail spends of INR 50,000*
Joining Fee: ₹ 499
Taxes as applicable. Membership fee will be charged in first statement.
Highlights & Rewards
Highlights
Earn 12,000 Bonus Reward Points on achieving spends of ₹3.6 Lakhs or more in each anniversary year
500 Reward Points on each YES PayNow registration
Avail great offers across travel, dining, shopping, wellness and more, in select cities
Rewards Value
₹100 = 3 Reward Points (On Grocery Stores & Supermarkets)
₹100 = 2 Reward Points (On others)
Save upto ₹5904 on Annual Spend of ₹4 Lakh
Apply Now
Find your perfect Credit Card
Best Suited For – Every Day Spends, Rewards and Dining
Exclusive Rewards Program

Reward Points Converted to JP Miles

Fuel Surcharge Waiver
Get YES Prosperity Rewards Plus Credit Card Now
*Offers are from Paisabazaar's partner Banks & NBFCs.
Find Similar Credit Cards from Other Banks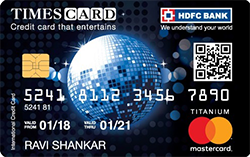 HDFC Titanium Times Credit Card
Welcome e-vouchers worth ₹15K across various categories. Visit www.hdfcbank.timescard.com to view the range of welcome offers
2 Reward Points on every ₹150 spent
Up to 25% off on Movies tickets from BookMyShow and Cinepolis India. Up to 50% Cashback from Paytm movies
Know More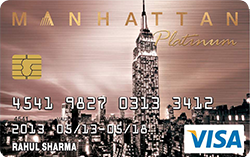 Standard Chartered Manhattan Platinum Credit Card
Get BookMyShow voucher worth ₹2000* on your first transaction in the first 90 days. *T&C Apply
Cardholders will get 5% cashback at Supermarkets
Get 3 reward points for every ₹150 spent at other places
Know More
Eligibility and Documentation
| Criteria | Details |
| --- | --- |
| Occupation | Salaried |
| Minimum Income for Salaried Applicants | Rs. 4,20,000 per annum |
| Serviceable Cities | Click here for the list of eligible cities |
YES Bank will also ask for KYC documents including identity proof, income proof and address proof. List of acceptable documents is given below.
Features
Reward Points

The reward points that can be earned on this credit card are:

3 reward points on every Rs. 100 spent on Grocery and Supermarket spends
2 reward points are earned per Rs. 100 spent on other categories
500 Reward points are earned per YES PayNow registration

Annual Bonus Rewards

Users earn 12,000 bonus reward points on spending Rs. 3.60 lakh annually

Reward Point Redemption

Users get to redeem reward points on an exclusive YES Rewardz catalogue. 4 Reward Point = 1 Intermile

Fee Reversal

Users can get the Annual & Renewal fee reversed if they meet the below-given criteria:

First Year Fee Reversal – Users must spend Rs. 10,000 within 90 days of card activation to get this benefit
Renewal Fee Waiver – Cardholder has to spend Rs. 50,000 in a year to avail this benefit
Watch this video
YES Prosperity Rewards Plus Credit Card is best suited for those who love to spend and want to get rewarded for the same. The card offers generous rewards on all purchases along with several other benefits. Watch this short video about the features of this card.
Fee and Charges
Title
Details
Annual Fee
Rs. 499
Interest-free Period
Up to 50 days
Cash Limit
30% of the credit limit
Cash Advance Fee
2.5% of the amount withdrawn (min. Rs. 300)
Overlimit Fee
2.5% of the over-limit amount (min. Rs. 500)
Foreign Exchange Mark-up
3.40%
Late Payment Charges
For balance-Below Rs. 100- Nil
From Rs. 100 to Rs. 500- Rs. 100
From Rs. 501 to Rs. 5,000- Rs. 400
From Rs. 5,001 to Rs. 20,000- Rs. 500
Above Rs. 20,000- Rs. 700
Add-on Card Fee
Nil (up to 3 cards can be issued)
YES Bank Credit Card Customer Care Details
| Title | Details |
| --- | --- |
| Customer Care Number for Resident Indians | 1800 103 1212 (Toll Free) |
| Customer Care Number for Resident Indian | +91 22 4935 0000 |
| Customer Care E-mail Address | yestouchcc@yesbank.in |
How to Apply for YES Prosperity Rewards Plus Credit Card
Click here to start the application process and fill up the required details
You will now see all the cards you are eligible for
Filter the results for "YES Bank Credit Cards" and find "YES Prosperity Rewards Plus Credit Card"
Check eligibility for this card by entering some more details
If eligible, proceed to fill a detailed application form and submit
After a successful application, an executive from Paisabazaar or YES Bank will call you and take the process further. A field agent will come to collect the documents from your home/office address. The bank will then verify the information provided and carry out its internal proceedings. If satisfied, YES Bank will issue the card. The process may take up to 15 days.
FAQs
Are my online transactions secured?
Yes, all the online transactions secured with 3D secure OTP verification feature.
When does foreign transaction fee become applicable?
Foreign transaction fee is applicable whenever customer makes a purchase overseas this could be online or offline (Retail transactions & cash withdrawals). It is also applicable on transactions done on POS machines that are registered overseas, like the ones at Duty-free shops.
How can I track my YES Prosperity Rewards Plus credit card application status?
The various methods are:
Click here to track credit card application status
Call 24*7 Customer Care Number 1800-103-1212 & quote the Application Reference Number
How do I register the credit card for Samsung Pay service?
To register the card for Samsung Pay follow the below given steps:
Download the Samsung Pay app and Launch it
Enter the Samsung Account ID and Password to Log-in. Sign up if you don't have an account
Click on Samsung Pay icon and tap the Use Fingerprint button to register a fingerprint (You may opt for PIN as well)
Now, register the card by clicking on Add
You may use the camera or enter the details manually
Enter the OTP that was sent to you via SMS to complete the process
I don't meet the income requirements can I still apply for the credit card?
You may apply for the credit card; however, if you don't meet the requirements by a large margin then your application might be rejected.
Other Rewards Credit Cards
Credit Card
Annual Fee
Key Feature
Paisabazaar Rating

Rs. 1,000

Earn 1 reward point for every Rs. 125 spent

Earn 10X reward points on apparel and departmental store spends

4.2/5

Rs. 250

Earn 5X reward points on dining and fuel spends

Earn 1 reward point on every spending of Rs. 150 on all the other categories

3.5/5

Rs. 350

Earn 3 reward points on every Rs. 100 spent on Grocery and Supermarket spends
Earn 2 reward points are earned per Rs. 100 spent on other categories

N/A

Rs.1,000

Earn 1000 Reward Points on successful sign-up
Earn 3 Reward Point per Rs. 150 spent on retail

N/A