Top 10 Mistakes To Avoid While Taking Personal Loans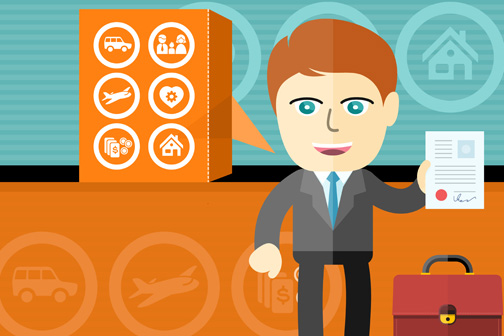 Personal loans find many takers due to its easy availability, approval and flexible options on offer. However, very often, personal loans become one of the most expensive forms of debt as we fail to keep in mind or follow some key aspects. Here's a ready-reckoner for you to avoid the following 10 mistakes while opting for a personal loan.

Lack of clarity regarding purpose of loan: The most common mistake is that people often fail to draw a line between essential and lifestyle-based personal loan requirements. Interest rates and other charges on personal loans are very high and one should avoid personal loans to the greatest extent possible especially for meeting non-essential needs.
No/limited research of loan options: The most basic question that we often forget is – Is a personal loan the only option? One should thoroughly scan and compare key features such as interest rates, tenures, prepayment charges and other terms and conditions of various other loans such as loan against property, top-up home loans etc. before signing up for a personal loan. Avoid decisions which are purely based on teaser offers received via SMSs and mails as they may exclude the fine print. Use online tools that are available on aggregator websites to compare key features including partial-payment option before opting for a specific lender.
Borrowing a loan beyond one' repayment capacity: You should carefully evaluate your ability to pay the EMIs regularly before taking a personal loan. As a thumb rule, the EMI component of a personal loan should not be more than 10%-15% of monthly net income i.e. an amount that you can pay every month without stretching your budget.
Selecting longer tenure with low EMIs: While longer tenure with lower EMIs seems like an easier repayment option, one should adopt for an aggressive approach as shorter term loans are more cost effective due to the lower absolute payout requirements. However, make sure you take your monthly budget and repayment capacity into consideration when deciding your loan tenure.
Failure to Disclose Details of existing Loans: Ideally one should disclose and share details of all existing loans that are being serviced when applying for a new loan. One may get sanctioned a higher loan amount by hiding such details but ultimately this will only end up stretching your monthly budget when you start paying off the loan.
Being Clueless about your credit score: Maintaining a financial discipline really helps in the long run as it ensures you have a healthy credit score. If you have a sound credit profile, it improves your chances of being approved for various loans including personal loans. A customer having a good credit score gets a loan easily provided he/she meets the other eligibility criteria of the bank.
Not approaching a lender you have a previous relationship with: Approaching the bank with which you have a previous relationship with such as a salary account or other long term banking relations like fixed deposits and previous/current loan with would also work in your favour.
Submitting multiple personal loans applications: Whenever you apply for a loan, the lender requests a copy of your credit report from the credit bureau, CIBIL. Among other things, your credit report shows the dates on which lenders made their checks. If two or more such loan eligibility checks show up on your credit report close to one another, you are perceived as a borrower with too many expenses and the chances of a successful loan application declines. In such a case, if a lender sanctions a loan to you, the interest rate would be a lot higher than what you should be paying. Therefore avoid applying for multiple loans simultaneously.
Signing without reading and understanding the loan terms and conditions: One should read the fine print and understand the various terms and conditions of a personal loan before signing any legally binding document including a personal loan agreement. Most of the times, part payments or pre-mature closure of loans are not offered unless you pay a penalty i.e. pre-payment. Ensure that you clarify all your doubts before taking the final decision.
Not discussing and informing spouse/family about personal loan: Before taking a loan, you should discuss this with your family as the EMI payouts will impact your monthly budget. Ideally one should also review the reason for taking the personal loan with family members. Your spouse or another family can suggest other options (such as personal savings/gold loan etc.) to meet immediate cash requirements rather than applying for a personal loan.