Personal Loan for Festive Season Shopping: Is it a Smart Choice?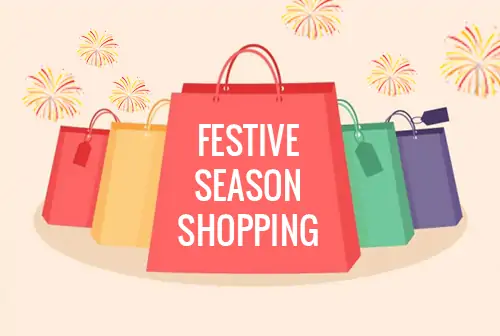 The festive season is here and you may be starting to worry about the expenses that it's bringing – the new clothes, ornaments, gifts, home renovation and other big-ticket purchases. Your mailbox may already be flooded with 'festival offers' from banks. A number of banks and financial institutions have come up with attractive deals to make festival expenses a breeze for their customers. Many lenders have waived off processing fees on home loan, vehicle loan, gold loan, etc. while others are offering 'Festive Loans'.
Festive Loans are a variant of personal loans offered at comparatively low cost  and for a smaller amount. While some banks like to name this product as 'festive loan', others prefer to market it as a part of their personal loan offering. These loans are usually offered for a limited amount, say Rs 50,000, which is the reason why banks might be somewhat lenient about the eligibility criteria for festive loans. With such great deals available in the market, it is easy to be enticed into getting a personal loan for your festive season spending. However, is it really a smart choice? Let's find out.
When should you take a Festive Season Personal Loan?
Taking a personal loan to fund your festive expenses does not harm if you have planned for it in advance. It can be helpful in case of big purchases such as appliances, jewellery, etc., the expenses of which cannot be met with your regular income. Small-scale home renovations can also be funded with such loans. Since festive season personal loans are offered at slightly lower interest rates and processing fees, they can be considered as a viable option.
Nevertheless, you should keep these two points in mind-
Loans last longer than festivities – Unfortunately, loans cannot be passed on to someone else like sweet boxes in Diwali. Once you take the loan, EMIs are inescapable and needless to say, personal loan is one of the most expensive loans. EMI payment will add to your monthly expenses so you must plan it accordingly so that you do not get caught in an endless cycle of debt.
All that glitters is not gold – It is extremely easy to get enamoured by that 'great' personal loan offer and not look at the other ones available in the market. Look out for the festive season deals by other banks and compare them with the one you have set eyes on. Do not just compare the deals and discounts; consider the overall cost of the loan. For example, 100% waiver of processing fee might look enticing but it is not as good as 1-2% reduction in the rate of interest.
What are some other financing options?
Personal loans come with a high interest cost so unless you are absolutely sure you should not use it for discretionary expenses like festive shopping. Instead, you can resort to other options based on the type of expense. Given below are a few of them-
Consumer Durable Loans- If most of the items in your shopping list are home appliances, consumer durable loan can be a good idea. These are available at a rate lower than that of personal loan or credit cards. Some Non-Banking Financial Corporations (NBFCs) also collaborate with superstores and brand stores to offer zero-cost EMIs in the festive season. Documentation formalities are also easier thus making festive shopping hassle-free for the customers.
Credit Cards- For normal shopping and gifting needs, credit cards happen to be the best. So, if you are planning on making such purchases, keep the credit limit free on your card. The EMIs can be created directly by the retailer or by calling on the customer care number of your bank. Though credit cards also come with interest charges, they can be managed easily with good planning.
Here's a comparative analysis of the above three options-
| | | | |
| --- | --- | --- | --- |
| | Personal Loans | Credit Card | Retail EMIs |
| Rate of Interest | 11%-20%* | 2%-3% per month* | Zero interest charges |
| Processing Fee | 0%-1%* | No Processing Fee | No Processing Fee |
| Borrowing Limit | Rs 50,000-1,00,000 | As per the available credit limit | Up to Rs 1,00,000 |
| Limit on Use | Can be used for any purpose | Can be used at any online shop or store that accepts credit cards | Can only be used for purchasing the products approved by the lender |
| Extra Benefits | No rewards or benefits | Reward points which can be redeemed later for benefits | No rewards or benefits |
*Interest rates and processing fees vary from bank to bank and are also subject to change.
Top up Home Loan- This loan is best if you are looking forward to renovate your house and already have a home loan running. Most of the lenders provide top-up home loan facility which can be a good substitute for personal loan. Since you already have a home loan with the bank, there will be minimal documentation. Moreover, the rate of interest on these loans is lower than that on a personal loan.
Also Check: Which is the best bank to get a Top up home loan?
The bottom line is that personal loans for festive season shopping can be a good idea if you need a small amount for a short tenure, says one year. Before choosing a lender, weigh the other available options and then decide.