The following sections discuss key aspects of an agricultural loan, including various features, interest rates, types of agricultural loans and more.
Features of Agriculture Loan
End-use Flexibility: Agricultural loan can be availed to meet a variety of expenses related to farm activities, such as to purchase new farmland/ cattle or to manage the operating costs and other allied activities.
Various Types: Several types of agricultural loan exist on the basis of end use as well as the repayment tenure.
Minimal Documentation: Generally, the agricultural loan can be availed with simple and minimal documentation.
Collateral Optional: Both secured and unsecured agricultural loans are offered on the basis of loan quantum and applicant profile.
Also read about Personal Loan.

Best Personal Loan offers from top banks are just a click away Apply Now
Agricultural Loan Interest Rate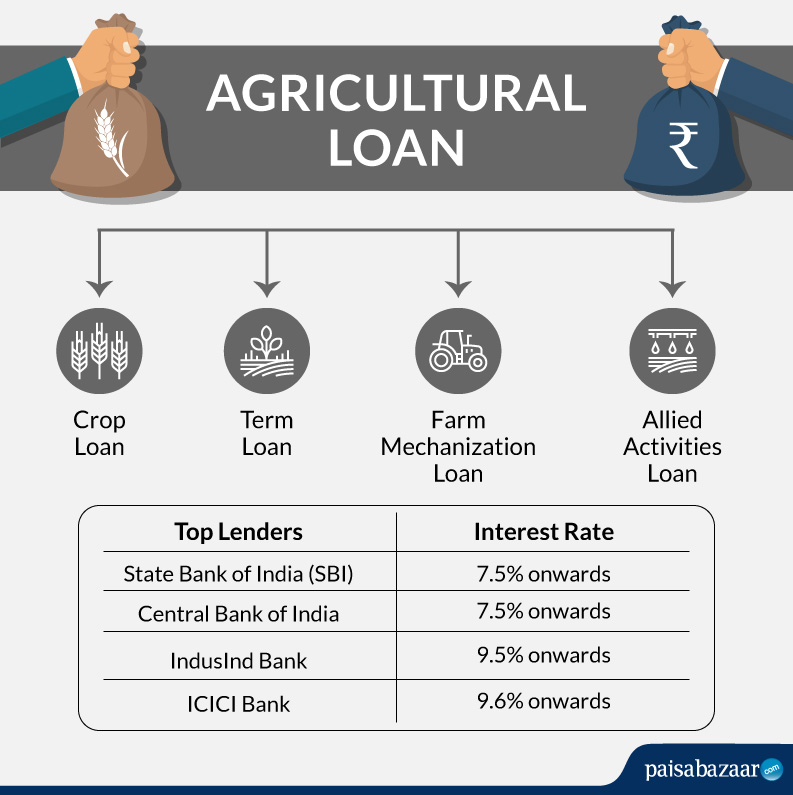 The following table summarizes the interest rate of agricultural loans as offered by some leading lenders:
| | |
| --- | --- |
| Name of the Lender | Rate of Interest (p.a) |
| State Bank of India (SBI) | 7.50% onwards |
| Central Bank | 7.50% onwards |
| IndusInd Bank | 9.50% onwards |
| ICICI Bank | 9.60% onwards |
| Axis Bank | In line with government schemes and depends on the applicant's profile |
Types of Agriculture Loan
Following are the major types of agricultural loans offered by various banks and other lenders in India.
On The Basis of Loan Tenure
Crop Loan/ Kisan Credit Card (Retail Agri Loan): Kisan Credit Card/ Kisan Card is an ideal agriculture loan option to meet short term credit requirements, such as expenses resulting from cultivation of crops, post-harvest activities, maintenance of farm equipment, etc. The card is generally available in the form of an electronic RuPay Card, which the farmers can use to draw money from ATMs to make the required purchase. Thus, it provides convenient credit to meet your daily farm requirements.
Read More: Kisan Credit Card 
Agriculture Term Loan: This refers to the long term loans of up to 48 months offered by various lenders to meet agricultural expenditures that are generally not seasonal in nature. The loan amount can be used to purchase new machinery or upgrade existing ones, install solar power, windmills, etc. Banks generally allow repayment tenure of 3 to 4 years for this loan, so that you can pay back the borrowed amount back in monthly/bi-annual/yearly installments as per the borrower's convenience.
On The Basis of End Use
Farm Mechanization Loan: This loan can be used to purchase new machinery, repair/ replace old ones, purchase tractors or harvesters, or any other agricultural equipment. While some banks provide a general purpose loan, others have categorized these loans into different types based on the end-use. For example, State Bank of India offers tractor loans, combine harvester loans and loans for irrigation equipment.
Solar Pump Set Loan: This agricultural loan is offered for the purchase of photo voltaic pumping system for small irrigation projects. It is generally a long term loan with repayment tenure of up to 10 years.
Loan for Allied Agricultural Activities: This loan is offered to farmers to meet working capital requirements and long term investment needs for allied agricultural activities.
Other Loan Types
Horticultural Loan: This agricultural loan is given for development of the land for setting up orchards or vegetable farms, clearing of undergrowth or wild trees, minor irrigation activities, setting up boundary walls / fencing and other horticultural reasons.
Agricultural Gold Loan: This loan is provided to farmers against the pledge of gold ornaments. It may be offered for crop cultivation as well as for other agricultural purposes. This loan features relatively low interest rates and helps farmers unlock the value of their gold jewellery that is usually lying idle in the house or bank locker.
Forestry Loan: This agricultural loan is given for raising crops that grow on trees. Like horticulture loans, it can be given to clear the undergrowth or wild trees, turn barren land into cultivable land, prepare land by setting up irrigation channels, and so on.
NOTE: Borrowers should keep in mind that each bank offers different agricultural loans for varied needs. These products differ on criteria such as eligibility, margins, collateral, interest rates, tenure, etc. Hence, we advise you to contact the specific lender to know more about the loan product.

Apply for a Personal Loan online with minimal documentation Apply Now
General Eligibility Criteria for Agricultural Loan
The following table depicts the general eligibility criteria to avail agricultural loan in India, however, some additional criteria may apply for some lenders. Thus, you should contact the particular bank to check your eligibility.
Who is Eligible?

Individual farmers/ Joint cultivator owners
Tenant farmers, share croppers, and oral lessees etc.
Self Help Groups (SHGs) or Joint Liability Groups (JLGs) including tenant farmers.

Residential Status
Resident Indian
Eligibility Age
18-70 years
Land Ownership
Generally, should own a piece of agricultural land or have access to agricultural land for specified purposes
Documents Required to Apply for the Loan
Following is the list of documents required by most of the lenders for an agricultural loan:
Proof of Identity: This may include your Aadhaar, Voter ID, Passport, Driving License, etc.
Proof of Address: This may include the latest utility bill, bank passbook, Aadhaar Card, PAN Card, etc.
Duly filled loan application form
Land Documents
Security Post Dated Cheques (PDCs) or other collateral (as applicable)
Providers of Agricultural Loan
Following are some of the major providers of agricultural loan in India:
Name of the Lender
Major Types of Agricultural Loans Offered
State Bank of India (SBI)

Crop Loan
Kisan Credit Card (KCC)
Drip Irrigation Loan
Combine Harvestor Loan

ICICI Bank

Retail Agricultural Loan
Long Term Agricultural Loan

Central Bank of India

Cent Kisan Tatkal Scheme
Cent Vermicompost Scheme
Cent Solar Water Heater Scheme
Kisan Credit Card

Union Bank

Crop Loan
Union Gold Loan
Kisan Credit Card
Bio Gas Loan
Farm Mechanization Loan

Axis Bank

Kisan Power
Kisan Matsya
Kisan Mitra
AGPRO Power

National Bank or Agriculture and Rural Development (NABARD)

Agriclinic and Agribusiness Centres Scheme
National Livestock Mission
New Agricultural Marketing Infrastructure
Benefits of Agricultural Loan
Available with minimal documentation.
Special Interest rates starting at 7.50% p.a. May be lower for specified Government backed schemes
You can repay the loan over flexible repayment tenure.
Some lenders also offer unsecured agricultural loan, depending on the applicant's profile and the quantum of loan applied for.
You can use the agricultural loan amount for a variety of agricultural purposes, ranging from short-term seasonal farm activities to long-term investment in farm machinery.
Important Aspects to Consider While Applying for the Loan
Check and ensure you meet all the eligibility criteria including the specified agricultural purpose of the loan opted for
Arrange all the required documents to avail the loan.
Always pay your ongoing loan EMIs and credit card dues on time to have a good repayment history, and hence a high credit score.
Never make multiple loan applications at once, because it portrays you as credit hungry.
Always maintain a healthy mix of credit, i.e., the amount of unsecured and secured loans availed by you.
Maintain a low Fixed Obligation to Income Ratio (FOIR). In simple words, your ongoing EMIs should not form a significant proportion of your monthly income.
Union Budget 2020-2021 Allocation to Agriculture
The Finance Minister, Nirmala Sitharaman announced an allocation of Rs. 1.42 crore to the Ministry of Agriculture and Farmer's Welfare in the Union Budget of 2020-21.
This amount was earmarked with respect to the following proposals:
Agricultural credit target of Rs. 15 lakh crore for 2020-21.
PM KUSUM to cover 20 lakh farmers for standalone solar pumps and further 15 lakh for grid connected pumps.
Creation of efficient warehouses on PPP mode with the help of viability gap funding.
Self Help Groups (SHGs ) run village storage scheme will be launched.
e-NWR will be integrated with e-NAM.
"Kisan Rail" and "Krishi Udaan" will be launched by Indian Railways and Civil Aviation, respectively to facilitate national cold supply chain for perishables.
To increase coverage of artificial insemination to 70%.
Milk processing capacity to be doubled by 2025.
Fish production target of 200 tonnes by 2022-23.
Fishery extension through 3477 Sagar Mitras and 500 fish FPOs.
To raise fishery exports to Rs. 1 lakh crore by 2024-25.

Get a Low Interest Personal Loan starting at 10.75%* p.a. Apply Now
Frequently Asked Questions (FAQs)
Q1. What is agricultural loan?
Ans. The loan offered by various lending institutions, including banks and government bodies to farmers, so that they can meet their short term and long term farm related expenses is called agricultural loan.
Q2. What is the interest rate for SBI Crop Loan?
Ans. The interest rate for SBI Crop Loan starts at 7.5% per annum.
Q3. What is the interest rate for ICICI Agri Term Loan?
Ans. The interest rate for ICICI Agri Term Loan begins from 10.35%.
Q4. Who can avail an agricultural loan?
Ans. Generally all farmers, joint cultivators, sharecroppers, SHGs, JLGs and tenant farmers can avail an agricultural loan.
Q5. Can I avail an agricultural loan to upgrade my farm machinery?
Ans. Yes, you can avail a farm machinery agricultural loan to upgrade and even purchase new farm machines.
Q6. What is Kisan Credit Card?
Ans. Kisan Credit Card is a digital means of availing a short term agricultural loan. It is typically available as a RuPay Card with a pre-defined limit provided by a bank and can be used to withdraw cash from ATMs across India to finance various agricultural activities.