IndusInd Bank Personal Loan that varies from Rs. 50,000 to Rs. 15 lakh can help an individual deal with various financial situations including a medical emergency, home renovation, purchase of consumer durable, wedding, vacation, etc. Quick processing and minimum documentation enables borrowers to avail IndusInd Bank Personal Loan instantly and convenient with repayment options varying from 1 year to 5 years.
How to Register Online for IndusInd Bank Personal Loan Account?
Visit the official website of IndusInd Bank
Click on login/register
Click on 'Continue to IndusNet'
Select 'view and transact' and you would be redirected to the registration page
Enter account details like account number, debit card no, debit card pin, etc., authenticate, set your IndusNet credentials and security questions to complete InduInd Netbanking registration.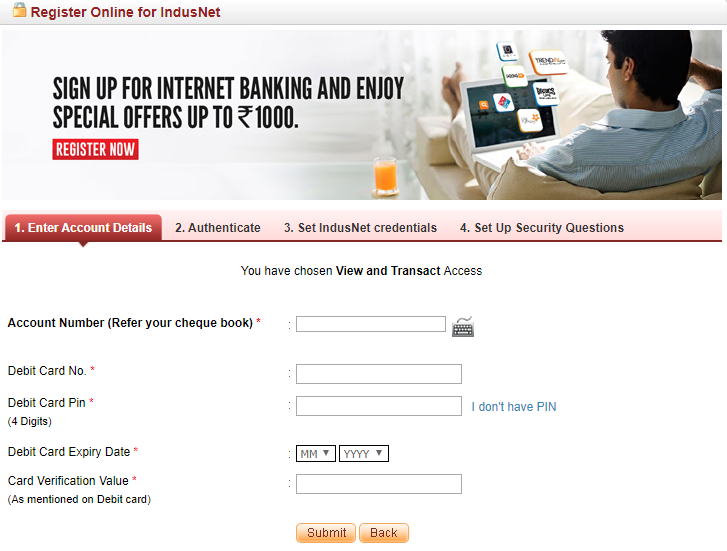 How to Track IndusInd Bank Personal Loan Application Status Online?
Go to the IndusInd online banking home page.
You have two options to login and track IndusInd Bank Personal Loan application status:
1. Login Using Password:
Enter user name
Enter password
Click on 'sign in'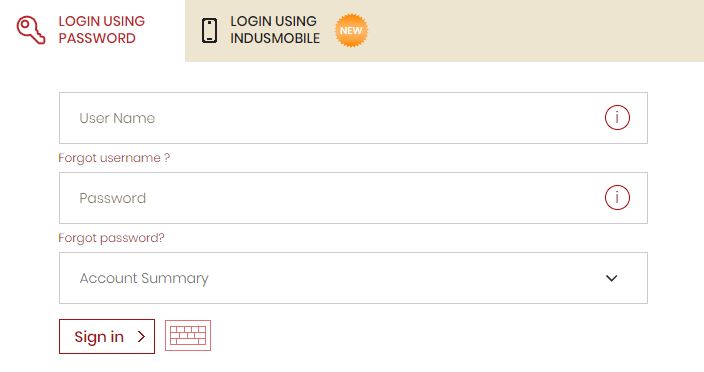 2. Login Using INDUSMOBILE:
Enter user name
Enter account summary
Click on 'sign in'
The above online option is only available to those who are existing IndusInd customers who have already registered on the internet banking portal. In case you are a new customer or haven't registered for IndusInd Internet Banking yet, you have to follow the offline process mentioned next.
How to Track IndusInd Bank Personal Loan Application Status Offline?
By calling the customer care: You can call the customer care at 18605005004 / 022 44066666. NRIs can call on the following numbers:
| | | | |
| --- | --- | --- | --- |
| Country | Toll-free no | Country | Toll-free no |
| United Kingdom | 08000478670 | Canada | 18337666683 |
| United States of America | 18337666682 | Australia | 1800317547 |
| United Arab Emirates | 8000183019 | | |
By sending an email: You can send an email to the bank at reachus@indusind.com. NRIs can send an email at nri@indusind.com
By visiting the nearest branch: You can visit the nearest branch of the bank. You can locate the branch here
How to Check IndusInd Personal Loan Status Online
In case you have an ongoing personal loan with IndusInd Bank, you have the following options to check the status of your loan online:
a). Using Internet Banking
Once you have logged into your IndusNet online banking portal, you can easily check key details of your ongoing personal loan and perform key activities such as:
Check outstanding personal loan principal
Check next EMI due date
View and download your loan statement for free
b). Using IndusMobile
IndusMobile is the phone banking app for Android and iPhone offered by the bank. Using this app, you can log into your IndusInd account and check various details including your IndusInd Bank personal loan status. You can not only view your on-going loan details but also view/download your personal loan statement using the IndusMobile app.
How to Check IndusInd Personal Loan Status Offline
In case you want to check the status of your on-going IndusInd Bank personal loan offline, you can opt for either of the two following methods:
a). By Contacting Customer Care
You can contact the IndusInd Bank customer care department by phone or via email detailing your enquiry for status of your personal loan from IndusInd Bank. However, do keep your loan account number handy in order to get a quick and accurate response to your query.
b). In-person Visit to IndusInd Bank Branch
You can also visit your nearby IndusInd Bank Branch in person and request a physical copy of your loan statement to know the status of your outstanding IndusInd Bank personal loan. Do keep in that physical loan statements may be chargeable as per the bank's policy along with tax at applicable rate.
FAQs
Q1. How do I repay my IndusInd Bank Personal Loan?
You can repay the IndusInd bank Personal Loan in EMIs through ECS or standing instruction.
Q2. Can I foreclose IndusInd Bank Personal Loan?
Yes, you can prepay IndusInd Bank Personal Loan at any time after paying the 12th EMI (if you are a salaried individual) or after paying the 6th EMI (if you are a self- employed individual).
Q3. Is it possible to make part-prepayment on a personal loan?
No, part- prepayment on a personal loan is currently not allowed by IndusInd Bank.
Q4. What if I miss a personal loan EMI?
You might have to pay additional charges/penal interest along with the EMI and your credit score may also be adversely affected.
Q5. Can I get a personal loan top-up from IndusInd Bank?
Not all personal loan borrowers are eligible for a top-up from IndusInd Bank. However, you can approach the bank's customer care department and place a query regarding availability of a top-up loan in your case.