ICICI Bank Rubyx Credit Card is a premium credit card best suited for the frequent domestic traveller. Features like concierge service, lounge access, car rental service, etc. make travelling convenient for the cardholders. The card comes in two network variants- American Express and Mastercard. Details of the credit card are given below.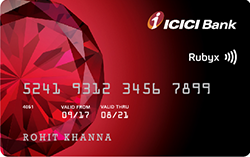 Fee
Annual Fee: ₹ 2000
waived off if spend > ₹3,00,000 in the previous year
Highlights & Rewards
Highlights
Get Welcome Vouchers on Shopping and Travel worth ₹5000 on payment of joining fee
Earn up to 15,000 PAYBACK Points every anniversary year
2 complimentary movie tickets every month under the Buy 1 Get 1 offer through www.bookmyshow.com on first come first serve basis
Rewards Value
₹100 = 6 PAYBACK Points (On Domestic & International spends)
₹100 = 1 PAYBACK Point (on utilities and insurance categories)
Apply now for ICICI Rubyx Credit Card
Find your perfect Credit Card
Best Suited For – Golf, Travel and Rewards
Golf Privileges

Premium Concierge Services

Railway and Airport Lounge Access
Get ICICI Bank Rubyx Credit Card Now
*Offers are from Paisabazaar's partner Banks & NBFCs.
Find Similar Credit Cards from Other Banks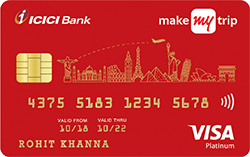 MakeMyTrip ICICI Bank Platinum Credit Card
₹500 My Cash plus complimentary voucher for MMTBLACK membership plus Lemon Tree Hotels voucher worth ₹2000 on joining
Spend ₹2.5 lakh and earn ₹1,000 My Cash each anniversary year
Enjoy complimentary domestic airport and railway lounge access
Know More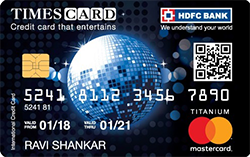 HDFC Titanium Times Credit Card
Welcome e-vouchers worth ₹15K across various categories. Visit www.hdfcbank.timescard.com to view the range of welcome offers
2 Reward Points on every ₹150 spent
Up to 25% off on Movies tickets from BookMyShow and Cinepolis India. Up to 50% Cashback from Paytm movies
Know More
Eligibility and Documentation
| Criteria | Details |
| --- | --- |
| Occupation | Salaried or Self-employed |
| Minimum Income for Salaried Applicants | Rs. 6,00,000 per annum |
| Minimum Income for Self-employed Applicants | Rs. 9,00,000 per annum |
| Serviceable Cities | Click here for the list of eligible cities |
Along with a duly filled application form, you will be required to submit valid proof of identity, address and income. Find the list of acceptable documents below.
Features
Movie Offer

Buy 1 ticket and get 1 ticket free on any given day of the week when purchasing via INOX or BookMyShow. Maximum discount of Rs. 300 can be availed with borth brands.

Bonus Reward Points

Get 3,000 PAYBACK Points after spending Rs. 3 Lakh. Afterwards, earn 1,500 PAYBACK Points every time you cross Rs. 1 Lakh limit. You get a maximum of 15,000 PAYBACK Points in a year.

Insurance Cover

Get the following coverage:

Air Accident Insurance – Rs. 1 Crore
Lost card liability cover – Rs. 50,000 (cover includes 2 days pre-reporting & 7 days post-reporting)
Baggage insurance – Up to Rs. 25,000
Loss of travel documents – USD 500
Loss of checked baggage – USD 1,200
Plane hijacking – USD 250 per hour up to 12 hours

Additional Features of ICICI Bank Rubyx Credit Card American Express Variant

Reward Points

You will earn PAYBACK points on all eligible spends in the below-given manner.

3 PAYBACK Points per Rs. 100 spent domestically (Excluding fuel transactions)
6 PAYBACK Points per Rs. 100 spent internationally
1 PAYBACK Point is worth Re. 0.25

Lounge Access

Avail lounge access at select airports and railway station lounges in India. You can avail 2 complimentary railway lounge visits and 2 airport lounge visits per quarter.

American Express Connect

Get exclusive benefits provided only to ICICI Bank Rubyx American Express credit cardholders. These benefits are:

Etihad Airways offers 10% discount to cardholder on select Etihad airways flight tickets
Taj offers 25% instant discount on best available rate at Taj, Vivanta and The Gateway hotels
Croma offers 5% instant discount on Non-EMI transactions. 5% cashback on EMI transactions of Rs. 20,000 & more
Joyallukas offers 25% Discount on gold jewellery making charges & Rs. 6,000 off on of diamond jewellery purchase worth Rs. 50,000 or more
Roseate Hotels & Resorts offers 25% off on the Best Available Rate at Roseate Hotels & Resorts

American Express ezeClick

The feature makes online shopping easier. User will just have to share the User ID and not the credit card details at the time of payment.

American Express EPAY

Pay off utility bills, insurance premiums, phone bills and other bills automatically using this feature.

Additional Features of ICICI Bank Rubyx Credit Card Mastercard Variant

Lounge Access

Get 2 railway lounge visits and 2 airport lounge visits at select airport and railway lounges per quarter.

Reward Points

You can earn PAYBACK Points in the following manner:

2 PAYBACK Points per Rs. 100 spent domestically, not valid on fuel purchases
4 PAYBACK Points per Rs. 100 spent internationally
4 PAYBACK Points are worth Re. 1

Mastercard Moments Offers

Mastercard offers lots of discounts, offers on a variety of categories. Customers can get discounts on hotel stays, apparels, dining, and so on. Visit Master card moments website to avail these offers.
Watch this video
ICICI Rubyx Credit Card is best suited for shopping and travel. The card is offered in two variants- Mastercard and American Express- with exclusive rewards program and other privileges. Watch this short video about the benefits of this credit card.
Fee and Charges
Title
Details
Joining Fee
Rs. 3,000
Annual Fee
Rs. 2,000
Cash Advance Transaction Fee
2.50% of the amount/ Min. Rs. 300
Reward Redemption Fee
Rs. 99
Finance Charges
3.40% per month / 40.80% p.a.
Overlimit Charges
2.50% of the over-limit amount/Min. Rs. 500
Late Payment Charges
Nil for amount due less than Rs. 100
Rs. 100 for amount between Rs. 100 and Rs. 500
Rs. 500 for total amount due greater than Rs. 501 and up to Rs. 10,000
Rs. 750 for total amount due greater than Rs. 10,000
Surcharges
1% /Min. Rs. 10 on fuel transaction1.80% of the transaction value for Internet railway bookings and 2.50% for other railway bookings.
Foreign Transaction Fee
3.50% of the amount
ICICI Credit Card Customer Care Details
| Title | Details |
| --- | --- |
| ICICI Credit Card Customer Care Number | 1860 120 7777 |
| City-wise Customer Care Number | Click here for details |
Check More Cards from ICICI Bank
How to Apply for ICICI Bank Rubyx Credit Card
You can easily apply for this credit card through Paisabazaar by following the steps given below:
Click here to start the application process
Fill the basic form
After submission, you will see all the cards that you are eligible for
Now, filter out the ICICI Bank credit cards
Click on 'Check Eligibility' against ICICI Bank Ruby Credit Card and, if eligible, proceed with the application.
Afterwards, an executive from Paisabazaar or ICICI Bank will call you to set a date and time for document collection.
Finally, the bank will verify the form and documents. Post verification the bank will deliver the card to your address in about 20 days.
ICICI Bank Rubyx Visa Credit Card can also be applied through the Bank's website or through a visit at the ICICI Bank branch.
FAQs
Which variant of ICICI Rubyx credit card should I get?
ICICI Bank Rubyx credit card comes in two variants American Express and Mastercard. In terms of differences, there are not that many. Lounge access is provided by both variants along with movie offers. The only difference lies in certain offers that the two payment networks provide. These are regularly updated by the network companies. Overall they are the same so you may go for either one.

How can I track my credit card status?
You can know the application status of your ICICI Bank Rubyx credit card by visiting the website. Detailed steps are given here.
When will I be charged the foreign transaction mark-up fee on the ICICI Bank Rubyx credit card?
The fee of 3.50% will be charged on all international retail and online transactions. It will also be applied when the card is used at those POS machines which are registered in international territory; like the POS machines at Duty Free shops.
How can I earn and redeem reward points on the card?
All eligible spends, shopping, movie ticket bookings, dining spends earn the user reward points. These points can be redeemed against items in PAYBACK rewards catalogue. Visit PAYBACK for the same.
What is the income requirement on ICICI Bank Rubyx Credit Card?
ICICI Bank has not disclosed the income requirement on ICICI Bank Rubyx Credit Card. The same will be shared when you show intent on applying for the credit card.
Recommended Cards for International Usage
Credit Card
Annual Fee
Key Feature
Paisabazaar Rating

Rs.4,999

Foreign Mark-up Fee is just 1.99%

Earn 2 Reward Points per Rs. 100 spent internationally

4.6/5

Rs.2,500

Foreign Mark-up Fee is 2.00%

Earn 4 Reward Points per Rs. 150 spent internationally

4.5/5

Rs.3,500

Users get 2 international lounge visits

Earn 4 Hand-picked Points per Rs. 100 spent internationally

4.5/5