HDFC Millennia Credit Card is well-suited to the needs of millennials who love to shop online and would like to get rewarded for their spends. The card offers up to 5% cashback to the users for online transactions and 1% cashback on all offline spends. Read more about this card here.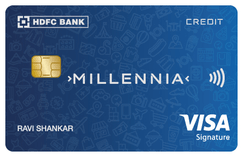 Best suited for
WELCOME OFFER
REWARDS
CASHBACK
Fee
Annual Fee: ₹ 1000
Spend ₹1 Lakh in a year and get a waiver of Next Years Annual Fee
Joining Fee: ₹ 1000
Joining Fee waiver by activating FasTAG or achieving spends of ₹30,000 within 90 days of card activation date
Highlights & Rewards
Highlights
50% off on Joining fee, i.e., ₹500 discounted from Joining fee of ₹1000
Customer will get a Gift Voucher worth ₹1000 on spends of ₹1 lakh & above every quarter
5% Cashback on movie tickets booked on BookMyShow via Payzapp
Rewards Value
₹1 = 1 CashPoint
₹0.30 = 1 CashPoint (redemption against travel benefits like Flight & Hotel bookings and Rewards Catalogue at the SmartBuy Rewards Portal)
₹1 = 1 Reward Point (against Cashback)
₹0.30 = 1 Reward Point (against Catalog/Smartbuy Portal)
Apply now for HDFC Millennia Credit Card
Find your perfect Credit Card
Whether you want to earn rewards or save more with discounts and deals, you will never fall short of Credit Card options. Paisabazaar is the right place to find the card that best fits your needs.
Unlock Best Credit Card Offers!
*Offers are from Paisabazaar's partner Banks & NBFCs.
Find Similar Credit Cards from Other Banks
Not eligible for HDFC Millennia? Check out HSBC CASHBACK CARD offering 1.5% unlimited cashback on all online spends & 1% on other spends
Eligibility and Documentation
| Criteria | Details |
| --- | --- |
| Occupation | Salaried or Self-employed |
| Minimum Income for Salaried Applicants | Rs. 25,000 per month |
| Minimum Income for Self-employed Applicants | Rs. 6,00,000 per month |
| Serviceable Cities | Click here for the list of eligible cities |
Along with a duly filled application form for HDFC Millennia Credit Card, you should also submit valid proof of identity, address and income. Given below is the list of documents.
Features
Cashback

The card lets the users earn cashback in the following ways:

5% cashback on Amazon, Flipkart, Flight & Hotel bookings on shopping via PayZapp and SmartBuy transactions
2.5% cashback on other online transactions (Minimum transaction must be of Rs. 2,000)
1% cashback on offline spends and wallet reloads
Cashback capped at Rs. 1,000 and can be earned only for the first 6 months in case of PayZapp and SmartBuy
Cashback will be earned in the form of Cash Points

Statement Balance

Cashback earned can be redeemed against statement Balance. 1 CashPoint = Re. 1. Minimum of 2,500 CashPoints are required to redeem against statement balance. The amount is redeemable against multiples of Rs. 500 only.

Joining Fee Waiver

Get joining fee waiver on spending Rs. 30,000 or more in the first 3 months.

Annual Fee Waiver

Get Renewal Fee waiver on spending Rs. 1.00 lakh or more in the first year.
Fee and Charges
Title
Details
Annual Fee
Rs. 1,000
Renewal Fee
Rs. 1,000
Finance Charges
3.6% p.m. | 43.2% p.a.
Cash Advance Charges
2.5% of amount withdrawn or Rs. 500 whichever is higher
Add-on Fee (per annum)
Nil
Overlimit Charges
2.5% of overlimit amount, subject to a minimum of Rs. 550
Railway Ticket Purchase Fee
1% of the transaction amount + GST
Reissue of Lost, Stolen or Damaged Card
Rs. 100
Payment Return Charges
2% of Payment amount subject to a minimum of Rs. 450
Cash Processing Fee
Rs. 100 (for all card payments made by depositing in HDFC Bank branches or ATMs)
Balance Transfer Processing Charges
1% of BT amount or Rs. 250, whichever is higher
Late Payment Charges
For Statement Balance:

Less than Rs. 100 – Nil
Rs.100 to Rs.500 – Rs.100
Rs.501 to Rs.5,000 – Rs.500
Rs.5,001 to Rs.10,000 – Rs.600
Rs.10,001 to Rs. 25,000 – Rs.800
Rs. 25,000 to Rs. 50,000 – Rs. 1,100
Over Rs. 50,000 – Rs. 1,300
HDFC Card Customer Care Details
| | |
| --- | --- |
| Customer Care Number | 022-6160-6161(Toll Free) |
| Timings | 9:30 AM to 5:30 PM from Monday to Saturday |
Check More Cards from HDFC Bank
How to apply for HDFC Millennia Credit Card?
One can apply for this credit card in a few easy steps:
To start with the credit card application process, click here
Fill the basic details in the given form such as Name, Address, Pincode, Occupation, Net monthly income, etc.
Once the form is submitted, all eligible credit cards are displayed. Filter the results for HDFC Bank credit cards. If the applicant is eligible for Millennia card, it will be shown in the list
Click on 'Check Eligibility' and enter the required information
If found eligible, fill a detailed form and submit it
An executive from Paisabazaar will call and ask a suitable time for the bank representative to collect documents from home or office
The bank will then scrutinize the documents provided and if qualified, the card will be delivered at the applicant's address within 15 days
One can also apply directly from HDFC Bank's website or by visiting the nearest HDFC branch.
FAQs
I already have an HDFC Credit Card. Can I apply for HDFC Millennia Card?
Yes. HDFC Bank allows its cardholders to have more than one card. However, there may be certain terms and conditions on it. You may call HDFC Credit Card Customer Care to confirm this.
What is the limit on HDFC Millennia Credit Card?
The limit on HDFC Millennia Credit Card depends on your income and other factors and is decided only after they scrutinize your application.
I have just started with my new job. Will I be eligible for this credit card?
To be eligible for any credit card, you should be employed in your current organization for at least 6 months. However, if you have a salary account from HDFC Bank, the eligibility criteria may be relaxed.
What should I do if I lose my HDFC Millennia Credit Card?
As soon as you notice the loss of your card, you should hotlist it by calling on the customer care number.
What is the minimum Repayment Amount?
The minimum amount that needs to be repaid is 5% of the total billed amount or Rs. 200.
Compare Different Credit Cards by Other Banks
| | | | |
| --- | --- | --- | --- |
| Credit Card |  Annual Fee | Reward Points/Cashback | Net Savings |
| HDFC Millennia | Rs.1000 | Earn 5% cashback on online shopping | Rs.3,624*Rs. 11,248** |
| Standard Chartered Platinum Rewards | Rs.250 | Earn 5 Reward Points for every Rs.150 spent at partner dining restaurants | Rs.8,510*Rs.9,782** |
| SBI SimplyClick | Rs.499 | Earn 10X Reward Points with partner brands like Amazon, BookMyShow, Cleartrip, Urban Clap etc. | Rs.9,271*Rs.14,541** |
| ICICI Bank Coral Contactless | Rs.500 | Earn 2 Payback Points on every Rs.100 spent | Rs.10,636*Rs.15,771** |
| IRCTC SBI Platinum | Rs.500 | Earn 350 activation bonus Reward Points on spending Rs.500 or more within first 45 days of issuance | Rs.4,776*Rs.9,964** |
*On spending Rs.2 lakh annually
**On spending Rs.4 lakh annually
Other Rewards Credit Card
| | | | |
| --- | --- | --- | --- |
| Credit Card | Annual Fee | Key Feature | Paisabazaar Rating |
| ICICI Rubyx | Rs.2000 | 2 Complimentary Movie Tickets every month from BookMyShowComplimentary round of Golf every month | 4.3/5 |
| Citibank Rewards | Rs.1,000 | Get up to 20% discount on dining bills at partner restaurantsGet up to 2,500 Reward Points on using this card within first 60 days | 4.2/5 |
| SBI SimplySave  | Rs.499 | Spend Rs.90,000 or more in a year to avail annual fee reversalConvert big ticket purchases into smaller EMIs at no extra cost | 3.7/5 |
| American Express Membership Rewards | Rs.1,500 | Earn 1,000 membership bonus Rewards Points atleast 4 times per monthEarn 1 Membership Reward Point on every Rs.50 spent | 3.9/5 |