Don't Break your FD, do this instead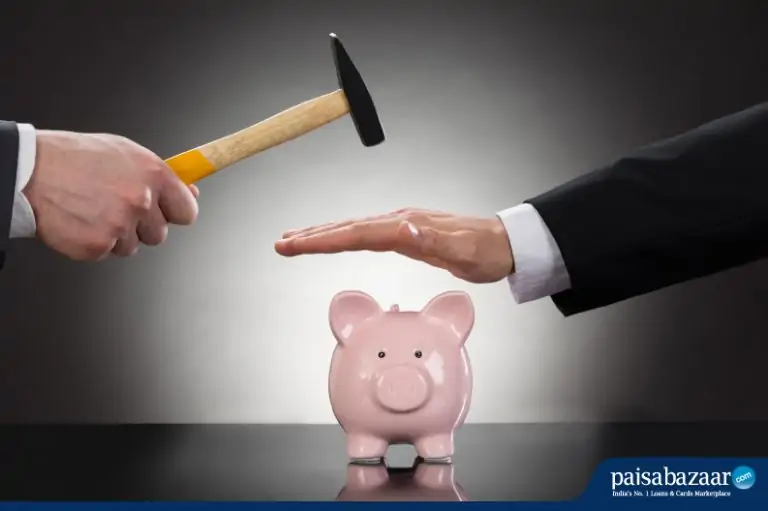 We know about fixed deposits, don't we? But just so that we are on the same page fixed deposits are one of the safest and most consistent saving schemes that guarantee us a fixed percentage of the principal as the return over their tenure. Fixed deposits can be opened by Indian residents, Senior Citizens, and NRIs. But quite often we break them prematurely to meet our short-term liquidity needs or invest the money in a place that will supposedly yield better returns.  In this article, I discuss why it might not be a good idea to break your FD before time and what to do instead.
When you break your FD prematurely, you lose out money that could have been compounded as interest. An unplanned FD closure also invites penalty that is usually around 1 % of your principal, and the rate varies from bank to bank.


Get Your Free Credit Report with Monthly Updates Check Now
Example –  Suppose, you have deposited a principal of Rs. 1,00,000 for a  tenure of 10 years. The maturity amount that you gets is Rs. 1,93,974. Now suppose you decide to withdraw the amount after 4 years. The rate of interest for 4 years is 6.8% which is the rate that you will get with a penalty of 1%. Hence the net rate of interest you will get is 6.8 – 1 = 5.8%. This translates to a maturity amount of Rs. 1,25,297. So, technically you stand to lose a sum of Rs. 68,677. You can use the Paisabazaar FD Calculator to work out your returns if you prematurely break your FD.
Now unless you invest the amount withdrawn at a place that covers this loss, it is unwise to do so. Rather, there are other things you can do, which will be discussed below.  Let's first see how many penalties are applicable at the top banks for premature FD withdrawals.
Penalty Rates in Different Banks
Different banks apply different penalty rates that are subtracted from the applicable interest rates, some of which are given below.
* 0.50% for tenure less than a year, 1% for beyond a year if the deposit is less than 5 Cr; for deposit above 5 Cr, 1% for tenure up to 5 years, and 1.50% for 5 years and beyond
** Applicable on deposits below Rs, 1 Crore
***  Penalty not applicable if the amount is less than 5 Lacs and is kept for a minimum of 12 months


Get Your Free Credit Report with Monthly Updates Check Now
What to do Instead?
There are alternatives that don't involve breaking your FDs while still taking care of your immediate needs. They are given below:
You can raise short-term liquidity by taking a loan against your FD Account.  The maximum amount that you can raise is 90% of your FD Account. Also, the interest rate for the loan is generally lower than a regular loan. Your credit score is not taken into account as your fixed deposit amount serves as a collateral.

You can break down your money in different parts and make separate FDs from it. That way, you wouldn't have to rely on just one deposit. If you need to access a smaller amount than the value of your FD, you don't have'to break your whole FD.