Design of PAN Card Changed – Here's What's New in It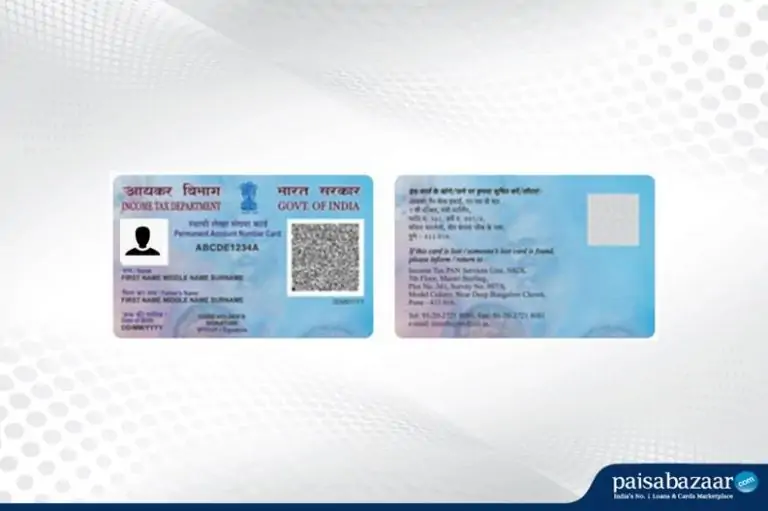 The Income Tax Department has changed the design of the PAN card. It has made a few additions to it to make it more user-friendly and secure. The IT Department has started providing new PAN cards post July 7, 2018. It is worth noting that PAN cards issued prior to the aforementioned date will also remain valid. However, if one wants to issue the new PAN card, he will have to submit an application for reprinting the PAN card online.
New Additions to PAN Card
The Income Tax Department has made the following additions to the PAN card:
Enhanced QR Code.
Position of the photograph, signature, hologram and QR Code.
Enhanced QR Code in PAN Card
Enhanced QR code contains the photograph and signature of the PAN cardholder in addition to the existing details such as your PAN, name, father's/mother's name and date of birth (date of incorporation/ formation in case of non-individuals). These details are digitally signed and are encoded in the new Enhanced QR code.
The enhanced QR code can be read by a specific mobile application (Enhanced PAN QR Code Reader). It is recommended to scan the code using an auto-focus camera having the resolution of 12-megapixels and above.
The enhanced QR code is provided in the e-Permanent Account Number (e-PAN) as well.
Position of PAN Card Details
The position of various details has been reset in the new PAN card design. Following alterations have been made in the new PAN card:
The photograph of the cardholder has been replaced from the lower end to top-left just below the Income Tax Department
The PAN has been placed on the top-centre just below the national emblem from the lower left corner of the card
The name and father's name has been placed just below the new position of the photograph on the left edge
The date of birth has been placed in the bottom left of the PAN card
The signature has been moved from lower left corner to the lower centre of the card
The QR code has now been placed in place of the hologram
The hologram has been shifted to the rear end of the card
PAN Card in DigiLocker
The PAN card is also available in the DigiLocker app. One can get the PAN card issued in the DigiLocker app from the Income Tax Department's PAN verification records.
The PAN in DigiLocker contains the user's name, gender, date of birth and the PAN. It also contains the QR code which can be used to verify the details in the PAN card. A "DigiLocker Verified" logo is also mentioned in your PAN.
You can get the PAN card in your DigiLocker account by following the steps mentioned below:
Login to your DigiLocker account
Select the Income Tax Department's PAN verification record
Enter your PAN and name as in PAN card
Provide your consent and click on "Get Document"
Your PAN card will be downloaded to your account
New Design of e-PAN
e-PAN is a digitally signed PAN card issued in electronic format by the Income Tax Department using Aadhaar e-KYC. As shown in the below image, e-PAN has the following components: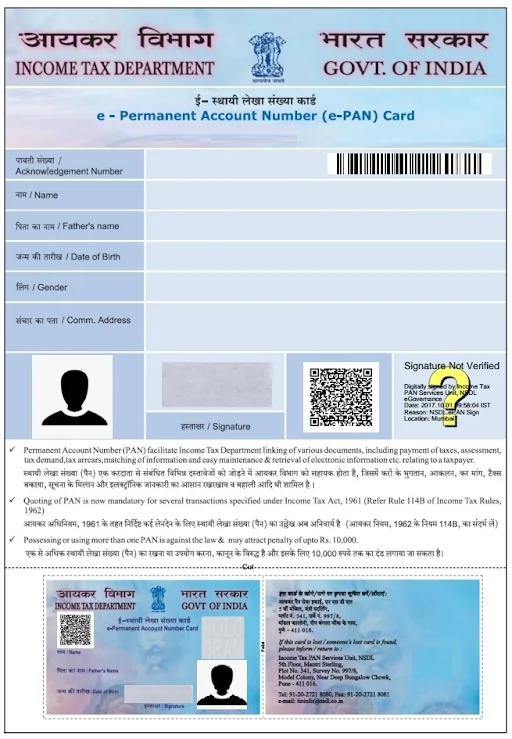 Acknowledgement  Number-

e-PAN has a 15-digit acknowledgement number with a Barcode to track the status of the PAN Card application
Name–

Name of the PAN Cardholder will be printed on e-PAN
Father's Name–

Father's name of the PAN Cardholder is mandatory and will be printed on e-PAN
Date of Birth and Gender–

The date of birth and gender of the PAN Cardholder are one of the components of e-PAN
Communication Address– Communication address must be provided to get the physical copy of the PAN Card delivered
Image–

Image of the PAN Cardholder will be automatically fetched from Aadhaar's database

Signature of the PAN Cardholder–

The applicant will receive the

e-PAN on the registered email ID and has to be digitally signed. The steps to digitally sign e-PAN are as follows-
Step 1: Open the PDF file in PDF Converter Professional
Step 2: Left-click on the Digital Signature field
Step 3: Click on the 'Verify Signature' option
Step 4: Click on the 'Properties' button
Step 5: Click on the 'Verify Identity' option
Step 6: Now, add the 'Contact information for certificate owner' option
Step 7: Click on the 'Add to List' option
Step 8: Click  on the 'Close' option
Step 9: Click on the 'Verify Signature' option
Step 10: The validity status will reflect as 'Signature is valid'
Step 11: Click on the 'Close' button
Step 12: Digital Signature will now appear as a green check mark and 'Signature Valid'
QR Code-

e-PAN has a QR code that possesses demographic details of PAN cardholder such as the person's name, date of birth, and photograph